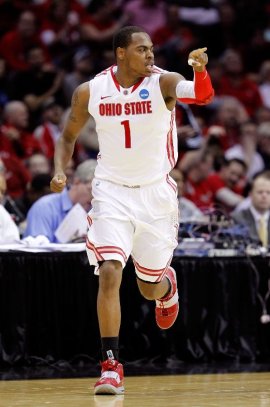 Deshaun Thomas exploded for a career high 31 pionts and 12 rebounds leading Ohio State past Loyola (MD) 78-59 tonight in Pittsburgh.
The win sets up a Saturday showdown at 2:45pm with #7 seed Gonzaga for a spot in the Sweet 16. 
Jared Sullinger joined Thomas in the dub-dub club with with 12 points and 10 rebounds though he missed nine of his last 11 shots. 
William Buford added 17 shooting 5/11 with three turnovers and was held to just 11 before hiting two threes in the final two minutes as Thad had to reinsert the starters after Loyola cut a 19 point Buckeye lead to 11. 
Aaron Craft did a little of everthing with eight points, five boards, four assists and three steals but he coughed it up five times. That was a theme on the night as Ohio State committed 18 turnovers, 14 by the starters, in a sloppy effort that while good for a 19 point win also featured some sketchy shot selection in the first half. 
Ohio State used runs of 16-4 and 11-2 to take a 37-22 lead with 3:58 left in the first half.
The spurts didn't feature much in the way of made field goals as the Buckeyes missed 19 of their first 29 shots but the undersized, hackish Greyhounds gave OSU 16 trips to the stripe and they hit all but one.
Loyola sixth man Justin Drummond racked up four fouls in just six minutes of play.
Loyola closed the gap to 42-31 at the break as Ohio State took some bad shots and turned it over twice over the last four minutes.
The Buckeyes owned the glass in the opening 20 minutes (27-16) turned seven Greyhound miscues into a 12-3 edge in points off turnovers.
Matta's plan to feed Sully and Thomas to take advantage of the size mismatches worked when the team decided to carry it out as the pair combined for 26 points (9/24 FG, 6/7 FT) and 16 boards.
Tourney Buford was on display early hitting just one of five shots though he drained 4/4 from the line while Lenzelle added seven rips. 
Thomas picked up where he left off after the break scoring 11 straight points helping the Buckeyes push the lead to 57-38 with 12:35 left in regulation. 
Ohio State picked up the D as well holding Loyola to 3/11 during the stretch and 35% overall. 
For the game, the Buckeyes shot 45% from the field, 36% from distance (5/14) and an impressive 81% from the stripe (21-26). 
Erik Etherly led the Greyhounds with 19 and seven. 
Keeping it short tonight...Vegas beckons.