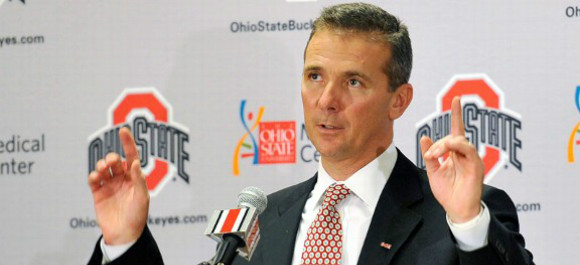 I had the chance to take in a workout a couple weeks ago and could not be happier by what is transpiring at the Woody Hayes Athletic Center.
Without getting too political, I think we have all seen the days of personal accountability pass us by for the entitlement attitude. One could argue all the issues the team had last year were a direct result of an entitlement attitude among coaches and players alike. But fear not Buckeye fans, times they are a changin'.
In my days at OSU, the "Iron Sharpens Iron" principle was prevalent. Vrabel and I were better because we went against Korey Stringer and Orlando Pace everyday in practice drills. Shawn Springs was better because he went against Terry Glenn in one-on-ones. That competition is embraced by the high level and passionate players who make a difference on your team and, quite frankly, separates the men from the boys.
That type of competition had been scarce recently, but no more. It is a "step into the ring or you are not a man" mentality that is crucial in football, and Urban Meyer is bringing it back. You attend a workout session now and it is pure Darwinism, and it shows no signs of letting up.
There have already been discussions of how things will work this spring with more competition in practice and rewards for winners with a stigma being placed on losers: lavender jerseys, no Gatorade, bad grub, etc. Rightfully so. There should be shame and disgrace in losing and not performing up to your potential.
I and many others gave everything we had to Ohio State in our four years. I pushed myself to exhaustion and collapsed in off-season workouts. I fought and clawed and scratched for every inch in practice and in games. We, as program alumni, expect each member of the current team to do the same.
I absolutely love the edge to the new staff. I'm sure there is a more eloquent way to put this but I am a novice writer so here you go: It is a staff of alpha males. They are young and hungry and there is no dead weight.
There is a feeling, I believe, that it is no longer an "old boys network" to getting a job at Ohio State. We can demand the best and if you're not cutting it, someone else will.
There is a competition and rivalry again between the offensive and defensive staffs and it is intense and relentless. Believe me when I say that mentality transfers down to the players. Fred Pagac was one of my favorite coaches and he exuded this. He would yell and nearly come to blows with offensive staff members during competitions. You could tell he would put pads on and get in there if he could (some of the current staff certainly can) and it made you want to succeed. When players and coaches train like gladiators, you are not just creating a team mentality but a losing will not be tolerated culture.
There is a level of intensity that is palpable at the Woody, and it is great to have that feeling again from everyone. Let's face it, last year was embarrassing. The new staff is dead-set on not allowing something like that to happen again and Urban and his coaches have made it clear to the football alumni that the pride and tradition of The Ohio State University football program will be restored, sooner rather than later.
Matt Finkes, an All-American defensive end for Ohio State from 1993-1996, is an Eleven Warriors contributor.