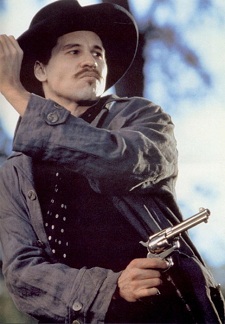 The preliminaries are over and now we get down to brass tacks. Today Ohio State will play a red-hot Gonzaga team with a berth in the NCAA Sweet Sixteen on the line. Don't let the seed fool you; this is a solid team with size and quickness and the Buckeyes will have their hands full this afternoon as they try to advance.
After breaking out of their weekend slump two weeks ago, it seems OSU knows how to win on Saturdays again. The Western Showdown motif came to my mind again today, what with their opponent coming in from way out West in Spokane WA. Besides, it worked well at MSU, and so I thought I would go to that well again and hope I can bring up something more than just rocks in the bucket.
In taking on their own personal struggles, as well as the opposition, this situation reminds me of the classic 90's film Tombstone, in which Wyatt Earp, Doc Holliday, and others have to take down a ruthless gang that is terrorizing the town. On Thursday, Deshaun Thomas put on his game face and terrorized Loyola to the tune of 31 points and 12 rebounds. Today we will find out if Thomas or any of the other Buckeyes will be prepared to step up and say "I'm your huckleberry" when the game is on the line.
| # | Name | YR | HT/WT | PTS | REB | ASST | P | # | Name | YR | HT/WT | PTS | REB | ASST |
| --- | --- | --- | --- | --- | --- | --- | --- | --- | --- | --- | --- | --- | --- | --- |
| 4 | A. Craft | SO | 6-2/190 | 8.6 | 3.3 | 4.5 | G | 4 | K. Pangos | FR | 6-1/180 | 13.8 | 2.8 | 3.4 |
| 32 | L. Smith Jr. | SO | 6-4/205 | 6.1 | 4.6 | 2.1 | G | 5 | G. Bell Jr. | FR | 6-1/205 | 10.0 | 2.4 | 1.9 |
| 44 | W. Buford | SR | 6-6/220 | 14.8 | 4.8 | 2.8 | F | 10 | G. Landry Edi | JR | 6-6/218 | 5.6 | 2.4 | 0.9 |
| 1 | D. Thomas | SO | 6-7/225 | 15.8 | 5.2 | 0.9 | F | 20 | E. Harris | JR | 6-7/240 | 13.1 | 8.7 | 1.3 |
| 0 | J. Sullinger | SO | 6-9/265 | 17.4 | 9.3 | 1.2 | C | 0 | R. Sacre | SR | 7-0/260 | 11.7 | 6.3 | 0.7 |
Opponent
Gonzaga is a small Jesuit university on the Eastern edge of Washington state. Their enrollment is only around 4800, but their basketball exploits loom much larger, especially when March rolls around. In 1999, the Zags (it seems no one calls them the Bulldogs) were a 10 seed but put together 3 improbable wins (including a dramatic victory over 6 seed Florida) to advance to the Elite Eight. Since then, Gonzaga has been a regular in the tournament and they frequently pull the upset, although they have never made a Final Four.
Mark Few took over the program in the 1999/2000 season and during his tenure his teams have dominated the West Coast Conference, winning 11 consecutive regular season titles. They have also won 9 of 11 WCC tournament titles. Few's overall record at Gonzaga is a sparkling 342-89, with a 162-22 record in conference play. Few also set an all-time record (since broken) for NCAA Division I men's coaches by collecting 81 wins in his first three years as a head coach.
Gonzaga began the season with 5 straight wins, including a 73-53 blowout of Notre Dame, but then ran into trouble as they lost consecutive games to Big Ten foes Illinois (on the road) and Michigan State (home). After that, they proceeded to win 20 of their next 23 games before losing to St. Mary's in the WCC tournament championship game. The Zags still made the NCAA tournament despite the loss, and they validated their presence with an emphatic 77-54 smackdown of Bob Huggins and West Virginia.
In that game, the Zags shot 56% from the field and 53% from distance with four starters scoring in double-figures. The team is led by freshman point guard Kevin Pangos, the latest in a long line of Gonzaga playmakers that goes all the way back to John Stockton. Pangos leads a balanced scoring attack with a 13.8 average, shooting 40.7% from distance in the process. Still, he is human, and it showed when he went 3/18 from the field and 1/10 from beyond the arc in the WCC tourney loss to St. Mary's. If Aaron Craft can stay with Pangos and get inside his head a bit, he may rattle the freshman into another bad showing.
Gonzaga is a very big team up front, led by 7-foot center Robert Sacre. The senior from Vancouver BC is the team's 3rd leading scorer and 2nd leading rebounder. He shoots 51% from the field and is also an excellent free throw shooter for a big man, hitting 76% from the stripe. He is joined by junior F Elias Harris, an import from Germany whose parents both played basketball in the homeland. Harris also shoots over 50% overall and 42% from 3-point land. 
The Zags tend to play a lot of players in an effort to keep everyone fresh (what a concept). They have 9 players that average double-figures in minutes played per game, with two more averaging 6 minutes or more. One of the key reserves is David Stockton, the son of the aforementioned Gonzaga alumnist John Stockton, who is 2nd on the team in assists despite playing only around 17 minutes per game. This is a deep team with a significant International flavor (two Frenchmen, two Germans, two Canadians) and they play solid fundamental basketball. OSU will have to earn a victory today if they are to achieve one.
Buckeye Breakdown:
OSU coach Thad Matta has directed his teams to 10 NCAA appearances in his 12 years as a head coach, including 6 in 8 years at Ohio State. His record in those games is 18-9 overall, and 11-5 with the Buckeyes. Many fans have criticized him because his teams tend to take an early exit, especially the last few years. My feeling is that his teams tend to look tired at the end of the season, which is the result of not using the bench during the regular season. The net effect of this fatigue is that when the game is on the line guys cannot hit shots. Tired legs lead to errant shots, I've always found.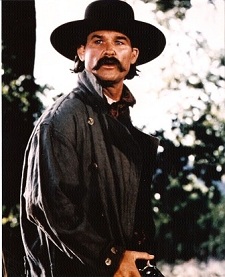 Nevertheless, there's no arguing with success, and this team is no exception. Whatever else you say about this team, you cannot say they have not won games. Ohio State lost three starters from last year's team, including the Big Ten's all-time leading 3-point shooter, and still they won 27 games and garnered a #2 seed in the NCAA tourney. Tired or not, this team is still dangerous and many pundits expect a Final Four run and possibly a championship.
In the B1G final against Michigan State, the Buckeyes played a solid game for about 28 minutes, and they appeared to have the game under control. But then the team hit a wall, and all of a sudden no one could make a shot. Guys stopped moving the ball around and started going one-on-five, leading to contested shots and no offensive rebounding. The commentators made a point to mention that three of OSU's starters had played all 20 minutes in the first half, and it certainly looked like fatigue had taken its toll late in the game.
OSU rebounded with a solid, if not often pretty, performance in a 19-point win over Loyola. But the rustiness of the bench showed when they allowed the Greyhounds to trim the lead late in the game, thus forcing Matta to put his starters back in to seal the deal. A rested William Buford calmly drained a pair of triples to put the game away for good. Perhaps a lesson was learned, no?
I fully expect someone other than Deshaun Thomas to contribute today, and possibly more. I think the Buckeyes will be focused and well prepared for the game. Will they be able to stand up and make shots late in the game when it matters most? Will the coach use his bench strategically in the first half to make sure his starters are not gasping for air at the 12 minute mark of the 2nd half? We will see.
Etc
OSU has advanced to the Sweet Sixteen the past two seasons, losing to Tennessee and Kentucky in the regional semi-finals. Overall, the Buckeyes have a 42-22 record in their 24 NCAA tournament appearances, including 9 Final Four appearances but only one title (1960).
Kevin Harlan will do the play-by-play for CBS today, with Len Elmore and Reggie Miller providing commentary.