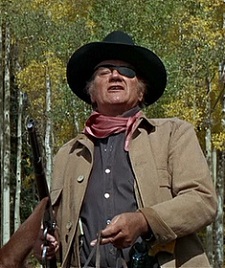 Their backs are up against the wall. The chips are down. This one is for all the marbles. Choose your favorite sports cliché; they all apply.
Today Ohio State travels to East Lansing for a showdown that pretty much defines the term. And since the team lately has had a tremendous struggle trying to win on weekends, I thought they might need a little inspiration from a guy who knows a little something about showdowns. 
In the classic 1969 Western film True Grit, Marshall Rooster Cogburn, played by the icon of all Hollywood icons John Wayne, faced down Lucky Ned Pepper's gang with an attitude that epitomized the film's title. And when the villians would not yield, he took the reins in his mouth and charged at them shooting a pistol in his left hand and a rifle in his right. Evil was vanquished, good triumphed, and justice prevailed.
Today, the Buckeyes will need to have that same kind of spirit as they face down Lucky Tom Izzo and his gang in hostile territory with the Big Ten regular season title on the line. Win, and you share the title and go into the tournament knowing you beat the best of the rest on their floor and have nothing to fear. Lose, and they walk away with the title undisputed and a season sweep that will leave you wounded and once again questioning yourself entering the post-season. 
| # | Name | YR | HT/WT | PTS | REB | ASST | P | # | Name | YR | HT/WT | PTS | REB | ASST |
| --- | --- | --- | --- | --- | --- | --- | --- | --- | --- | --- | --- | --- | --- | --- |
| 4 | A. Craft | SO | 6-2/190 | 8.6 | 2.9 | 4.5 | G | 11 | K. Appling | SO | 6-1/190 | 11.5 | 3.0 | 3.8 |
| 32 | L. Smith Jr. | SO | 6-4/205 | 6.0 | 4.6 | 2.2 | G | 13 | A. Thornton | SR | 6-5/205 | 5.2 | 3.3 | 1.1 |
| 44 | W. Buford | SR | 6-6/220 | 14.8 | 4.9 | 3.0 | F | 22 | B. Dawson | FR | 6-6/220 | 8.5 | 4.6 | 1.0 |
| 1 | D. Thomas | SO | 6-7/225 | 15.2 | 4.9 | 0.9 | F | 23 | D. Green | SR | 6-7/230 | 16.1 | 10.2 | 3.6 |
| 0 | J. Sullinger | SO | 6-9/265 | 17.0 | 9.3 | 1.1 | C | 5 | A. Payne | SO | 6-10/240 | 6.6 | 4.0 | 0.3 |
Opponent
Michigan State has clinched at least a share of the Big Ten regular season title, but they are coming off a 70-55 loss at Indiana in which they barely played defense and were limited to one scoring option on offense. Pete Rossman from MSU blog The Only Colors had this to say: 
I'm not going to sugarcoat it -- this game was possibly the worst MSU performance of the year.
The Hoosiers had balanced scoring, 5 players in double-figures, while Michigan State had Draymond Green's 29 points and no one else with more than 8. IU's Victor Oladipo drove the lane endlessly and effortlessly. Inside scorers Cody Zeller and Christian Watford contributed 28 points and had only 3 fouls between them. Besides all that, they outrebounded the Spartans, which almost never happens. 
All of this is to say that Michigan State might just now be entering a slump similar to the one OSU has been mired in for the past 6 games. While Sparty had won 7 straight before the debacle in Bloomington, prior to that they had lost 3 of 5 including a humiliating 81-74 loss at Northwestern. This MSU team is not a world-beater; they have serious flaws that can be exploited by any team that is on top of its game.
For one thing, the turnover bugaboo has popped up again. After turning it over only 5 times in their win at Minnesota, the Spartans have logged 29 turnovers in their last two games. Senior star Draymond Green by himself has turned it over 12 times in the last 3 games, against 7 assists. PG Keith Appling has also caught the bug, logging 8 turnovers against 7 assists in his last two games. Teams have caught on to the fact that MSU plays a very big line-up, one that is not conducive to crisp ball movement.
It is possible that the loss to IU was an anomaly, and Izzo will have them back up to their 'A' game for senior day against the Buckeyes. Ohio State formerly was the highest ranked team in the league, and that seemed to bring out the best in all of their opponents. To be sure, the crowd will be fired up and raucous today. Will it be enough of a motivation, combined with Green's final game at Breslin, to lift the team out of the wreckage of Tuesday night and triumph over OSU? We'll see.
Buckeye Breakdown:
A lot of what I said in the preview for the first match-up still applies, especially this part: 
I expect this to be a rough-and-tumble game, with lots of pushing and shoving and maybe a few tempers flaring.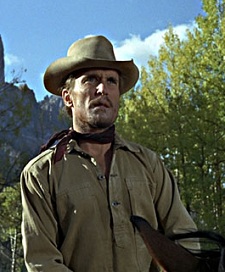 OSU lost more than their temper in the first game vs. MSU: they lost their entire offensive concept. The frequent fouling by the Spartans (OSU shot 22 free throws) led to Buckeye players expecting a foul call on every contact. After a while, a team in this situation gets a sense of entitlement, as if they are going to get every call on a shot attempt and need make no serious attempt to make the shot.
As a result of such an attitude, poorly composed shots clang harmlessly off the rim and when the expected foul does not materialize the player wastes time arguing the call when he should be getting back on defense. This gives the other team an advantage in transition and in concentration as their opponent is still distracted by the non-call. 
In order to make sure this does not happen, the Ohio State players need to stay focused on running their sets and getting open shots. This is a team with a lot of good ball-handlers (in contrast with Sparty) and they can afford to be selective with shots. Good ball movement, going inside-outside and swinging from side to side, will result in open shots that are much easier to hit than contested ones. 
Speaking of hitting open shots, lately Aaron Craft has been getting into a good offensive groove. He was one of the few standouts against the Spartans in the last game, making 8/8 from the stripe and finishing with 15 points. In his last three games, Craft has hit 15/22 shots including 6/8 from distance, for an average of 12.6 points per game in that span. As a result, he has raised his season shooting percentage to over 50% and his 3-point percentage is now over 40%. 
So one key for the Buckeyes today will be for Craft to look more for his shot rather than leaving the perimeter work to the likes of Buford and Smith. This will open up the inside, allowing more looks for Jared Sullinger. Even with the recent slump, Sully is still shooting 55% for the season, and this means that he probably should be shooting a lot more. Using Buford as a decoy and getting more shots for Craft, Sullinger, and Thomas (shooting 53% on the season) will be important today. If OSU gets off more than 50 shots today and Buford has less than 10 of them, I say they win.
Etc
Michigan State leads the all-time series 59-51 and is 36-16 in East Lansing. When ranked, Ohio State is 19-9 vs. Michigan State. The Spartans are 16-6 when ranked vs. the Buckeyes. 
Getting even on the road against a top-5 conference foe after losing to them at home earlier in the season is not unprecedented in college basketball this season. In fact, it happened yesterday.
CBS has the broadcast again today, but this time Verne Lundquist will be the play-by-play announcer while Buckeye legend Clark Kellogg handles commentary. The last time this pair worked an OSU game, the Buckeyes crushed Indiana to get revenge for a previous loss. Game on, Sparty.