Although the Buckeyes came up just short against the Spartans yesterday, handing Michigan State its first conference tournament championship since 2000 and a top seed in the West Region, I'm guessing we're all feeling a little bit better about the malaise that hit the team during the second half of the Big Ten schedule.
Thad Matta's crew absolutely hammered two good teams, Purdue and Michigan1, before falling just short yesterday and head into the tournament with Jared Sullinger, Deshaun Thomas and Aaron Craft on a roll. This team will still need William Buford to step up, but it's safe to say things are looking a lot brighter than they were just two weeks ago.
As the two seed in the East Region, Ohio State will take on #15 Loyola University Maryland2 at approximately 9:45pm on Thursday night (TNT) at the CONSOL Energy Center in Pittsburgh.
What do we know about the Greyhounds? Not a whole lot right now. Loyola finished 24-8 on the year, 13-5 in conference, which was good enough for second to Iona in the MAAC regular season. They punched their ticket to the dance on Monday with a 48-44 victory over Fairfield in the MAAC Tournament championship game.
Beyond that, you need to know that Loyola coach Jimmy Patsos may just be the most quotable and unorthodox coach in the tournament. Here's the excellent college basketball blog The Mid Majority on Patsos' approach to stopping Davidson's Stephen Curry in 2008:
Loyola head coach Jimmy Patsos ordered two of his players to double-team the nation's leading scorer, at all times. Not just when he had the ball, but at all times. And as the game went on, when it became clear that Patsos was serious about this and that he wouldn't alter his game plan, Curry calmly camped out in the far corner with his two new green-clad friends. As the home crowd booed, the rest of the Wildcats played 4-on-3 against the Greyhounds, and won 78-48.

"We could have done box-and-one, triangle-and-two like everyone else," he said. "But he's beaten all those. We were trying to win the game. But the next morning, everybody was talking about me like I was Lucifer or something."
Then there was the time Patsos earned a technical foul and went to have a seat next to his athletic director 10 rows in the stands -- during a game -- to avoid getting a second technical3. The former Deadhead that spent the early part of his career as a volunteer assistant to Maryland's Gary Williams during the day while slinging drinks as a bartender at a Georgetown bar went deep in his MAAC Tournament championship postgame news conference last week:
"I talked about Bobby Seale and the Black Panthers," Patsos said in his news conference after the game. "I said there's levels. There's Martin Luther King. There's Malcolm X. And I said I have saved Bobby Seale and the Black Panthers for the end. Sometimes you've got to get militant, and we're getting militant, young men. And I told them about that."
Whatever his methods, Patsos has the Greyhounds in the tournament for the first time in 18 years. As for the approach he'll take with this game, perhaps Ohio State assistant Dave Dickerson can shed some insight. He coached alongside Patsos for nine years on Williams' staff at Maryland. 
SIX B1G TEAMS, BUT ONLY ONE EPIC FIRST ROUND MATCHUP. The Big Ten, widely regarded as the nation's best conference, sent six teams to the NCAA Tournament. The Buckeyes, of course, earned a two seed in the East Region, Michigan State captured the West's top seed, Michigan, Wisconsin and Indiana locked down four seeds and Purdue heads to the Midwest region as the 10 seed.
I'm still not convinced the Big East was three bids better than the Big Ten, despite the size of that perennially over hyped conference, but it is what it is. All but one of the Big Ten's teams will be favored in their opening round games with the exception of Purdue in its matchup with #7 Saint Mary's, and even then, there's a good chance Vegas will have the Boilermakers favored in that one.
One game, however, does deserve special attention. #4 Michigan will take on #13 Ohio on Friday at 7:20pm in Nashville.
This presents a bit of a problem in the Mitten State as Michigan coaches and fans alike have taken to calling our beloved Buckeyes "Ohio", leading to clever headlines like Michigan Gets a 4, Will Play Ohio (Not That Ohio).
And who says the selection committee doesn't have a sense of humor?
Besides the many Ohio graduates we count as friends and families, this game will take on special meaning to Buckeye fans as the Bobcats, winners of the MAC Tournament championship after finishing third in the MAC East division, are coached by John Groce, a quickly-growing branch on the Thad Matta coaching tree. After joining Matta's staff at Butler, Groce followed him to Xavier and then Ohio State, coaching from 2004-2008 in Columbus before taking over in Athens.
We're just two seasons removed from Groce's Bobcats -- as a 13 seed -- knocking off Georgetown in the opening round of the NCAA Tournament, so an upset is not out of the question here.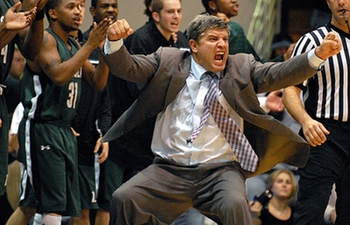 THE GOLDEN PATH. With proper apologies to The Flaming Lips and the Chemical Brothers, the path to a matchup with top-seeded Syracuse is right in front of the Buckeyes.
Should Ohio State advance past Loyola (spoiler: they will), they'll face either #7 Gonzaga or #10 West Virginia in Pittsburgh on Saturday. It will be round of 32 time, so both teams will be tough outs, but nothing insurmountable. Getting a crack at West Virginia would be nice, if nothing else than to get a bit of revenge for Thad Matta's worst home loss in Columbus.
The Buckeyes would likely then be looking at a matchup with either #6 Cincinnati or #3 Florida State in the Sweet Sixteen4. Facing UC would be huge because of the bad blood between the two schools and Florida State, the ACC Tournament champion would be a matchup problem because of their size, but again, another winnable game.
This would setup a matchup with (presumably) Syracuse in the Elite Eight, with a Final Four bid on the line.
THE 5TH ANNUAL 11W TOURNAMENT CHALLENGE. I can remember the 20-odd entries we had the first year we put one of these together. This year, the pool had 300 entries just four hours after announcing it.
There's a cap of 500 entrees, so get yours in today for a chance to win SI's 2010 March Madness issue autographed by Evan Turner.
Yahoo is paying $5 million for a perfect bracket, so you have that to shoot for, too.
ANTHONY SCHLEGEL IS BRINGING YOU THE GOODS. We're not sure if former Buckeye linebacker and current OSU Assistant Strength and Conditioning Coach Anthony Schlegel is responsible for the wave of videos emanating from the Woody Hayes Athletic Center, but he makes several appearances playing reporter for a nondescript YouTube account.
We previously highlighted a defensive backs drill conducted by Everett Withers and here's a look at offensive coordinator Tom Herman's quarterback drill:
Other videos include a ball security drill from tight ends and fullbacks coach Tim Hinton and Luke Fickell discussing a tackling drill.
/Subscribed
DIVERSIONS: Urban Meyer speaks to reporters while on vacation... Jay Bilas loves chalk... Bill O'Brien has righted SS Penn State Recruiting... RIP, Don Robinson. Help is on the Way... Free money in Kent Ohio... A brief history of the History Channel... This meme just got better... Today is the last day to become a winner.
1 Michigan coach John Beilein had this to say about Ohio State after his team's 77-55 loss to the Buckeyes in the conference semifinals: "I've seen some really good teams that have played some really good games. That's as good of a game as I've ever seen a college team play."
2 Not the first Loyola that you think of? Me neither. The Greyhounds do own loyola.edu, so there's that.
3 I can't help but think back to the late Northwestern basketball coach Ricky Byrdsong and the time when he left the bench to sit with fans in the stands, enjoying popcorn and high-fiving Goldy the Gopher while in the midst of a nine-game losing streak. RIP, Ricky.
4 It's March, however, so nothing would surprise me.