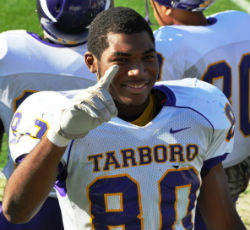 Despite having brought in a defensive line class of four outstanding players and a linebacker class of five talented prospects, Urban Meyer continues to look to add star power to Ohio State's defensive unit in the coming years.
One of the players who does not yet have an offer from the Buckeyes, but is certainly on their radar is Tyquan Lewis of Tarboro High School in North Carolina. The 6-3/224 prospect played defensive end for his high school last year, but is being looked at as a hybrid defensive end-linebacker by the Ohio State coaching staff.
Like with many other prospects in the Tar Heel state, Everett Withers is Lewis's main point of contact in Columbus and the former UNC head coach has his attention. Despite not having an offer, Lewis plans to get up north to check out OSU this summer and likes what he has been told the Buckeyes could have to offer him at the next level.
We caught up with Lewis to find out when that visit might happen, see the latest on his recruitment, find out what other Buckeye targets he talks to frequently, and more. Join us after the jump to hear more about one of Ohio State's targets on the defensive side of the ball, Tyquan Lewis.
How did your junior season go?
It went very well. Our team won it's third consecutive state championship for our school, so that was obviously great. Individually I had a very good season as well. I registered 63 tackles and 12 sacks on the year.
How is recruiting going? What offers do you currently hold?
Recruiting is going well and picking up right now. I have offers from North Carolina State, Wake Forest, South Carolina, Auburn, North Carolina, East Carolina, Maryland, Clemson, and UConn so far.
What are some programs that haven't offered that are interested and may offer you soon?
Ohio State, Rutgers, Alabama, Oklahoma State, and LSU are all showing a lot of interest right now and could offer any day.
Who is recruiting you at Ohio State and what have they told you?
Everett Withers is my main recruiter and I have also talked to Mark Pantoni a lot as well. I plan to speak to Urban Meyer in the very near future. They are just telling me that I already have a winning tradition at my school and that if I want that to continue I should be a Buckeye.
I know you play defensive end for your high school. What position is Ohio State recruiting you for?
Ohio State is actually looking at me a little bit as an outside linebacker. They are saying I could play defensive end as well and could be sort of a hybrid of the two positions.
Do you plan on taking a visit to Ohio State?
Yes, I am definitely planning on getting up there. It will probably be some time in the summer, maybe for their camp.
What other visits have you taken? What visits do you have planned in the future?
I have been to Wake Forest, North Carolina, East Carolina, North Carolina State, and Clemson. I may be visiting LSU this coming weekend, will be at South Carolina on March 31, and plan to get to Florida, Duke, and Miami (FL) this summer as well.
Do you have a timeline for making a college decision?
I will be making my decision some time before my senior season starts. I want to go to all the camps and take some visits first before deciding, but I plan to enroll early at whatever school I choose so I want to make that choice sooner rather than later.
What is the most important factor to you when making your college decision?
Education is definitely the top priority for me. I want to go somewhere where I can get a great education and earn my degree.
North Carolina is pretty deep in talent this year and Ohio State is recruiting a lot of players from the state. Do you talk with any prospects from North Carolina that are being recruited by the Buckeyes?
Yes, I talk with both Lewis Neal and Josh McNeil. I talk to Lewis more and we do talk about going to the same school a lot. We're being recruited by many of the same schools so it's definitely a possibility we end going to the same place.
What are your strengths on the football field? What do you feel you need to improve on?
I feel I have really good quickness, can use my hands well at the point of attack, and have great ball awareness. I need to play more under control as I am too aggressive at times and get better at play recognition.
Check out Tyquan's junior highlights here