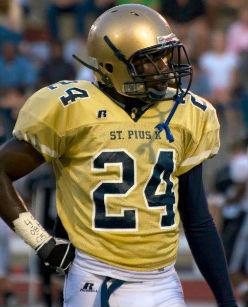 The Ohio State recruiting class of 2013 is far from wrapped up, but that doesn't mean that Urban Meyer and the staff aren't already looking ahead to what players they'd like to add in their class of 2014.
While some early attention has been on the rising in-state stars in the class, there are some national players who are garnering serious interest, not just from the Buckeyes, but from the top programs across the country as they approach the midway point in their high school careers.
One of those players is DB Nick Glass of St. Pius X High School in Atlanta, Georgia. Standing at 6-2/203 and being clocked at 4.49 a few weeks ago in the 40-yard dash, Glass played safety, corner back, and some linebacker during his sophomore season, in which he tallied 75 tackles, 4 interceptions, and 5 sacks. Although he played a multitude of positions, he is rated as one of the top, if not the best, safeties in the nation for his class and that is the spot most colleges are looking at him at.
It's not just the hype that surrounds Glass, as he is able to back up the talk with 15 scholarship offers already to his name and a whole bunch more on the way. Ohio State is the latest program to offer the Peach State star and the interest is certainly reciprocated at this point in his recruitment.
We got the chance to catch up with Nick to hear the latest on his recruitment, see how he's handling the attention, what his summer plans are and more. Join us after the jump to learn some more about one of the nation's best players in the class of 2014, Nick Glass.
You are only a sophomore yet so much recruiting attention has come your way. How are you handling all of the hype so far?
I've just been trying to stay humble and not get a big head. All of this can be taken away from you at any moment, so I know I am fortunate and just trying to enjoy the experience.
What schools have offered you so far? What other schools are showing interest?
Georgia Tech, Vanderbilt, Tennessee, Clemson, UNC, NC State, Arkansas, Wake Forest, Oklahoma State, Ole Miss, Mississippi State, Auburn, Illinois, Cincinnati, and now Ohio State are the schools I have offers from. Other schools showing interest that could offer very soon include Alabama, Florida, Florida State, Texas, and Georgia.
Ohio State just offered you. How did that go down?
Coach Withers and Coach Drayton had been talking to me for a little while. They told me that they really loved my film, that Coach Meyer and Coach Fickell love me as a player also, and that the next time they could offer 2014 guy it would be me. I spoke to them on the phone this week and they told me about the offer on Tuesday.
What coaches have you spoken to at OSU and what are they telling you?
As I mentioned before I have spoken to Coach Withers and Coach Drayton, but I am planning on speaking to Coach Meyer this week. They are just telling me they'd love to get me up there for a visit and about the history and tradition of the school.
What do you like about Ohio State so far?
I really like their history and the fact that the program has a lot of tradition. They have produced some great players over the years and have just brought in one of the best coaches in the country. Coach Meyer won two national titles at Florida and knows how to win so everything is going only improve up there. I expect nothing but the best out of Ohio State.
Coming from the south obviously it's not common for too many players to go north. Would you be willing to consider going to a place like Ohio State?
Yes, I don't think of it as it's that bad going up north. If you go to the NFL what if you get drafted by Buffalo? You have to go up north for that don't you? As long as I have a good education and play for a great coaching staff, I don't mind where the school is located. I just want to be able to get along with the players and win.
What are you looking for in the school of your choice?
I am looking for a great education first of all. After that I want to play for a great coaching staff at a school with a winning tradition and fans who support the team. It's also important to me to play for a team that has players I can bond with and fit in well with.
Do you have a list of early favorites?
No, right now I really like anybody who likes me. I will have a smaller list towards the end of summer or beginning of next season though.
Have you taken any visits yet? Do you have any visits planned or camps scheduled?
I have been to Florida, Clemson, Georgia, and Georgia Tech so far. I am trying to go to Ohio State for the Spring Game or if I can't make it work for that weekend, I will visit in early summer. Some other trips I will go on are to Auburn, Alabama, Tennessee, Vanderbilt, and South Carolina.
When do you think you'll make a college decision?
I'm not sure right now, but whenever a certain school feels right. I'm not sure when that will be, but maybe sometime during my junior season.
HIGHLIGHTS: