Good morning Buckeye faithful and welcome to your Tuesday Skull Session.
Last night, I heard a name I haven't heard in quite a while. That name was Greg Oden, and I couldn't help but feel his pain after learning he underwent his third microfracture surgery. Oden has had two surgeries on his left knee and one on his right.
It seems like forever ago that Oden and fellow freshman Mike Conley dominated college basketball and nearly won it all before losing to Florida in the NCAA championship game. Back then, the sky was the limit for the Indiana native who was a nightmare for opponents on the defensive end.
His only healthy basketball season after high school, when you think about it, was his one and only season at OSU. After being selected #1 overall by Portland, Oden has only played 82 games in his four NBA seasons, 61 of which came his rookie year. His legacy has been compared to that of Sam Bowie, the player Portland took over Michael Jordan.
It must be tearing Oden up inside that he can't play the game which made him who he is today. The fact that he is even continuing to try to get back on the court after all the surgeries and disappointments in his professional career shows how passionate he is about the game. You can only hope at some point everything works out for such a talented player and a great Buckeye.
However, I'm not going to pout too much for him. After all, he is making $8.9 million dollars this season.
 SO GOES THE SEASON WITH BUFORD. William Buford is having an up and down season, which has been trending downward as of late. Rob Oller of the Columbus Dispatch believes the Buckeyes aren't going to get far unless Buford turns it around.
As displayed in the Buckeyes' losses against Michigan State and Michigan, Buford is going to need to elevate his level of play if the Buckeyes expect to go far in the NCAA tournament. Buford, the team's only senior, is setting a poor example for the younger players beneath him as he has taken the most shots on the team but is an astounding ninth in field goal percentage on the team.
Additionally, while Buford is averaging 15 points this season, his highest average of his career, he is averaging 18.4 points against the bottom seven Big Ten squads and only 8.8 points against the top four teams. He's clearly having trouble living up to the pressures of big games and that's a bad sign because every game in March Madness is a big game.
Jared Sullinger and Deshaun Thomas can only do so much for this team. Thad Matta needs to get more out of his perimeter game. Lenzelle Smith, Aaron Craft, and Buford have simply not been a great alternative to the post game and it's hurt OSU in their last two big games.
Buford, who could've been a first round NBA draft pick last year, is playing at such a low level that some people are questioning if he'll even get drafted. Could Buford have to play in Europe like David Lighty did this year? Maybe we shouldn't think this far ahead as Buford still has time to turn it around, but Buford has to pick it up or the Buckeyes are in trouble come March.
GEE SOUNDS OFF. In an interview with Ohio State's student newspaper, The Lantern, Ohio State president Gordon Gee states that he doesn't agree with the NCAA bowl ban for OSU's football program next season.
"First of all, the NCAA — if we would have given up five bowl games, they would have imposed the sixth on us because they were going to impose a bowl ban. This was Ohio State. This was (the NCAA's) moment in time, and they were going to impose a bowl ban no matter what we did."
Gee, however, wasn't alone. Former head coach Earle Bruce voiced his discontent with the NCAA's sanctions.
"I've heard some things that I wonder about," Bruce said. "I think you let the (NCAA) do their job, and they did it with a vengeance."
But that's not all, folks. A Miami-area college sports lawyer, Michael L. Buckner, threw in his two cents on the matter as well.
"Under the Committee's logic, Ohio State played ineligible student-athletes in the Sugar Bowl. I have a few problems with their rationale," Buckner said. "(The Committee) is trying to inject themselves in the judgment of the reinstatement staff and the Committee on Reinstatement. That's not in their purview. Their purview is to look at violations."
While I'm very enthusiastic these relevant sources are so passionate about voicing their opinions against the NCAA, I believe it isn't necessary at this point. I, just like everyone else in Buckeye nation, didn't like the way the NCAA went about imposing its punishment on OSU. However, we can't change what's happened and it's best if we just move forward.
It's great that someone is speaking up for a lot of disgruntled fans and players, but at this point, let's just deal with it. Let's let Meyer whoop these players into shape next season, and get them ready to come back hungrier than ever in 2013.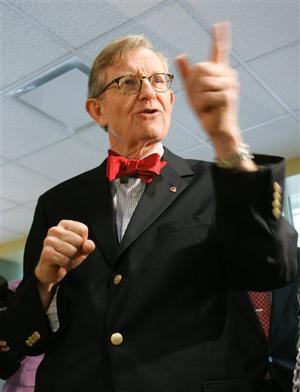 THIS IS FAMILY BUSINESS. Kirk Ferentz is hiring his son, Brian, as offensive line coach for his Iowa Hawkeyes.
Brian, who has been with the New England Patriots for the past four seasons, returned to Iowa after coaching the Patriots' successful tight end combination of party enthusiast Rob Gronkowski and Aaron Hernandez. 
While there is the obvious family and alma mater connection that attracted him to Iowa, I still find it odd that Brian Ferentz would give up his position with the Patriots. Many analysts see Ferentz as a talented mind who could one day be a play caller.  Maybe he believes he'll be able to climb to a more prominent position faster than in the NFL, or maybe he just feels at home at Iowa.
Either way, it's a great hire for Kirk Ferentz and the Hawkeyes.
BUCKEYE HOOPS. Ohio State had a mediocre showing in Ann Arbor last Saturday and they dropped to #8 in this week's college basketball top 25. The top five rounded out with #1 Kentucky, #2 Syracuse, #3 Missouri, #4 Kansas, and #5 Duke.
The coming week doesn't get easier for the Buckeyes either, as they will play Illinois, who knocked Matta's squad off in their earlier meeting in Champaign, and the always tricky Wisconsin Badgers.
OSU will play Illinois tonight at 7 at the Schott and will also play Bo Ryan's Badgers on Sunday at the Schott.
LOS LINKS. Your Illinois basketball update... For those wondering about Davonte Neal...  Robert Griffin III and Andrew Luck avoid an awkward situation... Dancing without Joe Pa... Any of you bros care to LAX?