Good morning Buckeye faithful and welcome to your Tuesday Skull Session.
Recruiting season apparently never ends when you're Urban Frank Meyer. Seeing the talent he's already picked up for next year's recruiting class makes me feel like the future is bright.
So I say welcome, Billy Price, and all the great future prospects to come to play for this great university. Just know, due to lack of a bowl game next season, I eagerly await your freshman season and whatever bowl game you make it to.
Let's get moving, shall we:
MEYER WANTS SPEED. Stefon Diggs' decision to commit to the University of Maryland last week left head coach Urban Meyer facing a reality which may hurt the Buckeyes' offense this season.
As Tim May writes for the Columbus Dispatch, Ohio State's roster lacks speed on the offensive side of the ball, and that certainly hurts this team's chance of putting up numbers this season with a new head coach coming in.
Many believe that Meyer lacks that explosive play maker like he had with Percy Harvin in his days back at Florida. This roster, as it stands, by no means has that offensive player that you must have your eyes on at all times, with the exception of Braxton Miller, who is still developing.
Maybe Diggs would've been a speedy, outstanding play maker from day one as a Buckeye, but that doesn't matter anymore. The Buckeyes are going to have to develop the speedsters they currently have on offense if they want to be successful next season.
Jordan Hall and Corey Brown, as May points out, are two players to watch as Meyer looks for fast players on offense who can make a difference. Also, it's wouldn't be wise to forget about Devin Smith, Carlos Hyde, and even Jake Stoneburner as guys who can complement quarterback Braxton Miller and Meyer's new offensive scheme.
LIFE WITHOUT THREEBLER. Last year on the hardwood, the Buckeyes had a classic inside-outside offense which dominated opponents more often than not. This year is a different story.
The Buckeyes' front court still remains a dominant force. However, the magic from outside the arc, which Thad Matta's team thrived on last season, isn't the same this year.
Entering this season, the Buckeyes were expecting to lose some three-point shooting talent with the graduation of Jon Diebler, a 50% shooter from downtown his senior year. Additionally, senior David Lighty's 42% shooting from three was going to need to be replaced as well.
In their place, Aaron Craft, shooting 35% this season, and Deshaun Thomas, shooting 31% this season have done little to make people forget about the two seniors from last season. The one consistent shooter returning was Buford, who shot 44% last season, but his numbers have fallen as well, as he is shooting 37% this year.
While these numbers are alarming, Ohio State is still one of the top teams in the NCAA this season. But their loss of an outside shooting game is certainly nothing to be happy about. It also will put more pressure on Sully, Thomas, and Buford to score in the paint and mid-range areas.
This problem hasn't become apparent yet, but if teams have a game plan and play like Michigan State's last Saturday, the Buckeyes could be in trouble.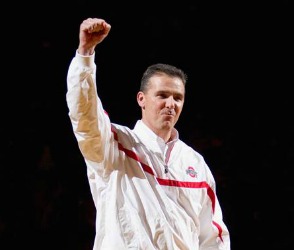 ST. JOHN TO REMAIN. Athletic Director Gene Smith says St. John Arena, home to OSU's volleyball, men's wrestling, and women's gymnastic teams, will be around for a few more years.
The indoor facility, which was built in 1956, will eventually be knocked down and replaced with a smaller facility that is more economically friendly to the university. According to the Columbus Dispatch, the area may be turned into housing and classrooms for students as the university continues to grow.
However, for the time being, Ohio State will continue to renovate the arena which once hosted Buckeye greats Jerry Lucas, Jon Havlicek, and Bob Knight until a final decision is made on the arena.
DISLIKE IS SUCH A STRONG WORD. A poll from ESPN's Brian Bennett asks who is the "most disliked coach in the Big Ten?"
The poll selects four B1G coaches in Wisconsin's Bret Bielema, Michigan State's Mark Dantonio, Michigan's Brady Hoke, and Ohio State's Urban Meyer. Meyer finished slightly ahead of Bielema for the Buckeye's first win over Wisconsin in the Urban Meyer era.
Personally, while Bennett puts the word dislike to describe how you feel about these coaches, he might have just as well put envy. These coaches are disliked so much because they are successful. If there's one thing to take away from this poll, it's that people fear Meyer and what he's going to turn this program into. I for one am fine with having the "most disliked coach in the Big Ten."
BUCKEYE HOOPS. After a close game against Purdue and an upset loss at home to end OSU's 39-game win streak at home to Michigan State, the Buckeyes dropped from #3 to #6 in this week's Coaches Poll.
The top five consists of #1 Kentucky, #2 Syracuse, #3 Missouri, #4 Duke, and #5 Kansas. Michigan State is the only other B1G school in the top 10 at #8.
This week, OSU will be playing on the road against the Minnesota Gophers at 9 tonight and agaisnt the Michigan Wolverines on Saturday.
LOS LINKS: The first super conference?... Butch Davis is back in the NFL... Shapiro continues to haunt Miami's dreams... Sandusky's former daughter in law will not let him see her children... Q&A with Nicki Meyer.