Hello friends and welcome to your eye-opening dosage of all the news that is fit to be news as I see it. It's an intoxicating blend of the inane and the startling, with a hint of nutty goodness that I hope you enjoy from start to the drip-drop finish.
As we move towards the end of the regular season in Big Ten hoops play, the Buckeyes will host Wisconsin on Sunday afternoon in what can only be described as a "must win" for Ohio State. 
On "Senior Day" in Columbus, Buckeye fans will have only one scholarship senior to celebrate, William Buford, but that won't stop the moment from being a moving scene. The game will be a school-record breaking 127th start for William Buford, and will come against a Badgers team that is quickly becoming one of the most fervently hated rivals of Ohio State fans and players.
Buford has been one of the most consistently inconsistent players on a Buckeye team that has been plagued by regular bouts of inconsistency this season. That hasn't kept him from moving up the school's all-time scoring list, nor has it hindered too greatly in the eyes of those who project a player at the next level. 
In Ohio State's nine games against teams currently ranked in the top 25, the Buckeyes are 5-4, with three of the four losses coming inside the B1G (OSU lost Sullinger-less at Kansas). In the nine games against ranked opponents, William Buford is scoring 12.78 PPG, which is not far off his season average of 15 a contest. On the year, he's averaging 3 assists per game, to go along with 2 turnovers per, against ranked teams, he's averaged 2.56 in each of those categories, a 1:1 ratio which is unacceptable for a senior leader.
Whether or not Buford can step up his game over the course of the next month is likely to determine the fate of the Buckeyes in the postseason. Which Buford will show up? The one who averaged 20.6 against against Florida, Duke and Kansas while shooting almost 44% from the floor, or the one who averaged just under 9 points a night against the Big Ten's ranked teams?
 FLORIDA STATE FILLS SCHEDULE GAP WITH SCHEDULED GAP. When the newest member of the Big 12, West Virginia, chickened out of their scheduled season-opening match-up with Florida State, the Seminoles were put in an awkward and unenviable position. Rather than having what appeared to be a high-dollar earning, marquee game to kick-off the year, Florida State would have to scramble to get a new opponent in short order. 
It's important to remember that college football schedules are agreed upon, usually, years in advance, so finding a quality opponent willing to risk an early-season "L" on the road in Tallahassee is not something that can just easily be remedied. So, what was Florida State, one of the early-season favorites for a possible national championship run in 2012, to do? Their non-conference slate, which consisted of West Virginia, Murray State (an FCS opponent), South Florida and Florida, a reasonable road that would prepare them for their ACC trek. Sure, the Murray State game is a joke, but everyone plays at least one joke game a year, it seems.
Well, FSU decided to make sure that everyone got the joke yesterday when they decided to schedule another FCS opponent, the Tigers of Savannah State. The Tigers will earn a reported $450,000 for their willingness to submit to a Seminole beat-down, a nice pay-day and a good chance for some big-time exposure for Mid-Eastern Athletic Conference member. Unfortunately for FSU, there was a number of other potential options that refused that opportunity, and FSU is going to pick up some slack for their now seemingly laughable non-conference schedule. (Don't get me started on the laughability of their in conference schedule)
FSU is not alone in the hilarity of their non-conference games, and most will contend (rightfully so) that Ohio State's early-season contests against the Akrons and Kent States of the world are not much different than an FCS opponent. The landscape of college football is so rocky, and an upset is costly - something that could potentially cost your school and your conference millions of dollars, lots of publicity and a boon to your brand - so scheduling a few laughers is expected and acceptable. 
Plus, there's always the chance of a life-changing moment like this one happening. 
ACC-RIMONY. Randy Edsall has made himself quite popular poo-poo'er since taking the job as the head man at Maryland last year. First, he earned wide-spread praise* for the way he handled his decision to leave Connecticut, then in November he compared his new job at Maryland was similar to taking the UConn job 13 years ago, when UConn was making the move up from D2 to D1. That comparison understandably upset a pretty good portion of the Maryland fan base as Edsall passed off excuse after excuse for why his team was so bad this past season. 
Edsall's popularity continued to explode* last week when this article in the Washington Post lamented his unnecessarily abrasive personality and dedication to minutiae that is basically irrelevant when it comes to winning football games.
That article came on the heels of the announcement that Randy was preventing three players, including All-ACC QB Danny O'Brien, from transferring out of the school to the destination of their choice, which appeared to be Vanderbilt. You see, James Franklin, the former Maryland assistant who had recruited O'Brien is now the head-man at Vandy, and apparently Edsall and the Maryland administrator believe he was making some unethical, illegal overtures towards O'Brien in an effort to "recruit" him again.
In fact, Maryland has now commissioned the ACC to file a complaint against Vanderbilt, asking the SEC to look into the potential transfers, which Edsall has since changed his position on. What will the SEC do about it? That's anyones guess, but I would suggest that both Franklin and Edsall focus on their current teams and stop the whining.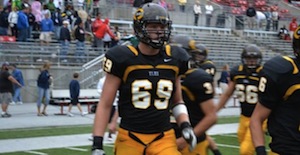 IN-STATE DEBATE. As we have gone over a few times on this site recently, Urban Meyer likes to recruit. He loves recruiting, in fact, so does his entire staff. They eat, breathe and sleep, recruiting. They are offering running backs and wide receivers and lineman and linebackers and all sorts of players at a clip that is basically as anti-Tresselian as possible.
One position that Urban and his staff focused on when he was hired was the Buckeyes glaring need on the offensive line, and at offensive tackle, specifically. Those needs were addressed by the signing of Joey O'Connor, Taylor Decker, and Kyle Dodson, but it hasn't stopped Ohio State from getting back at it quickly in the 2013 class. Offers have gone out to at least seven offensive tackles for the class, but yet none have gone out to the best in the state of Ohio until late last night when Evan Lisle reported he had been offered by Ohio State.
Cincinnati Moeller's Alex Gall and Huber Heights' Lovell Peterson are all holding big offers from big schools, yet OSU continues to look elsewhere. Similar issues arise when you observe the linebacker position, where the state's best (in my opinion) has yet to receive an offer from the home school, despite offers from nearly all of the "big boys" and rivals.
What is the reason for this? Why is Urban Meyer allowing schools like Alabama to come in to the state and offer Evan Lisle, and only then the Buckeyes realize that perhaps they need to come through for the state's best offensive lineman? In their defense, Urban did come through with the offer, but it seems like the timing is a bit off, especially when looking at the state's top players, at a position of need.
Popular logic dictates that Meyer and his staff are just not "sold" on said prospects and are still evaluating, knowing that they have time on their side and that an offer would likely be followed quickly by a commitment, which we may see come to fruition in regard to Lisle. That commitment would subsequently put the Buckeyes in a position where they may be forced to pass on players that received earlier offers.
It's a dangerous game to play for Meyer and the Buckeyes, but at this point, can we really doubt anything that Urban and his staff are doing?
 SPARTANS GO-FER BIG WIN IN MINNESOTA. In what could have been a big help for the Buckeyes chances at winning the Big Ten regular-season title outright, Michigan State fought off a frisky bunch of Gophers last night for a 66-61 to hold on to their one game lead in the conference. 
The Spartans will get a bye on Saturday against Nebraska before they travel to Indiana to face the Hoosiers next Tuesday night. Then, next Sunday will host the Buckeyes in what could be an instant classic in East Lansing. 
Sparty topped Indiana by 15 in their first meeting, but the Hoosiers are a different team at home and Assembly Hall has derailed a few championship runs over the years, so it would not be surprising to see MSU and Ohio State tied atop the B1G when they tip-off next Sunday afternoon, assuming the Buckeyes come to play against Wisconsin and Northwestern before that meeting.
QUICK SLANTS. Eddie George does a terrific Calvin Johnson impression... One journalist with class, one without... I pretty much love Alison Brie and am thrilled "Community" will be back on the air in March... JaVale McGee offers up the best goaltending moment maybe ever... It's an election year, so this is pertinent.