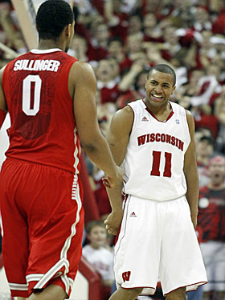 After a five day layoff, the Buckeyes travel to Madison in search of their 20th win on the season, at a place Thad has never won. A win would extend his streak to 12 straight 20-win seasons to start his career.
Ohio State finds itself at the top of the B1G standings, just a half game in front of Whisky, Michigan St. and Michigan, teams they will play over the next five Saturdays. 
This will be the eighth time the two teams have met when both are ranked, with Ohio State holding a 5-2 advantage, but Wisconsin is the only team Matta has a losing record against, going 8-9 in 17 games.
The game comes at the perfect time, as the rivalry between the two schools has boiled over in both football and basketball the last couple of years, especially this week when Bret Bitch-lema whined about Urban's recruiting tactics, followed by Meyer's fiery responses. Deal with it!
| # | Name | YR | HT/WT | PTS | REB | ASST | P | # | Name | YR | HT/WT | PTS | REB | ASST |
| --- | --- | --- | --- | --- | --- | --- | --- | --- | --- | --- | --- | --- | --- | --- |
| 4 | A. Craft | SO | 6-2/190 | 8.1 | 3.0 | 5.0 | G | 11 | J. Taylor | SR | 6-1/195 | 14.1 | 4.2 | 4.3 |
| 32 | L. Smith, Jr. | SO | 6-4/205 | 6.4 | 4.7 | 2.1 | G | 21 | J. Gasser | SO | 6-3/190 | 7.7 | 4.5 | 1.9 |
| 44 | W. Buford | SR | 6-6/220 | 15.0 | 4.7 | 3.3 | F | 5 | R. Evans | JR | 6-6/210 | 9.8 | 6.7 | 1.6 |
| 1 | D. Thomas | SO | 6-7/225 | 14.6 | 4.4 | 1.0 | F | 31 | M. Bruesewitz | JR | 6-6/222 | 6.5 | 4.9 | 1.3 |
| 0 | J. Sullinger | SO | 6-9/265 | 17.1 | 9.1 | 1.0 | C | 40 | J. Berggren | JR | 6-10/235 | 10.5 | 5.1 | 0.7 |
Opponent
Wisconsin comes into the game riding a six game winning streak, after starting 1-3 in B1G games. The Badgers are struggling on the offensive end, scoring 60 PPG in conference play, shooting 43.1% on the year and an even worse 39.6% in league play, all of which rank 10th in the B1G. However, in typical Bo Ryan fashion, the Badgers give up the fewest points in B1G games at 55.7 per, holding opponents to 39.7% shooting overall and 29.4% from deep, both ranking third.
The Badgers are unusually weak on the boards and in the assist category, holding a +0.3 rebounding advantage in league play, while dishing out only 9.4 assists per game, putting them next to last in league rankings.
Bo Ryan has to "deal with" a slim lineup this year and will more than likely ride his starters most of the way today. Only seven players have appeared in all 23 games, with six of them averaging over 25 minutes a game.
Ben Burst, a 6'1" SO. should be the only reserve to see significant minutes today. Burst is scoring 9.3 PPG in 25 minutes, while grabbing almost 3 boards. However, he saw just 11 minutes Tuesday against Penn State, going scoreless for the first time this season. Rob Wilson, a 6'4" SR. from Cleveland and Frank Kiminsky, a 6'11" FR. will be the only other players who could see the floor, but both players average under ten minutes and three points.
As Chris and Elika both pointed out in their interaction with Bucky's 5th Quarter this week, the obvious key matchup will be Jordan Taylor and Aaron Craft. As mentioned, Taylor put on a second half show in front of the Grateful Red last year, going for 27 points on 8/13 shooting, while also dishing out seven assists. However, in Columbus, Craft held him to 2/9 shooting and eight points.
Like Buford, Taylor has had a curious senior season, struggling without the presence of John Leuer, as no other teammate has stepped up the scoring. Taylor's numbers are down across the board from last year, but he's gone for at least 18 in three of his last five. If OSU can shut down everyone else, there's no way Taylor can beat the Bucks on his own.
Buckeye Breakdown:
Unlike the Badgers, the Buckeyes have an offense to go along with their top ranked defense. OSU ranks first in scoring at 75.4 PPG, first in shooting at 48.8% and first in rebounding advantage at +8.6 in B1G play, not to mention their +19.3 scoring margin. On the defensive side, Thad's squad is right behind Wisconsin at 56.1 PPG, holding foes to 37.7% shooting, while swiping 7.3 steals per contest, both of which rank first.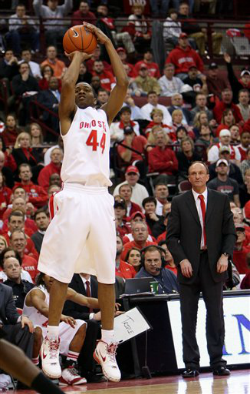 Though much of the focus will be on the Craft/Taylor matchup, a key for OSU today will be William Buford. The WB went for 21 last year in Madison, but scored only two points over the final 16:10.
We've been very vocal around these parts over Buford's play this year and he's missed more shots than he's made in each of his last six games. Buford went for at least 20 in his first three games against ranked opponents this year, so hopefully he regain that form.
Jared Sullinger should have a big game as well today, especially considering he averaged 20.5 PPG and 10.0 RPG in the two games last year, hitting 15/23 shots. Wisconsin has just one starter listed above 6'6" and Sully always seems to raise his game against ranked teams. His teammates need to focus on getting him the ball early and often, at times, they have a tendency to forget about him down low.
I'll be interested to see what DeShaun Thomas does today. He saw just a combined 13 minutes last year against the Badgers, hitting just one 3-pointer. The Tank should have a height advantage on his defender, so like Sully, he needs to get the ball low to start the game. He always seems to shoot better when his early shots come from within 15 feet.
I would imagine Thad hasn't wanted to win a regular season game more than he does today, so it will be interesting to see how he uses his bench. If he can get quality minutes from Ravenel, Thompson and Scott in the first half, it will help OSU pull away late. However, he loves to shorten his bench in big games and those three could easily combine for less than 15 minutes.  
There's no doubt OSU is more talented offensively, but that damn Wisconsin defense can get under your skin and can cause a very frustrating, low scoring game. The Badgers rarely lose at the Kohl Center, but have fallen three times there thus far. I really think Ohio State can get the ball inside, control the glass and outlast the Badgers, to create more space atop the B1G standings.
Etc
William Buford needs 2 points to pass Jay Burson for seventh all-time.
Wisconsin's streak of 143 straight sellouts ended earlier this year.
Traevon Jackson, Jimmy's son, has played in only 12 games, scroing less than a bucket.