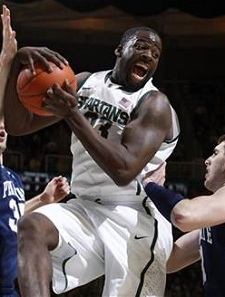 Tonight the eyes of the nation (and especially of Big Ten fans) will be focused on Columbus as Thad Matta's Buckeyes welcome the 12th ranked Spartans of Michigan State. The showdown of the 1st and 2nd place teams in the Big Ten has been much anticipated, including by the players involved. Both Ohio State and Michigan State appeared to be looking ahead to this game when they played lesser opponents earlier in the week. 
For the Buckeyes, the game is important because a win puts them two games up on their nearest competitor, and also because they have to go on the road for their next two games. Going out on a winning note will give the young team confidence as they face hostile environments in Minnesota and Michigan. Also, they have to play MSU again in the regular season finale in East Lansing, and it would be good to have a 2-game cushion before playing that game. 
For Michigan State, a win would propel them into first place in the conference before they head home to host Wisconsin. If they get past the Buckeyes and the Badgers, they would have the inside track on a regular season conference championship, which would give them a number 1 seed in the B1G tourney. It's not a must-win for MSU, but they would dearly love to steal a victory in Columbus before hosting the Buckeyes in the season finale.
| # | Name | YR | HT/WT | PTS | REB | ASST | P | # | Name | YR | HT/WT | PTS | REB | ASST |
| --- | --- | --- | --- | --- | --- | --- | --- | --- | --- | --- | --- | --- | --- | --- |
| 4 | A. Craft | SO | 6-2/190 | 8.1 | 3.0 | 4.8 | G | 11 | K. Appling | SO | 6-1/190 | 11.8 | 3.3 | 3.9 |
| 32 | L. Smith Jr. | SO | 6-4/205 | 6.3 | 4.7 | 2.0 | G | 13 | A. Thornton | SR | 6-5/205 | 4.5 | 3.5 | 1.1 |
| 44 | W. Buford | SR | 6-6/220 | 15.5 | 4.8 | 3.1 | F | 22 | B. Dawson | FR | 6-6/220 | 8.9 | 4.7 | 1.1 |
| 1 | D. Thomas | SO | 6-7/225 | 14.6 | 4.5 | 0.9 | F | 23 | D. Green | SR | 6-7/230 | 15.2 | 10.6 | 3.6 |
| 0 | J. Sullinger | SO | 6-9/265 | 17.4 | 9.0 | 1.0 | C | 5 | A. Payne | SO | 6-10/240 | 7.0 | 4.1 | 0.3 |
Opponent
Draymond Green came to Michigan State already advanced in rebounding but understanding that he would have to improve his shooting range. Having worked hard over the years to extend it, he is now a threat to score from beyond the arc just as much as in the paint. Last season he led the Spartans in both rebounds and assists, and this season is the scoring and rebounding leader while still dishing out 3.6 assists per game (just behind Keith Appling's 3.9 for best on the team). The senior is not only a strong presence on the court, but is also an emotional leader off the court. 
Beyond Green, the Spartans tend to spread the wealth quite a bit. Appling is the only other teammate who averages double-figure points, while no one else on the team gets half as many rebounds as Green. Tom Izzo likes to use a lot of players; there are 8 Spartan players who average more than 17 minutes per game, and there are another 3 who average at least 5.6 minutes per game. 
Michigan State also has a few big bodies, and you can expect to see them banging on Jared Sullinger for much of the game. Green is 230 pounds, center Adreian Payne goes 240, and reserve center Derrick Nix tips the scales at 270. This kind of bulk in the middle will make it difficult for Sullinger to get position in the low post. As a result, I expect to see OSU move the ball around a bit more than normal and look for open shots rather than just dumping it down to Jared every time down. 
The Spartans have been turnover-prone at times this season, and they average 14 per game. When they get a chance to shoot, they do it well, as they are hitting almost 48% from the field on the season. Besides Appling, there are very few players in the main rotation who have the ability to drive in the lane and dish out assists, which makes it imperative that the sophomore not get into foul trouble. MSU is not a huge 3-point team, but there are some players who can hurt you from out there so OSU will need to be careful when they're double-teaming in the post. 
What the Spartans are mostly known for is rebounding. They average over 40 rebounds per game, almost a third of them on the offensive glass. The big bodies of Green, Payne, and Nix make the Spartans a tough group inside, and not giving up second shots helps their defense quite a bit. OSU will need to avoid quick shots if they want to keep Michigan State from launching rapidly into transition opportunities. 
Buckeye Breakdown:
Obviously, Ohio State will want to play better defense than what we saw from them on Tuesday night. Tom Izzo's teams are always well-disciplined and prepared. They will certainly see on the film how OSU struggles against ball screens, especially when the screener is guarded by Sullinger. The surest way to have success against OSU's suffocating pressure is to attack with lots of pick-and-roll plays similar to what Kansas did against them. Otherwise, Ohio State has been very solid on defense for most of the season, and it has been a hallmark of their succes.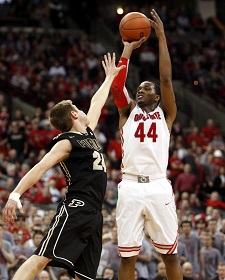 Most teams will not be able to make as many 3-pointers as Purdue did on Tuesday, but MSU can hurt you from distance if they get open looks consistently. More likely, they will exploit mismatches with large bodies like Green and Nix and use lots of penetration from Appling to set them up. Pick and roll, low-post direct entry, and high-low will probably be the order of the day for MSU. 
On offense, Ohio State established Jared Sullinger early against Wisconsin and attempted to do the same against Purdue, but ran into foul trouble. Sullinger averages only 28.6 minutes per game, some of which is due to the injuries he suffered early in the season and some of it to fouls. One goal for Thad Matta will be to coach Sully on how to avoid cheap fouls and get the most of his hacks in the lane. If a guy has an uncontested layup and you cannot block it, then it's good to foul. But trying to take a charge from 20 feet or so is a bad idea.
William Buford appeared to come out of his slump just in the nick of time, at a moment when his team needed him most. My suspicion is that the coaches told him to focus on the things he does well (shots from a set position and drives to the hoop) and not attempt so many mid-range jumpers on the move. I believe that better shot selection will help Buford to maintain his consistency and build his confidence in the run up to the tourney. His scoring is desperately needed and I do not think OSU can advance very far in the NCAA's without it. 
I expect this to be a rough-and-tumble game, with lots of pushing and shoving and maybe a few tempers flaring. The tempo will most likely be slow, and the few rebounds that become available will be highly coveted. I'm not sure how to call this one but the advantage has to go to the home team, and so I expect the Buckeyes to win, but I believe it will come down to the very end. It would not surprise me to see overtime or a winning shot in the last minute. Should be fun.
Etc
Ohio State leads the nation in wins vs. opponents ranked in the Top 25 with five victories in seven tries this season.
For the 3rd game in a row, the broadcast team for the game will be Dave O'Brien (play-by-play) and Dan Dakich (analysis).