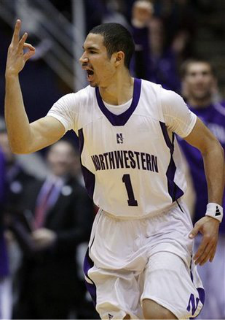 For the first time since the '99-00 season, Ohio State finishes their season with the final two on the road and the first stop is in Evanston tonight, as the Wildcats host senior night and hope to send all-time leading scorer John Shurna out with one of his biggest victories in a purple uniform.
It's no secret the Buckeyes have struggled over the last few weeks, but with Indiana beating Sparty last night, there is new life in the B1G race and with two wins this week, Ohio State will share their third straight crown.
While OSU is still a lock for the NCAA, the push to have Northwestern included in the Big Dance for the first time is starting to swell and a win tonight would certainly pad their resume. The Wildcats lost by a point at home to OSU last year and beat them by three in '08-09, but the good Buckeyes destroyed NU by 33 back on Dec. 28 in the conference opener, as Buford went for 28. That same team needs to show up tonight.
| # | Name | YR | HT/WT | PTS | REB | ASST | P | # | Name | YR | HT/WT | PTS | REB | ASST |
| --- | --- | --- | --- | --- | --- | --- | --- | --- | --- | --- | --- | --- | --- | --- |
| 4 | A. Craft | SO | 6-2/190 | 8.4 | 2.9 | 4.6 | G | 3 | D. Sobolewski | FR | 6-1/185 | 9.2 | 2.7 | 3.9 |
| 32 | L. Smith, Jr. | SO | 6-4/205 | 5.8 | 4.7 | 2.0 | G | 11 | R. Hearn | JR | 6-4/210 | 7.6 | 3.8 | 1.1 |
| 44 | W. Buford | SR | 6-6/220 | 15.1 | 4.9 | 2.9 | F | 23 | J. Cobb | SO | 6-5/200 | 4.9 | 1.3 | 0.9 |
| 1 | D. Thomas | SO | 6-7/225 | 15.1 | 4.8 | 0.9 | F | 1 | D. Crawford | JR | 6-5/205 | 16.1 | 4.5 | 2.0 |
| 0 | J. Sullinger | SO | 6-9/265 | 16.8 | 8.9 | 1.0 | C | 24 | J. Shurna | SR | 6-9/220 | 20.1 | 5.4 | 2.7 |
Opponent
Northwestern comes into the game as one of the top 3-point shooting teams during B1G play. Though they sit less than a percent away from Indiana for the top spot with 39.5% shooting from deep, they lead the league with 8.4 makes per game and boast five of the top fifteen 3-point shooters in conference tilts, whereas Ohio State doesn't have any.
Reggie Hearn leads the way, sitting sixth at a 45.7% clip, followed by Drew Crawford(40.1/10), John Shurna(40.8/11), Alex Marcotullio(38.9/13) and Dave Sobolewski(38.6/15). The Buckeyes held NU to 7/20 from deep in the first game, including Shurna's 1/6 performance and they will have to repeat that effort if they want to keep their B1G title hopes alive. 
On the season, the Wildcats are scoring 69.4 PPG, connecting on 45.6% of their shots from the floor and 68.8% from the line. In B1G play, those numbers slightly dip to 66.1 PPG, 45.4% shooting from the floor and 66.1% on FT attempts, which makes them the worst FT shooting team in league play.
Besides the FT inability, the Wildcats rank last in rebounding, snagging just 28.2 per game, while giving up almost 35. However, they still do a tremendous job of taking care of the ball, ranking fourth in TO's at 10.7 and third in assists with 13.4 per contest.   
Unless a freak occurrence happens tonight and the Wildcats get into deep foul trouble at home, Bill Carmody will only bring in two subs off the bench. Also celebrating senior night will be 6'9" Davide Curletti, who comes in averaging 3.9 points and 3.5 boards. Curletti has seen more playing time since fellow senior Luka Mirkovic went down with an ankle injury. That injury may have hurt their depth, but it allowed Carmody to move Shurna to center and gave the Wildcats five guys in the floor who can make the three. NU is 5-3 since Mirkovic went down, as compared to 2-6 in the eight games before his injury.
Also coming off the bench will be Alex Marcotullio, a 6'3" JR., who is scoring 5.0 per and snagging 2.2 boards, but hit 4/6 from deep on Saturday in their win over Penn State.
It was proven in the first matchup that Northwestern doesn't possess the athletic ability Ohio State does, but they will stretch OSU out and put serious pressure on their perimeter defense. OSU has struggled to rotate over to the open shooter lately and if that trend continues, the Wildcats are primed for the upset on senior night. NU will also try to confuse the Bucks by throwing different zone defenses at them. The Bucks have struggled to score recently and changing defenses could potentially complicate matters.
Buckeye Breakdown:
One of the aspects I enjoy most about watching Thad coach is the improvement his teams typically show and the cohesiveness that develops between the team as the season progresses. And for some reason(s) this team isn't your typical Thad Matta coached team.
They have seem to regress the last couple of weeks and show zero emotions on the floor or the bench. In years past, the bench would be hootin' and hollarin' for every play, but nowadays they seem to be statues, except for the occasional big dunk. To make matters worse, no true leader has stepped up to take the reigns and get this team going. I'm not saying I think Thad has lost this team, I have no idea, but there is definitely something off (he had to throw them out of practice this past Saturday), so hopefully they can flip that switch in these next few weeks.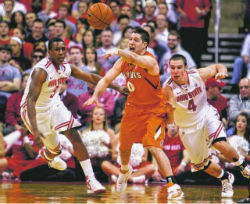 In OSU's last three losses, the bench has scored a total of three points, including the zero point effort against the Wolverines. I feel bad for Shannon Scott, I really do. The kid plays hard every time he hits the floor and has been a great spark plug on occasion, but he can't buy a bucket.
I really liked the stretches of minutes he and Craft were on the floor together against Illinois. It put more pressure on the D and allowed the Bucks to handle the rock more effectively, but until he hits a shot, he is an offensive liability and teams can use his defender to double Sully or Thomas.
I think he needs to take the ball to the rim and get a few layups or trips to the foul line to get his confidence going, because the Craft/Scott combo could be key over the next couple of weeks. Lenzelle has been a quality role player this season, but he has a total of five points in the last three OSU losses and 28 points in the month of February, including his 0/1 effort in 30 minutes against Whisky.  
To make matters worse, early fan favorite Sam Thompson has a total of 12 points in February on 6/11 shooting, despite playing at least 10 minutes in each of the seven games.  
Despite these facts, Thad mentioned this week he has talked to his assistants about potentially switching up the starters. Perhaps this will send a message to Buford and Sullinger, who really need to become the leaders this team needs over the next two weeks.  
This is going to be another typical B1G road test, which should come down to the end. Just prepare yourself now for a few homer calls for NU and some open threes. However, if Ohio State can counter that with a better team effort on offense, limit the open looks from the arc and control the paint, they should walk away with a win, which will set up the B1G title game Sunday in East Lansing. 
Etc
We finally get to hear another Buckeye game called by Gus Johnson, who is teamed with Shon Morris.
The four seniors for NU set the mark for career wins and could be the first class to make four straight post seasons.