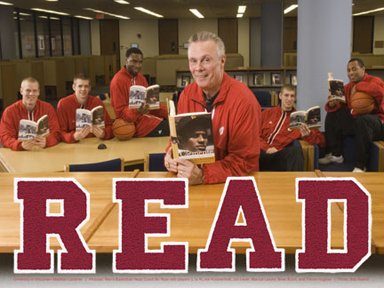 83-67. How you like them apples, Bruce? Last night's Ohio State victory over the free falling Illini certainly gave us if but one fleeting moment where we felt like everything was right in the world again... Or did it?
As much as a nice #BEATEMDOWN can warm the soul and make one feel some genuine purpose in their lives, in the same light, it also points out the maddening inconsistency and high variance in effort as demonstrated by this group throughout the course of the last several months.
Just in time for your newly minted onset melancholy, we bring you a Wisconsin-Ohio State-centric podcast! Remember how mad the Badgers make you? Yeah, us too. On this exciting episode:
0:27 - We delve into the aforementioned Illinois game. What went right? What we went wrong? Jared Sullinger, even underwhelming, still manages to... Whelm? Never before has such an inspiring blowout managed to generate so much pensive emotions.
14:07 - The focus is shifted to the looming Badger threat with us welcoming back Phil Mitten of stalwart Wisconsin blog Bucky's 5th Quarter. We discuss how Wisconsin's fared since Ohio State ended their nine year funk in Mad-town, what Jordan Taylor means to this incarnation of Wiscy hoops, and why it's possible that maybe this Badgers team isn't as good as in years past.
26:45 Eleven Dubcast's longest non-terrible segment "Ask Us Anything" keeps the ball rolling. We answer two important inquiries from users just like you then due to a lack of appropriate responses dive deep into the super black hole of abyss that is Yahoo! Answers to fill out the program. A young lad from Australia whom even went as far as to delete their inquiry has it answered con gusto. You won't want to miss this. NOTE: We always need more intrepid queries for us to address. Please send them to us at your convenience to elevendubcast AT gmail dot com. XOXO - LZ & Jay-G.
This week's lead in music is the phenomenal Alabama Shakes and their latest single, "Hold On". The after guest number is "I Belong In Your Arms" from former iPod ad studs Chairlift. Our closer comes courtesy of Porcelain Raft's latest, "Unless You Speak Your Heart". Even if you don't want to or don't necesarily have the means to contribute to the site's "Respect the Basement" fundraiser, you certainly have a couple bucks to buy songs you heard on the podcast that you really liked. You get ownership of a high quality digital media file of a song you may really love and we get a few cents towards our goal. Win-win. As always, thanks from the bottom of our hearts for supporting the Eleven Dubcast (and 11W).