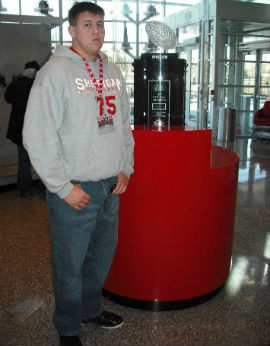 As we have mentioned before, recruiting the offensive line has been made a priority for both the class of 2012 and the class of 2013.
While some national players such as Ethan Pocic, Hunter Bivin, and others have been offered, the staff has been fairly slow to offer some in-state linemen, as they have a bit more time to evaluate them given the home field advantage.
One of the in-state linemen that has been making waves in recruiting circles this winter is Tate Leavitt of Thornville Sheridan. Leavitt currently doesn't hold any offers, but with great size (6-7/280) and a developing skill set, he is someone to watch and many believe he is more than worthy of BCS offers that are expected to come his way in the near future.
The mammoth tackle was in Columbus last weekend for Junior Day and came away quite impressed with what he saw, while also making sure he was on the Ohio State staff's radar as they continue the process of deciding which offensive linemen to give scholarship offers to.
We got the chance to sit down with Tate to see how his visit to OSU went, what the coaches told him, what his future plans are, and more. Join us after the jump to learn more about 2013 offensive tackle prospect, Tate Leavitt.
How did your junior season go? How did your team do and how did your perform individually?
The season went well. We went 9-2, losing to Dover in the first round of the playoffs. I had a good season overall. We all know there are things each of us can work on and get better on, but I thought I had a pretty solid year.
How is recruiting going? What offers do you have at this time?
Recruiting is going well right now. I have a lot of interest, but no offers at this point in time.
Where are some of the places you have gone on visits? What other visits do you have planned?
I have been to Akron twice, as well as Miami (OH), Bowling Green, and now Ohio State. I don't have any other visits set in stone, but have been offered to go to Ohio University, Toledo, and Illinois.
You went to OSU's junior day on February 12. What did you do while in Columbus and how did you enjoy the visit?
I thought it was great, especially since it was my first time visiting there. We met all of the coaches, saw all of the facilities, and got a short tour of campus.
What coaches did you get to sit down with and what did they tell you?
I spoke to Coach Greg Gillum, Coach Tim Hinton, and Coach Ed Warinner. Coach Warinner talked to be about camps and coming back for spring practices and maybe the Spring Game.
What did you like most about your OSU visit? Do you plan to get back there at all?
I enjoyed the coaching staff and how they treat recruits. I really like how much they preach the importance of academics to us. I would definitely love to get back to Ohio State sometime in the near future.
When do you expect to make a college decision? Do you have a list of "top schools" at this point?
I will make a decision sometime during my senior season. It's a long process so I don't have a top list and am just going with the flow right now.
What is most important to you when making your college decision?
A lot of things come into play when making a decision like this, but I would say the most important is academics. We all want to go the NFL some day, but things don't always happen the way you want them to. You have to look at this decision in that perspective.
What are your strengths on the football field? What do you want to work on heading into your senior season?
I'd say my strength is my run blocking, as I had almost 70 pancake blocks this past season. I think I have good footwork which helps me out in both the run and pass games, but there is always room for improvement there.
Besides football what are your hobbies? What does Tate Leavitt like to do off the field?
Some of my hobbies include playing music, as well as hanging out with friends and family. My dad is a musician so growing up I learned how to play the drums and the guitar.
HIGHLIGHTS: