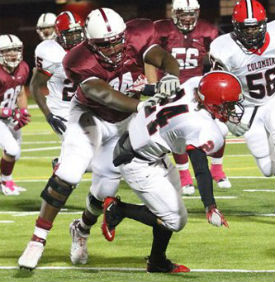 It shouldn't come as a surprise to any that Urban Meyer and the Ohio State coaching staff are taking their search of prospects for 2013 to the national level. About 75 offers have gone out to prospects from all different regions around the country, but only about a third of those players will get the opportunity to actually end up in the Scarlet and Gray.
One of the players who was recently added to that offer list is OL Marcell Lazard of Bloomfield High School in New Jersey. The 6-6/290 tackle is the latest prospect from the home state of this very writer to be offered by Ohio State, and is at least the sixth Jerseyan to warrant an offer from Urban Meyer.
Lazard is a hot commodity in recruiting circles and already has 14 offers to his name. That number is sure to pick up as he takes more visits to top programs around the country and college coaches get to see this monstrous prospect up close and personal.
While it was somewhat of a surprise, Ohio State did come through with an offer as they look to add the best players in the nation to an offensive line haul that will help reload the group after the Bucks brought in four solid players with the class of 2012. There is still a lot of time to go before Lazard makes a college decision, but with the offer, they have certainly moved to the front of the Bloomfield tackle's mind.
We caught up with the Garden State lineman to hear the latest on his recruitment, how he feels about getting an offer from Ohio State, whether or not he plans to make it out to Columbus any time soon, and more. Join us after the jump to get the latest on mammoth offensive line prospect, Marcell Lazard.
How did your junior season go? How did your team do and how did your perform individually?
I had a great junior year. Our team went 6-3 and I had a great individual year as well. 
How is recruiting going? What offers do you have at this time?
Recruiting is absolutely crazy right now. I have offers from 14 schools, including Ohio State, Florida, Buffalo, Cincinnati, UConn, Maryland, Miami (FL), Michigan, South Florida, Syracuse, Temple, Central Florida, Virginia, and West Virginia.
You just got offered by Ohio State. How did that go down and how does it feel to have an Ohio State offer?
I had gotten mail from them and my coach told me they were interested. I called the offensive line coach, Coach Warinner and he offered me while we were on the phone. It feels great to have an offer from Ohio State. 
What is your interest level in Ohio State? Do you think you'll make it out there for a visit?
My interest level in Ohio State is definitely high. I will definitely be visiting and am planning on making it out there next month.
What position will you play in college?
Everyone is recruiting me to play tackle right now.
What visits have you taken so far? 
I have been to West Virginia, UConn, Miami (FL), Michigan, Virginia, and Penn State.
When do you expect to make a college decision? Do you have a list of "top schools" at this point?
I don't have a list of top schools right now. I will probably make a decision whenever I feel comfortable with a single school and know it is the right choice.
What is most important to you when making your college decision?
There are two things that will stand out to me and those are the coaching staff and if the school has the major I am interested in.
What are your strengths on the football field? What do you want to work on heading into your senior season?
I feel I am a great pass blocker and a very good run blocker. I want to work on finishing off my blocks better and getting into those next levels.