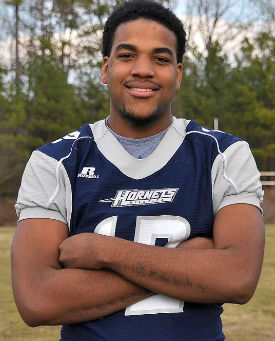 The Ohio State recruiting class may not be out to as fast a start as the one the school up north has put together, but there is no question the talent level is at the same level, if not better. With the addition of Evan Lisle yesterday, the Buckeyes now have five outstanding prospects set to play their college football in Columbus, leaving around 15 spots or so left for the rest of the class of 2013.
One prospect who has the opportunity to take one of those spots is Josh McNeil. The tight end from Durham (NC) Hillside currently holds Ohio State as one of his 10 offers and is very interested in seeing what Urban Meyer and the Buckeyes have to offer him if he chooses to join former teammate Jamal Marcus in the Scarlet and Gray.
Measuring in at 6-5/235, McNeil ranks as a 4-star prospect and the number 10 ranked tight end in the country according to 247 Sports. He recorded 58 receptions for 575 yards and 6 TDs playing solely on offense last year and will look to improve those numbers heading into his senior season.
The Buckeyes have two high level tight end prospects extremely interested in Adam Breneman and Mike Heuerman, but the fact that an offer is out to McNeil (and one he says is committable) shows that the staff feels the position is an important one to recruit in this class. It looks like at least one player out of these three will definitely be in the mix to land in Columbus, but I wouldn't be surprised if two of them end up at OSU come Signing Day next February.
We got the chance to catch up with Josh to see what his feelings are on potentially being one of the tight ends in this class, how the rest of his recruitment is going, what is drawing him to Ohio State and more. Join us after the jump to catch up with 4-star tight end prospect, Josh McNeil.
How did your junior season go?
My season went well. We had a successful year and went to the third round of the playoffs. I had a good season individually too. I know there were a lot of coaches watching in the stands and everyone has said positive things about the way I played so I feel pretty good about that.
How is recruiting going? What offers do you have right now? Who hasn't offered but is showing a lot of interest?
Recruiting is picking up a ton right now and going well. I have 10 offers and they are from Ohio State, South Florida, Central Florida, Maryland, North Carolina State, Minnesota, Vanderbilt, East Carolina, South Carolina, and Wake Forest. I am hearing the most from Alabama and Georgia out of schools that have not offered yet.
What visits have you taken so far? What visits do you have planned in the near future?
I have visited Wake Forest, North Carolina, and North Carolina State so far, so just the in-state schools. I am planning to visit Ohio State in the spring and will actually make it up there three times. I am going to go once with my whole team, one with my teammate Jamal Marcus, and once by myself. I'm excited for those visits.
Do you have a top list of schools right now?
No right now I have no favorite schools. I am just waiting to see what offers I will have. Right now everyone is even.
When do you expect to make your college decision?
I would like to come to a decision by the end of summer, before my senior season. If I can't decide by then, I am going to wait until Signing Day so I can concentrate on my senior season and take any visits I need to after that.
How did Ohio State become interested in you and how did you find out about their offer?
Coach Everett Withers had been recruiting me while he was head coach at UNC. He continued to recruit me once he got to Ohio State and told all the other coaches about me. He asked me to send my film up there so they could take a look. I spoke to him a little while after they reviewed my film and he told me they were offering.
How did you feel once Coach Withers told you that you had an offer from Ohio State?
It was like a dream come true. Ohio State is my biggest offer and that's a huge deal. I love watching them on TV all the time and to get an offer from them, it was like I was dreaming. It was truly amazing getting an offer from them.
Obviously knowing Jamal Marcus is going to Ohio State can't hurt their chances. Has he been recruiting you to join him and how will that impact your decision?
Jamal is my childhood friend and is recruiting me very hard to come to OSU with him. It will definitely play a big part in my decision as he is a great friend of mine and is selling Ohio State to me and why he thinks . it would be a good fit for me as well. I have a big interest in the school already and am really starting to love them. They will definitely be in my top five and my relationship with Jamal, as well as my relationship with Coach Withers will definitely play a big role in me deciding to go there.
What are your strengths on the field? What are some things you need to work on this off-season?
My strengths are my athleticism as well as my speed and quickness at the tight end position. I am able to go up over defenders and get the ball often thanks to those things. I really want to work on my blocking skills so that I can open holes for the running backs.
What are your summer plans?
This summer I am going to be participating in 7-on-7s and really just working to get ready for my high school season. I won't be going to many camps, although I may get to a couple combines. My focus is going to be on getting my team a state championship this upcoming season.