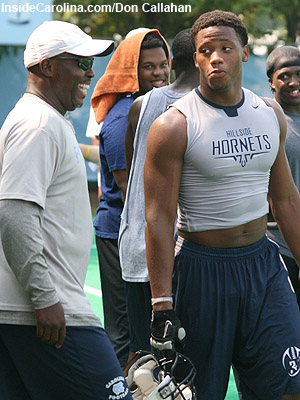 If you would have tried to put pen to paper two months ago and make a prediction as to how Ohio State's 2012 recruiting class would wind up, it likely would have been a far cry from the results we saw on signing day.
Sure, you might have been able to pencil in Adolphus Washington or Se'Von Pittman as Buckeyes, but the majority of the class are players that were not on the Buckeye radar on November 26th.
Perhaps no player was more "off the radar" for Buckeye fans, and most of college football fans than Jamal Marcus from Hillside High School in Durham, North Carolina. Honestly, his obscurity doesn't make a lot of sense, because when you combine his list of scholarship offers with his spectacular highlight tape, you'd imagine that Marcus would have been one of the most sought after LB prospects in the class of 2012.
With offers from Ohio State, Auburn, Florida, Notre Dame, USC and more, it's hard to imagine you'd go unnoticed, but he did - at least to the average fan. Heck, even his future head coach says he had only first heard of him two weeks ago (which might be hyperbole, since Marcus was offered by Ohio State in early December, about a week after Meyer's hiring.) Because of his lack of hype, Jamal finds himself as a three-star prospect according to most of the recruiting agencies, but again - that highlight tape and the offer list speaks of a much more highly regarded prospect than people will admit to.
Now, two months after his first conversation with the current Buckeye staff, the 6'2", 230 pound QB-chasing linebacker finds himself signed, sealed and delivered to Ohio State, ready to make his mark on the Buckeye program if the chance presents itself. With purported 4.6 speed, Marcus will bring tenacity and lateral quickness to a Buckeye linebacking group that was thin and at times underwhelming in 2011. 
I had a chance to have a conversation with Jamal last night, and it's easy to see that he fits the bill as to what Urban and the coaches are looking for: he's respectful, polite and intense. His competitive fire was unmistakable, even on the telephone. He's got a bit of a chip on his shoulder from the perceived lack of recognition, and that fuel will keep his fire burning through his time in Columbus in my opinion. 
Join us after the jump for more on my conversation with Jamal Marcus, 2012 Ohio State Buckeye signee.
It's official.  You're a Buckeye. What was the deciding factor that pushed Ohio State to the top of your list?
I had to go home and put pieces together with my family.  Knowing Coach Meyer's resume, knowing he would make me better and that he wins. I'd get to play with some of the best players in the country at Ohio State.
When did you know that Ohio State was your final choice?
I had known Sunday that Ohio State was the place I wanted to go, but I needed to just make sure and we waited until Wednesday to announce it.
When did you let the coaching staff know and how did they react?
Excited, told me they were looking forward to getting me on campus and seeing what I could do.
Which coach was responsible for your recruitment the "most"?
Coach Fickell was my recruiting  coach. He's a great coach, been in the program for a long time.  UNC was recruiting me when Coach Withers was there, so  I think that he might have had something to do with it. 
How did it feel to hear that Coach Meyer singled out your highlight tape as "ridiculous" in his signing day press conference?
It felt great. I felt that I was finally recognized for something that I felt I should have been recognized for a while ago. It's all the motivation I need to know that I need ball out hard when I get there to live up his expectations.
Has the staff told you what position they see you getting the first shot at?
Outside linebacker, either the SAM or the WILL, but on the outside. 
Ohio State has a great history at the linebacker position, does that inspire you to become one of the "next" great ones?
Ohio State's linebacker history motivates me to continue it. I feel like I can get on the field anywhere in the country. I just want to compete and show that I belong.
So Buckeye fans know you're a "real" guy, what do you like to do off the field for fun? Video games? Movies? Karaoke??
I don't karaoke, haha. I like to hang out with my friends, work out and play basketball if I am not doing stuff for football.
If you had one message to tell Buckeye fans who are anxious to see you on the field next year, what would you like me to tell them?
That I am on my way and I can't wait to be there, and we're (the class of 2012) going to bring Ohio State back to greatness in the near future.
HIGHLIGHTS: