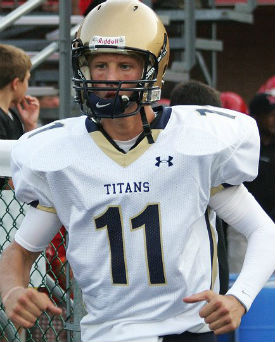 Quarterback will definitely be a position of focus in the class of 2013 for Ohio State and there are some very good players on Urban Meyer's big board both in the state of Ohio and on the national scene that could end up in Scarlet and Gray.
One of the many in a talented crop of Ohio signal callers is Brogan Roback of St. John's High School in Toledo. The 6-4/185 quarterback was recently named as a 4-star prospect by Rivals and was ranked at 189 in their Top 250. He had a sensational junior season in which he showed off his cannon arm to go along with good speed, as he was clocked at 4.64 seconds in the 40-yard dash at a combine this past January.
Roback doesn't hold an offer from Ohio State just yet, but he is definitely in the mix to be one of likely two quarterbacks to end up in the class of 2013. He was invited down to a Junior Day by the Buckeyes' staff and accepted the invitation for the weekend of February 12 and really enjoyed his time in Columbus.
We got the chance to catch up with the four-star prospect to hear the latest on his recruitment, how his visit to Ohio State went, what the future may hold, and more. Join us after the jump to hear the latest on Toledo St. John's star quarterback, Brogan Roback.
How did your junior season go? 
My junior year went pretty well. We didn't end up where I thought we would be though. I had high expectations with our team and we went 7-3, but didn't make the playoffs. 
How is recruiting going? What offers do you have at this time?
Recruiting is going well and things are starting to pick up now more than ever. I have two offers right now, from Toledo and Bowling Green.
Where are some of the places you have gone on visits? 
I have been to Michigan State numerous times, Iowa, Illinois, Ohio State, Cincinnati, and West Virginia. 
You went to OSU's junior day on February 12. What did you do while in Columbus and how did you enjoy the visit?
We met the coaches and saw all of the facilities while at the Junior Day. I liked it there and I liked the people surrounding the program as well.
What coaches did you get to sit down with and what did they tell you?
I got to talk to Coach Herman and also Coach Fickell. They said they have seen my film and that they like it a lot. They want to see my throw in person before deciding anything further.
What did you like most about your OSU visit? Do you plan to get back there at all?
I really just liked how things are changing around there for the better. I definitely plan to go back to Ohio State at some point soon.
When do you expect to make a college decision? Do you have a list of "top schools" at this point?
I don't really have a timeline right now for making my decision. If I had to make a top five list right now it would be, in no order, Michigan State, Ohio State, Iowa, Illinois, and Cincinnati.
What is most important to you when making your college decision?
The most important factor to me would be the people. You are surrounded by them for 4-5 years and it is a lifetime decision, so you want to make sure there are good people where you are going.
What are your strengths on the football field? What do you want to work on heading into your senior season?
I would say my accuracy, arm strength, and pocket presence are my strengths. I would like to get more into film study and slow the game down even more so it's easier to make plays.
Besides football what are your hobbies? What does Brogan Roback like to do off the field?
I like to play basketball and just hang out with my friends. I like to go support my school and the other sports teams as well.
HIGHLIGHTS: