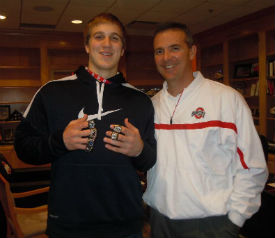 You heard from an "under the radar" linebacker prospect today in Marcus Oliver, who told you that Tim Hinton said Ohio State was looking to offer and take commitments from the best two players at the position in the country.
While Oliver has some work to do to put himself in that position, one player who the staff feels is worthy of such a honor also came to campus this weekend in Wyomissing (PA) Area LB Alex Anzalone.
Anzalone, standing at 6-3/220, is one of Pennsylvania's best prospects in the class of 2013. He had 11 offers, all coming since Signing Day, heading into his trip to Columbus this past weekend, where he was hoping to get a better look at what Ohio State had to offer, as well as reel in offer number 12 from Urban Meyer.
Anzalone accomplished both of those goals, leaving Columbus with that coveted offer and coming away very impressed with what the Buckeyes could potentially provide him down the road. While it may take a little bit of time to make his college decision, OSU is definitely on Anzalone's mind and seems to be in a good position to have a chance to land him when that time comes.
We got the chance to sit down with Alex to discuss his recruitment, what he did during his visit, his plans for the future, and more. Join us after the jump to catch up with one of the nation's best junior linebackers, Alex Anzalone.
How did your junior season go? How did your team do and how did your perform individually?
My junior season went really well. My team went undefeated through the regular season but unfortunately lost to the state champs by one touchdown in the district final. I received all-state linebacker honors, all-county linebacker honors, and all-section honors for linebacker and running back. 
How is recruiting going? What offers do you have at this time?
Recruiting has been a whirlwind so far. Since National Signing Day, I've had 12 offers and counting. They are from Northwestern, Boston College, Temple, Maryland, Rutgers, Purdue, Syracuse, Virginia, Florida, Michigan State, Ohio State, and UConn. 
You went to OSU's junior day on February 12. What did you do while in Columbus and how did you enjoy the visit?
While in Columbus, my family and I went to the basketball game against Michigan State on Saturday night. We have friends that live in Columbus so after that we went out to dinner. Sunday was the Junior Day so we enjoyed that. 
Where are some of the places you have gone on visits? What other visits do you have planned?
I've visited Boston College, Ohio State, Michigan State, Maryland, and UConn. I'm planning on visiting Virginia, Florida, Alabama (once they offer), and a couple of others. I also plan on getting back on to campus to some of the schools I've visited. 
You were offered by Coach Meyer while in Columbus. What did he say to you and how did it feel to get that offer?
Coach Meyer seemed to be a great guy, a class act. He told me how he would love for me to apart of the Buckeye family and that's when he extended the offer. It felt amazing getting an offer from Ohio State, especially from Coach Meyer.
What other coaches did you speak to? What did they say to you?
On the trip I spent most of my time with Coach Fickell. I also met other coaches. They were all impressed with how I played and also liked my size.
What did you like most about your OSU visit? Do you plan to get back there at all?
Everyone has nice things so when I go on these trips, I focus on the atmosphere and people that are around the program. That is what impressed me the most with OSU. I plan on going back soon to meet with some players and watch spring practice. 
When do you expect to make a college decision? Do you have a list of "top schools" at this point?
I want to make my decision before the season in the fall. I'm not sure when this will be though. I'm open to all schools as of now.
What is most important to you when making your college decision?
It may sound cliche, but academics are definitely number one. Whether it be the quality of academics or the academic support a school has to offer, it's definitely number one for me.
What are your strengths on the football field? 
I believe my strengths are my ability to make plays on both sides of the ball. Many schools are offering on both sides of the ball so I guess that shows that I am pretty athletic.
HIGHLIGHTS: