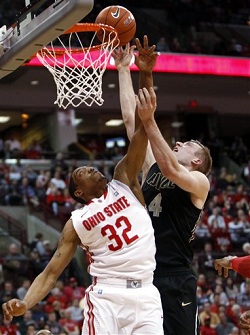 It wasn't easy, and it was seldom pretty on defense, but it was a win and Thad Matta will take it. More importantly, Will Buford came out of his lengthy slump to lead the team with 29 points, many of them late, carrying Ohio State to an 87-84 win against a scrappy Purdue team. 
D.J. Byrd led Purdue with 24 points on 8/12 shooting, with 7/9 from distance. Kelsey Barlow contributed 14 for the Boilers, 12 of them in the 2nd half helping Purdue stay with OSU right to the end. Barlow made a rare start tonight along with freshman Anthony Johnson, as coach Matt Painter chose to sit senior guards Lewis Jackson and Ryne Smith to send a message to his team. 
Apparently, Painter was unhappy with his team's effort in a 17-point home loss to Indiana on Saturday night. He could not have been displeased tonight, as his team came out firing on all cylinders. The Boilermakers shot 51.9% from the field and 55% from 3-point range as they consistently riddled the OSU defense with high ball screens and jumpers from the wings. But their defense also allowed OSU to shoot 52% overall and 56.3% from distance. 
The Buckeyes looked a little shaky when Jared Sullinger was whistled for his 4th foul at the 6:42 mark. Aaron Craft had already left the game with his 4th, and now OSU was going to lose their main offensive threat in a tight game where every bucket would be crucial. After Travis Carroll made one of two free throws at the 4:42 mark, the game was knotted at 73 with Craft and Sullinger still on the bench.
That was when the senior Buford took over. First he canned a jumper for 2 from just right of the top of the key on a nice set play. Then after Sam Thompson emphatically blocked a Barlow shot attempt, Deshaun Thomas dribbled the ball down the court in transition. He gave up to Shannon Scott, and Scott threw a dangerous pass over to Buford on the left side where he hit another deuce from almost the same spot on the floor. This put OSU up 77-73 with 3:48 remaining and prompted a timeout by Painter.
As play resumed, the partisan crowd at the Schott became more rowdy than usual and inspired the Buckeyes to a more intense defensive stand. This time they forced Purdue into multiple sets and looks, and finally Robbie Hummel was forced to take a contested jumper as the shot clock ran out. After rebounding the miss, OSU moved into their sets, and Buford stepped back and drained a 3-pointer from just right of the key to put Ohio State up 80-73 with 2:53 remaining.
After an exchange of possessions burned a minute off the clock, the Boilers' Lewis Jackson drove the lane for a tough layup to cut the margin to 80-75. OSU took a timeout at the 1:50 mark in order to bring Sullinger and Craft back into the game. OSU worked the ball late into the shot clock, but Thompson's jumper in the lane fell short, and Purdue had another opportunity. Kelsey Barlow then charged right through Thompson for a layup attempt (no call) and then D.J. Byrd (who also had 4 fouls) climbed up on Sullinger's back and shoved Jared to the ground, causing the ball to bounce off Sully out of bounds (no call). 
On the inbounds play, Byrd was fouled by Thompson but he made only one of two. After Craft made one of two free throws on the other end, Purdue's Barlow drove the lane again and threw up a wild layup off the glass. In the ensuing scrum, Jackson ended up with the ball and attempted a shot that was partially blocked by Evan Ravenel. The rebound was tipped around but ended up in the hands of Buford, and the senior raced to the other end for a dunk that put OSU up 83-76 with only 38 seconds left. The Buckeyes then held on for a 3-point win as Hummel hit one last 3-pointer at the 3 second mark to make it look more respectable.
Jared Sullinger scored 18 points on 4/9 shooting and 9/12 from the line. He was frequently folded, spindled, and mutilated by Purdue's physical defense and he left the game with a minute left after the mugging he got from Byrd, but despite the foul trouble he played 32 minutes and pulled down 6 rebounds. Buford led the team in rebounds with 7, while Craft and Thomas helped carry the scoring load by contributing 13 apiece. The win was Ohio State's 39th consecutive win at home, with the last loss coming to Purdue almost exactly 2 years ago. 
It did not appear as if it would be a close game early, as OSU jumped out to a 7-0 lead. But Purdue made a few defensive adjustments, namely being more physical inside and double-teaming Sullinger, and brought their senior guards back in the game to steady the offense on their way to tying the score at 7. It was a see-saw battle for the rest of the half, with OSU taking leads and Purdue staging comebacks.  OSU went on a 12-5 run to take a 19-12 lead but a 13-5 run by the Boilers, punctuated by Barlow going over Sullinger for a thunderous dunk, gave Purdue a 25-24 lead at the 7:35 mark. 
Craft went to work on OSU's next possession, driving the lane and making a short layup on the left to regain the lead. Then he drove the lane again and dished to Lenzelle Smith Jr. for a triple from the right wing. Finally, after OSU threw a sloppy pass downcourt leading to a strange series of near-steals and crazy out-of-bounds saves, Craft settled the team down and calmly stepped back for a 3-pointer from the left wing off an assist from Sullinger. After a Purdue timeout, two more buckets completed a 12-0 run and gave the Buckeyes their biggest lead, 36-25. 
But Purdue fought back with a 15-4 run to close out the half. D.J. Byrd and Ryne Smith hit 3-pointers, Lewis Jackson drove the lane for a couple of uncontested layups, and Robbie Hummel was fouled shooting a 3-pointer and made all three free throws. Right before the half, with OSU leading 40-38, Jackson spun into the lane and converted a fade-away jumper over the taller J.D. Weatherspoon to tie it up at 40 going into the half. 
Hummel scored 13 points in his last game against Ohio State, while Jackson contributed 14 off the bench. The Boilers severely tested the OSU defense with numerous ball screens and weave sets. As he has done throughout his career at OSU, Jared Sullinger frequently failed to hedge on the ball screens, thus giving up open looks left and right for Purdue's outside shooters. Still, Purdue struggled on defense, racking up 25 personal fouls and sending Buckeye shooters to the line for a total of 34 free throws. Ohio State was solid at the line, shooting over 76%, and they outrebounded the Boilers 31-21. 
Next up, a Saturday home showdown against Tom Izzo and the Michigan State Spartans with a share of the conference lead on the line. If tonight's game was a wake-up call, the Buckeyes should be fully awake by the time Sparty arrives on Saturday.