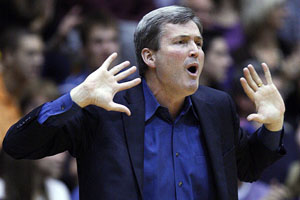 Welcome to the great new taste of the reinvented Big Ten Hoops Recap that plays Lionel Richie and is made of pizza. With one month remaining in the conference season, every team is looking to make the most of each hardwood opportunity, and this week, that consisted of several teams grabbing road victories like Mario Manningham on a 38-yard toss in a game-winning Super Bowl drive1.
Speaking of, while many are still recovering from last night, there is also probably much debating about which commercial was most Clio-worthy. As Don Draper alleged, "advertising is based on one thing: happiness", so it might depend on which is your favorite among Budweiser, Clint Eastwood narration, Doritos, and preternaturally smart animals. 
At the moment, three particularly joyful squads are Ohio State, Iowa, and Northwestern, who all went undefeated this past week. For being able to accomplish what the B1G's top two teams couldn't—a win at Illinois—the latter has earned team of the week honors.
NORTHWESTERN (2-0) // Beat Nebraska 84-74, Beat Illinois 74-70
With a Thad Matta-esque six-man rotation, Northwestern took down Nebraska. Per usual, John Shurna (28 points) and Drew Crawford (21 points) paved the way for the Wildcats on their journey to delicious and beyond2. Their 84 total points was the most so far in B1G play this season, thanks largely to NU's 14 3-pointers.
For the first time all season, Northwestern won consecutive league games thanks to their upset against Illinois. Four of the six Wildcat players who saw the floor scored in the double figures, led, of course, by Shurna (24 points, including 17 in the second half) and surprisingly, Reggie Hearn (20 points, including 16 in the first half). Overall, the Northwestern offense was made of two dashes of an autumn breeze and a half a horse's whinny, as they connected on 60% of their shots and closed out the contest on a 16-8 run.
IOWA (2-0) // Beat Minnesota 63-59, Beat Penn State 77-64
Ending the game on a 9-0 run, Iowa rallied for the victory against Minnesota. Matt Gatens led the way with 18 points and Devyn Marble chipped in with 12 of his own. Though Hawkeye freshman Oglesby was 0/5 from the field in his 21 minutes, he was probably preoccupied with creating some killer ad slogans.
Reeling off consecutive wins, Iowa topped Penn State. Gatens accounted for 18 points again, and Aaron White contributed 17 of his own along with 9 rebounds and a song hawking Patio Diet Cola. The Hawkeyes held a double digit lead for the entire second half. 
ILLINOIS ( 1-1) // Beat Michigan State 42-41, Lost to Northwestern 74-70
In a game only Joe Isuzu would call watchable, Illinois nipped Michigan State. Before halftime, announcer Mike Tirico demanded, "This half needs to end", but the final 30 minutes weren't much better. Overall, the two teams combined for 29 made field goals, 28 turnovers, and 35 personal fouls. Although he was only 6/17 from the floor, Brandon Paul regained some of his wizard powers by scoring a game-high 18 points, including two free throws with 45 seconds left to put the Illni up for good. He then preceded to miss the front end of a one-and-one two different times, giving Michigan State opportunities to win the contest. Luckily for Illinois, Paul's dark magic was effective enough to prevent that. Close shave, America. Close shave, Brandon Paul.
Despite 10/12 shooting from Meyers Leonard and 6 triples from Paul, Illinois got the Stamos headbutt treatment from Northwestern's offense. Paul held Shurna in check the first half but couldn't contain him in the second. It was the Illini's first loss at home to the Wildcats since 1999. 
WISCONSIN (1-1) // Beat Penn State 52-46, Lost to Ohio State 58-52
Doling out payback for the 36-33 loss last season, Wisconsin survived against Penn State in the Big Ten's prettiest Tuesday evening game. Trailing by six at the break, the Badgers came back in the second half, due in large part to Jordan Taylor, who suddenly played like he had been challenged by Larry Bird in a game of Horse. Making big shots down the stretch, Taylor was responsible for 13 of Wisconsin's final 17 points to finish with 18 points. Enjoy that Big Mac3. 
After getting spit on a year ago in Madison, Jared Sullinger underwent an intense exercise regimen so that he could eventually accomplish his goal of notching a win in Madison.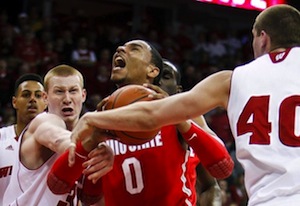 MICHIGAN STATE (1-1) // Lost to Illinois 42-41, Beat Michigan 64-54
In the eyesore against Illinois, Michigan State outrebounded their opponent, 49-32, but hit less than a fourth of their shots while the normally reliable Draymond Green and Keith Appling fell under the spell of Brandon Paul's evil sorcery. Appling was a measly 1/11 from the field, recording fewer points (4) than turnovers (5) and missed a potential game-winning basket before the buzzer. Green, in only 16 minutes of playing time, committed the same number of turnovers while scoring just 5 points on 1/6 shooting. In foul trouble most of the night, the senior went down with a knee injury with four minutes to go in the game. Afterwards, he hobbled to the locker room, stopping to toss his jersey to Amy Sedaris.
Remaining undefeated at home this season, Michigan State avenged an earlier loss and beat Michigan, just like football-style. Because he takes a licking and keeps on ticking, Green was ready to go against a team that he has not fared well against in the past. It was a different story on Sunday afternoon, when the senior double-doubled his way to 14 points and a staggering 16 boards to help the Spartans snap their three-game losing streak to the Wolverines. 
MICHIGAN (1-1) // Beat Indiana 68-56, Lost to Michigan State 64-54
Leading by as many as 20 points, Michigan held off Indiana. When the Hoosiers came within two points, Tim Hardaway Jr. nailed a three-pointer with 3 minutes remaining. The sophomore guard was just 4/14 from the floor and 2/8 from distance, but when it mattered, he raised his hand and was sure. Trey Burke, fully healed from GuardedbyCraft-itis, was the top scorer for the Wolverines with 18 points. He also had 4 assists and 4 boards.
Stuck in Green Hell, Michigan fell to their instate rivals and as a team, recorded as many rebounds as Draymond Green. Hardaway continued to struggle with accuracy (1/10 for 4 points), and Zack Novak, high scorer for the Wolverines with 14 points, fouled out, much to the delight of the East Lansing crowd. 
INDIANA (1-1) // Lost to Michigan 68-56, Beat Purdue 78-61
Indiana learned a Matthew Broderick-style lesson against Michigan, their sixth B1G loss of the season: it's difficult to recapture 80s magic. Jordan Hulls was the top scorer for the Hoosiers with 18 points, including 4/5 from behind the arc, but his team was plagued by 14 turnovers and an early 20-point deficit4. 
For the first time since 2008, Indiana downed Purdue. Announcing "we shall prevail", the Hoosiers got help from Victor Oladipo's most productive game of his career. The sophomore posted 23 points, 8 rebounds, and 4 assists while his team also won the battle of the glass, outrebounding the Boilermakers by a palindrome margin of 53-35. It was Tom Crean's first non-Penn State road win the in Big Ten. 
MINNESOTA (1-1) // Lost to Iowa 63-59, Beat Nebraska 69-61
Despite converting over half of their three-point attempts (10/19), Minnesota couldn't come up with the win in Iowa City. The Golden Gophers forced Tubby Smith to get his Plop, Plop, Fizz, Fizz on after relinquishing a 10-point second half lead. Ralph Sampson III (13), Julian Welch (12), and Austin Hollins (11) Julian Welch all scored in the double figures.  
Big Ten Standings

| TEAM | CONF | OVERALL |
| --- | --- | --- |
| Ohio State | 8-2 | 20-3 |
| Michigan State | 7-3 | 18-5 |
| Wisconsin | 7-4 | 18-6 |
| Michigan | 7-4 | 17-7 |
| Indiana | 6-6 | 18-6 |
| Illinois | 5-5 | 16-7 |
| Purdue | 5-5 | 15-8 |
| Minnesota | 5-6 | 17-7 |
| Iowa | 5-6 | 13-11 |
| Northwestern | 4-6 | 14-8 |
| Nebraska | 3-8 | 11-11 |
| Penn State | 2-9 | 10-14 |
On the road again, Minnesota emerged victorious against Nebraska. Chip Armelin came off the bench for a team-high 15 points because he couldn't have just one. Nine different Golden Gophers scored, together accounting for a 54% shooting performance. 
PURDUE (0-1) // Lost to Indiana 78-61
An anemic first half doomed Purdue against Indiana, in which they made only 20% of their field goals and missed all 11 attempts from behind the arc. For the entire game, the Boilermakers shot just under 30%. Robbie Hummel did his part, yielding 16 points, 10 boards, and 5 blocks. Near the end, he hit the deck though luckily,  Life Call was not needed because he got back up and played through it. 
PENN STATE (0-2) // Lost to Wisconsin 52-46, Lost to Iowa 77-64
Blowing their halftime lead against Wisconsin, Penn State had their chances to pull the upset. Down by two late in the game, the Nittany Lions failed to convert three times on shots that would have erased the deficit. Tim Frazier, who bounced back after the indignity that comes with being guarded by Aaron Craft, was smoking enough to hawk Muriel Cigars. He accounted for six of Penn State's seven second-half field goals for a game-high 21 points and tacked on 7 assists and 4 rebounds.
Another slow start hurt Penn State in their loss to Iowa. Trailing by as many as 26 points, the Nittany Lions were able to cut that deficit in half, but could not gain any more ground. Frazier came away with 23 points, 5 boards, and 5 assists, though I'm sure it's less filling when his team doesn't manage a win.
NEBRASKA (0-2) // Lost to Northwestern 84-74, Lost to Minnesota 69-61
Trailing by 15 at the half to Northwestern, Nebraska made it a three-point game with 1:34 remaining after Dylan Talley and Bo Spencer hit back-to-back treys.  However, it wasn't enough, even though the Cornhuskers made over half their shots (51.9%). Spencer led his squad with 24 points because Bo knows scoring. He also knows TOs, committing 8 of Nebraska's 14.
After halftime, Nebraska couldn't hold on against Minnesota, going six and a half minutes without making a basket. Apparently that Big Red freshness lasts right through the first half only. Spencer put up a game-high 18 points and 5 assists while Toney McCray added 15 points, 6 rebounds, and 3 blocks. 
1 But not before that, when, in typical Michigan fashion, he looked more like Braylon Edwards.
2 Can't say I've ever done LSD—sorry Walter Bishop—but I imagine it's exactly like that Friskies commercial.
3 If he can wrestle it away from Brady Hoke.
4 They probably shouldn't have skipped economics class, where they could have learned all about the Laffer Curve.