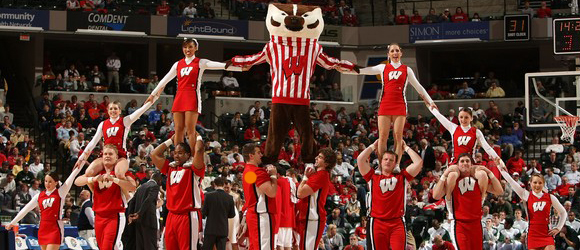 Previously on... Across the Court: *fades from black* Elika got us up to speed on where the 2011-2012 Wisconsin Badgers where at at that point in time of the season. But much like any good narrative, things change. Elika was visited by a mysterious ethereal gate keeper of some god forsaken island who insisted she... Wait. That's LOST. And she was given a totally awesome opportunity by Scout to aid and abet their San Diego State coverage. My mistake.
None the less, with numerous variables changing over time and the Big Ten's landscape in a far different place than it was but two weeks ago, we brought in Sam Zastrow from Bucky's 5th Quarter to help get us to speed on what you missed if you completely forgot to DVR the middle of the last month.
The Buckeyes and Badgers first got acquainted two weeks ago, but suppose unfrozen caveman Buckeye fan just resurfaced: how does this year's incarnation of Bucky Badger differ from previous versions and what are a few take aways from having seen a lot of this particular basketball team?
The 2011-12 Badgers are a pretty typical Bo Ryan team. On offense, they play at an extremely slow tempo (last in the NCAA, according to KenPom) and shoot a lot of threes (and literally everyone who plays significant minutes will shoot them). When they make a high percentage of threes, they usually win. When they miss a high percentage of threes, the offense can be downright ugly. The Badgers rarely turn the ball over.
Wisconsin's defense has carried it all season long, as it often does. Wisconsin leads the nation in scoring defense and is third (behind Ohio State and Michigan State) when adjusted for tempo. The Badgers are a decent rebounding team but are limited by a lack of size up front, and therefore struggle against elite rebounding teams like Ohio State.
As for differences, the Badgers lack a true power forward following the departure of Jon Leuer after last season. Mike Bruesewitz and Ryan Evans rebound and defend the post well for their size, but both are only 6-foot-6 and may be better suited as small forwards. Another difference: they don't rely as heavily on one or two players as Wisconsin teams of the past. Jordan Taylor (14.3 ppg) is certainly the leader on offense, but four other Badgers average between 7.6 and 10.6 points per game.
Wisconsin finds themselves firmly entrenched in fourth place in the league with Indiana a solid game and a half back. How firm is this team's grasp on a first round bye in the conference tournament and how do you see the remainder of their slate playing out?
Wisconsin has never finished worse than fourth in the Big Ten since Bo Ryan took over as head coach in 2001. That, plus the fact that the Badgers have two home games against teams they've already beaten on the road (Minnesota and Illinois) left on the schedule, makes it very unlikely they'll lose their grasp on a first round bye. Even if they lose at Iowa and at Ohio State this week, I think they're safe.
Since last losing to Ohio State, the Badgers ran into the same buzzsaw that the Buckeyes did in the form of the first place Michigan State Spartans. What contributed to that defeat and is that loss more indicative of how good this Wisconsin team is or how tough Sparty is this season?
Even though this Wisconsin squad isn't as talented as some of Bo Ryan's past teams, I think the Badgers' loss(es) to Michigan State was/were far more indicative of the strength of the Spartans than anything else. Both teams shot the ball poorly from outside in their most recent affair, but the Spartans showed other offensive abilities -- to consistently score inside and consistently get to the free throw line -- the Badgers simply don't have. That was the only big difference I noticed.
Wisconsin's seemingly been at its most vulnerable on the road this year. What do the Badgers have to do to buck that trend in Columbus this coming Sunday?
You know, the Badgers have actually been better than usual on the road this season. Wisconsin's only three road losses came at North Carolina, at Michigan and at Michigan State, but those teams certainly have more talent than the Badgers, so I wasn't surprised.
That said, the only way I see the Badgers beating the Buckeyes is by shooting a high percentage from beyond the arc. Just like the Spartans were, Ohio State is far better than Wisconsin at drawing falls and scoring inside. The only way the Badgers can offset this is by pouring in three after three after three. If Wisconsin makes a lot of threes, it's capable of beating anyone. That's a big "if," though, as they've been very inconsistent in that department all season.
Buckeye fans still have the bitter taste of Jordan Taylor going absolutely off on the Buckeyes in Madison this season. Tell us a little bit about his senior campaign, particularly in relation to last season.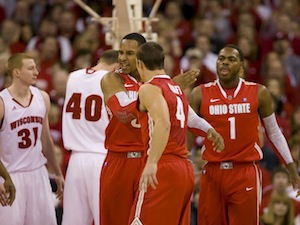 Early on, we thought he may have been still recovering from an offseason ankle surgery, but now, there are no two ways about: he's regressed since last season. Here's the laundry list:
Taylor is shooting a lower percent from the field, from three and from the line than last season.
He's averaging fewer free throw attempts, assists, rebounds and points per game.
He's turning the ball over more often (though it would have been hard to improve on his ridiculous 3.92 assist to turnover ratio from last season).
Taylor is still capable of having a big game, as he scored 27 at Minnesota and 28 at home against Michigan State, but in general, he's no longer the electric player that seemed like a lock for 18 points and six assists every night.
Ohio State's William Buford has been an enigma for the Buckeyes this season. His inconsistency by and large has frustrated the Buckeye faithful and left a bitter taste in many of their mouths when he has his seemingly now rare on-night. Does Wisconsin have their own 'William Buford'?
You could say a lot of those same things about Taylor, unfortunately.
Ben Brust has also been something of an enigma. He looked like a lock for conference sixth man of the year after scoring at least nine points in eight of Wisconsin's first 10 games (including a combined 46 against BYU and UNLV), but sputtered in the conference portion of the schedule, scoring in double digits in only three games and being held to two or less in five others. A big game from him would really help Wisconsin's chances Sunday.
We enjoy absurd hypotheticals around these parts so here's one for you: if Thad Matta held you against your will in a "Beyond the Black Rainbow" scenario and under the influence of mind control agents forced you to add a single Buckeye to Wisconsin's team, who would it be and why?
Jared Sullinger, without question. He would immediately solve at least three problems ailing the Badgers: their lack of a true power forward, lack of a consistent inside scoring presence and lack of a second player who can consistently create his own shot.
Finally, how do you see Sunday's game playing out? Will Wisconsin have to "deal with it" or will sunglasses be dropping from the sky onto Bo Ryan's face?
No, honestly, I think the Badgers will struggle in this one. If they shoot well and limit the Buckeyes on the glass and in the paint, they'll keep it close. If not, it could get ugly early, just like it did last season in Columbus.