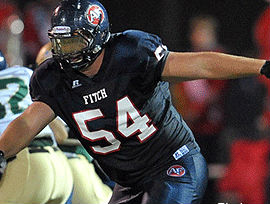 Last week we took a look at some of the recruiting class of 2013 prospects on the offensive side of the ball (which Jeremy touched upon again this week), but this week it is time to take a look at the prospects in the class on the defensive side of the ball..
Taking away the offensive line, much of the focus in this years OSU class will likely be on defense. While the defensive line was shored up in 2012, Urban Meyer and the staff will look to compliment stars like Noah Spence and Adolphus Washington with linebackers who can clean up behind them and defensive backs who can make big plays in the few moments when they can't get to the quarterback.
Like on offense, there are a ton of offers out already, as a wide net is being cast to reel in the best players nationally. It is tough right now to distinguish which players have committable offers and which are on a "wait and see" approach, but one thing that is for certain is that the group of players being targeted is a collection of the best talent in America.
Join us after the jump to take a look at some of the defensive prospects on Ohio State's big board and take some time to familiarize yourself with them, as they may be wearing Scarlet and Gray sometime in the not too distant future.
DEFENSIVE LINE
As mentioned above, the defensive line is not going to be a huge need in 2013. With Adam Bellamy, Jonathan Hankins, Mike Bennett, Joel Hale, Kenny Hayes, Steve Miller, JT Moore, Noah Spence, Adolphus Washington, Tommy Schutt, and Se'Von Pittman all set to be in the defensive line rotation when this class steps foot on campus there aren't many spots, so expect only one or two, and at most three, players from the position to come on board next Signing Day.
At defensive tackle, the Bucks already have a commitment from Billy Price of Austintown Fitch. Price gives Mike Vrabel a great start to this defensive line class as he is penciled in at the tackle spot, but also has the athleticism to move to strong side end, much like a Cameron Heyward or John Simon was capable of.
The other offers at tackle include Baltimore (MD) Gilman's Henry Poggi, Timber Creek (NJ) Sicklerville's Greg Webb, and Hope Mills (NC) South View's Greg Gilmore. Shaker Heights' Donovan Munger is definitely someone the staff is aware of and could be in line for an offer soon, while Detroit Cass Tech's Kenton Gibbs is also a prospect in the region that is garnering big time college football interest.
At defensive end, the top targets and players that were offered include Fort Lauderdale (FL) St. Thomas Aquinas's Joey Bosa, Avon's (IN) Elijah Daniel, Somerset (NJ) Immaculata's Tashawn Bower, Ramsey (NJ) Don Bosco Prep's Quan Muhammad, Little Silver (NJ) Red Bank Regional's Garrett Sickels, and Memphis (TN) Central's Frank Herron. Other prospects on the radar that have not been offered yet include Louisville (KY) Trinity's Jason Hatcher, Pickerington North's Jake Butt, and Toledo St. John's Jesuit's Matt Miller.
With the players coming back and Price in the fold, it wouldn't bother me at all if the Bucks stood pat with what they have. That being said, I think at least one other player from both of these groups will join the fold and the best chances at this point are with Bosa (visiting for Spring Game and nephew of former Buckeye Eric Kumerow), Daniel (visiting for Junior Day this weekend), Bower (family in Columbus), and Butt, Miller, or Munger if any of the three are offered.
The defensive line under Urban Meyer should be outstanding the next few years and adding anyone in addition to Price will only make things better.
LINEBACKER
The Buckeyes brought in a solid linebacking corps in 2012 with David Perkins, Luke Roberts, Camren Williams, Josh Perry, and Jamal Marcus. In 2013 it looks like the staff is trying to add two more players to the group in order to provide more talent and depth for Luke Fickell's unit.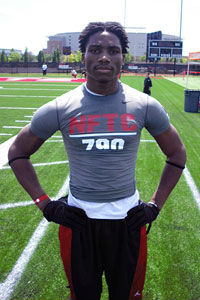 There are currently no players committed at the position right now, but offers have already gone out to Fort Wayne (IN) Bishop Luers's Jaylon Smith, Hudson's Ben Gedeon, Cardinal Mooney's Courtney Love, Woodbridge (VA) CD Hylton's EJ Levenberry Jr, Olney (MD) Good Counsel's Dorian O'Daniel, Wyomissing (PA) Area's Alex Anzalone, and Matthews (NC) Butler's Peter Kalambayi.
Other players on the radar that have not been offered yet include Hamilton's Marcus Oliver, Trotwood Madison's Mike McCray, Indianapolis (IN) Warren Central's Tim Kimbrough Jr, Cincinnati Northwest's Rasheen Jones, Chaminade-Julienne's Darrien Howard, Lake City's (SC) Devaris Brunson, and Midlothian (VA) Clover Hill's Holland Fisher.
Priority number one from this list and a player I see very likely to choose Ohio State is Jaylon Smith, as he has OSU in his top three and his brother is Buckeyes running back Rod Smith. The next most likely players I see joining him include one, and possibly two (if numbers work out) of the following group including Gedeon, Love, and Anzalone or McCray or Kimbrough if either are offered.
DEFENSIVE BACK
After the departure of Dom Clarke and Pee Wee Gambrell due to off-field issues, Ohio State was left thin at cornerback, a problem considering there wasn't much depth at the other secondary position, safety.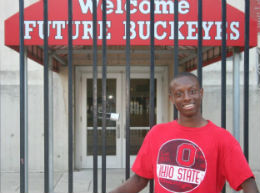 Bringing in Armani Reeves and Najee Murray at corner, as well as De'van Bogard and Tyvis Powell at safety will certainly helped, but like with linebacker, Urban will be on the prowl looking to add the nation's best defensive backs to this group.
Meyer got off to a great start in reaching that goal, as Trotwood Madison DB Cameron Burrows has already announced he will be a Buckeye. Burrows is regarded as one of the top two cornerbacks in the country and is set to start his career in Columbus there, although a move to safety would not be out of the question.
In addition to Burrows, another commitment is expected to come Ohio State's way in the very near future, as Voorhees (NJ) Eastern's Eli Woodard is expected to announce for the Buckeyes when he declares his college choice via twitter at 4 PM EST today. Woodard has offers from the likes of Alabama, Wisconsin, Notre Dame, and some other top programs in the country and will be an excellent pick up for the staff in the secondary. 
Other secondary prospects who have been offered and could be part of this class include Hilliard Darby's Caleb Day, Olney (MD) Good Counsel's Kendall Fuller, Alliance Marlington's Dymonte Thomas, Seffner (FL) Armwood's Leon McQuay III, Tampa (FL) Wharton's Vernon Hargreaves III, and Richmond (VA) Varina's Tim Harris.
Players who are in the mix, but have not been offered yet include Cardinal Mooney's Marcus McWilson, Solon's Darian Hicks, Trotwood Madison's Reon Dawson, Avon's Ross Douglas, and Glenville's Chris Worley. All of these players have  either visited campus or been contacted by Ohio State and could all end up with offers depending how things shake out with the aforementioned offered prospects.
When it is all said and done, I see five secondary players being taken in this class. Two of those spots are expected to be filled by Burrows and Woodard, while I also think OSU has a great chance to land Day, Thomas, and any of the Ohioans not currently offered if they receive a scholarship. It should be a very good secondary class for the Buckeyes and it will help reload a unit that is in need of talent and depth.