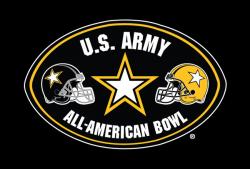 Well, if you wanted to get an idea of what cohesion and coach means to the game of football, the Army All-American Bowl that was played today was a pretty good indicator of what happens when both teams don't have a lot of either. There were a few crazy plays, a twinkling of things to come for the Ohio State Buckeyes, and Barry Sanders Junior somehow resisted the urge to strangle every single person who asked him what it was like to have the dad that he has.
The names that Ohio State fans needed to be on the watch for were DLs Adolphus Washington and Tommy Schutt, and WR Stefon Diggs. Schutt had little impact on the game, but several big plays by Washington and Diggs showed just what those two players were capable of, albeit in a meaningless game with weird rules where no one is allowed to blitz. The West team beat the East team 24-12, but since most people are probably far more interested in how OSU players, targets, and other major recruits performed, we'll focus on that instead.
The game started with the East going three and out, giving the West a short field to work with, which they immediately took advantage of. RB TJ Yeldon, an Alabama commit, showed both his wheels and hands with a terrific catch to get the West down to the two. A quick word about TJ Yeldon: he might have been the best athlete on the field all day. He's got incredible balance and quickness, and because of that I hope he finds a love for horticulture and quits football. West punches in the ball from the two, and it's a 7-0 lead in short order.
The East responded with a drive led by former Indana commit and current LSU Tiger Gunner Kiel, who looked a bit sloppy for the rest of his time in the game, but in this instance was sharp enough for the responding touchdown. East missed the extra point, but it seemed like this was going to be a relatively exciting AAA bowl with neither team getting a lot done in the way of defense. 7-6 West.
On the West's next drive, a fortuitous pass interference call set them up nicely in the East's red zone, where Stanford commit Barry Sanders Junior rumbled in for the touchdown to put the West up 14-6. Barry The Lesser is actually Barry The Somewhat Bigger; he's not really a clone of his dad, at least in running style, and part of that is the result of him being about 5 foot 11 and 190 pounds. He's got a great burst at the line, and will fit in really well with Stanford's offense. People at Oklahoma State are probably furiously shooting their guns in the air in anger and going "Ooooohhhhhhh!" but Barry Junior seems like an incredibly smart kid and he probably made the best possible decision.
Then someone flipped the "A Billion Turnovers" swtich. Anthony Alford came in for the East at QB and threw a pick almost immediately, which was then followed up by a bad handoff which was recovered by DL Eli Harold, a Virginia commit. The East couldn't make hay from that, however, and punted back to the West.
Did I mention how good TJ Yeldon is? He can both run and catch, as evidenced by him leaping over guys following a reception, and then adding a great run shortly thereafter. Then the Adolphus Washington show started. First, he blew by the left tackle for an easy sack, and in the following play he powered into the backfield and caused another one. Washington is a terrific recruit with a ton of upside, and his power and speed are evident on every snap. He'll likely shift more inside as he gets bigger, and take on more of a John Simon type role rather than a Thaddeus Gibson one (which also hopefully means he develops an affinity for flannel). Washington does need to hone his technique somewhat though, as in college a bullrush can't really be your only move.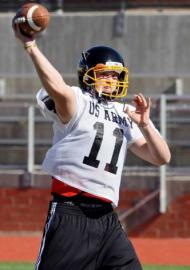 Anyway, it turned out that two consecutive sacks and a 3rd and 38 was no big deal for the West, as WR Dorial Green-Beckham had a one-handed grab and raced down the sidelines for another West TD. 21-6 West. DGB is an incredible talent, although later in the game he would have two really bad looking dropped passes that made me question both my sanity and whether this is truly a just world. Like, if I had a newborn baby, and you told me that I'd get a million dollars if I could recreate those passes but I'd have to substitute my baby for the football, I'd yell for someone to bring me shoulder pads and some stickum.
The first half ended as the East fumbled the ball away, DGB dropped one of his aforementioned passes, and the West settled for a field goal to close out the half. 24-6 West. Numerous commitments were made during the game, including S Elijah Thompson (who was pretty easily the best player for the defense on either team), WR Jordan Payton, and DT Ellis McCarthy all going to Cal, DT Jon Bullard going to Florida, S Elijah Shumate going to Notre Dame, DE Tyriq McCord heading to Miami, and about a half dozen others all making decisions that will change their lives forever by literally picking up a baseball hat and putting it on their heads.
The 3rd quarter was apparently played in tribute to James Tiberius Tressel, because the teams punted back and forth in some kind of blantant attempt to get me to change the channel. It did provide OSU target Stefon Diggs the opportunity to strut his stuff a few times; he didn't show much (other than a hilarious vault over another player in the 4th quarter), but he clearly has explosive speed and is pretty much everything Urban Meyer could want in a WR.
Finally, the last OSU commit/target to make any real noise during the game was Tommy Schutt, who recovered something like the 5th or 6th turnover (fumbles, another Gunner Kiel interception) in the game as time was winding down. Schutt is a DT in the Hankins mold, and frankly did not look nearly as powerful as He Ate Me. His mobility is good for a big man that size, which should help him, but he needs some time in the weight room if he wants to make an immediate impact the way Hank did.
The Army All-American Bowl ended with the West beating the East 24-12, after a garbage time TD from the East, but the most interesting thing to be gleamed from this game is the play of Adolphus Washington. Put in the right system, his combination of speed and size should mesh very well with the other defensive line recruits that OSU has picked up this season, and it appears that the Urban Meyer tradition of fielding walking war crimes in the trenches might just continue for the foreseeable future.