Good morning, ladies and gentlemen, boys and girls, children of all ages. Another Wednesday is here, which is pretty exciting considering it's most people's fourth to sixth favorite day of the week.
The college football season is officially over, as are my electroshock treatments to erase this past one from my mind. That means basketball now has our undivided attention, just in time for Brandon Paul to pass his wizarding exams. I'd say he's on his way to becoming an Auror, but he will no doubt go 2/17 from the floor and score five points the next time Illinois hits the hardwood1.
Last night's loss confirmed the sinking feeling I've been having recently that if this team doesn't kick it in gear, particularly on the road, this season will be labeled a disappointment. It's possible I'm nothing more than an overly cynical sports fan at the moment; however, the Big Ten is too tough and the Buckeyes are playing inconsistently at best, sloppy at worst, since the Duke win.
On the bright side, Thad Matta tends to find a way to get his players on the right path and there's still plenty of time left, because what matters most is how this team performs in March, and hopefully, April.  
 SINGING, WE'RE GONNA VENT OUR FRUSTRATION. In their postgame session with reporters, Jared Sullinger and Aaron Craft didn't pull any punches with their comments, perhaps in an attempt to send a message to the rest of their squad. Separately, both sophomores mentioned that the team often struggles to play together. 
According to Craft, "You never know what team is going to show up. Some games we play hard and some games we don't. And every time we don't the other team makes us pay for it." He also claims that the same thing happens in practice, which suggests that Matta has probably aged 12 years in the past couple months.
Sully seems to recognize that if no one else will step up, he has to. Or, as he put it, "People say I'm the best basketball player on this team and if I draw the line, everyone else will. I have to take my leadership and my effort to a whole another level, and I guess this is the starting point." The Twitter specialist is even ready to take a break from social media. 
Everyone knew that once David Lighty's 20-year career at Ohio State ended, he would be missed. The leader and practicer extraordinaire cannot be replaced, but that shouldn't stop others from trying to imitate his workhorse mentality. Otherwise, sooner or later, we're all gonna blow a 50-amp fuse.
ALL DOWN THE LINE. Midseason reviews are out, and though it doesn't necessarily mean much until March, the Big Ten is flying Sam Thompson high. The Sporting News currently projects eight B1G teams to make the field of 68, more than any other conference. As of now, that consists of three #2 seeds (Ohio State, Michigan State, Indiana), with Northwestern sneaking in as a #12. Will this finally be the year the Wildcats get the invite, or will the NCAA Tournament Committee once again act as the Lucy to their Charlie Brown?
Mike DeCourcy from the same publication released his Midseason All-American selections. Sullinger is part of his first team, and Indiana's Cody Zeller and Michigan State's Draymond Green made his second and third teams, respectively. 
Granted this was written before 11pm, but Jason King outlined his four best bets for the Final Four: Kentucky, North Carolina, Ohio State, and Syracuse2. Something going for the Scarlet and Gray, even after the loss? As King pointed out, "Playing in the Big Ten, easily the nation's toughest conference this season, will help prepare Ohio State for March."
Now if someone on the team would start hitting 3-pointers on a regular basis...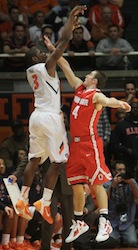 YOU GOT TO ROLL ME AND CALL ME THE TUMBLING DICE. It's been over 24 hours since we closed the book on the 2011 college football season, so naturally, it's time to glance ahead at what next season will bring.
Adam Kramer posted the 2012 Heisman odds, as determined by sports betting website Bovada. USC's Matt Barkely is the early favorite with 7/2 odds, and right behind him are Denard Robinson and Montee Ball, both at 5/1. The other two B1G players included were Nebraska teammates Taylor Martinez (20/1) and Rex Burkhead (25/1). I probably wouldn't advise anyone to put money down on T-Magic, unless he was lining up against the '11 Ohio State defense for every game. 
College Football Talk also gave Barkley the nod as the Heisman front runner in their fairly comprehensive look at 2012. While it's unfortunate that Michigan is listed as the preseason #5 team, they do have to face off against #2 Alabama in their opener. 
In more pleasant news, Ohio State is considered a rising team, one that should be much better, if still learning the new ways under coach Urban Meyer. His return home, and whether he'll be in pre-2010 shape, was characterized as the second biggest storyline, right after, yet again, conference expansion. 
MY MIND IS OPEN WIDE AND NOW I'M READY TO START. Yesterday, commissioners from 11 conferences, along with Notre Dame AD Jack Swarbrick, convened to talk potential changes in college football's postseason system. Although a decision is not near, this was the first of as many as seven meetings the group will participate in over the next several months.
Later this month, Jim Delany will gather the ADs and presidents from each Big Ten school to continue debating the matter. The Commish, always a staunch opponent of playoffs, told the NY Times' Pete Thamel that he was "interested, curious and fully participating" as the 12 angry men3 began discussions on the subject of a four-team playoff.
While that most likely is political-speak for "I have not changed my mind on this", there is more of a willingness to broach the topic:  
"The environment has changed in the sense that we had five people who didn't want to talk about it of the seven founders," Delany said, comparing Tuesday with four years ago. "And I think the seven founders were the conferences plus Notre Dame, and four years ago five of us didn't want to have the conversation. Now people want to have the conversation."
Nothing is guaranteed, so it'd be premature to break out the Sam Cooke, but fingers crossed that this is the first step towards implementing a system that avoids a national championship game like the one we witnessed Monday night.
NOW OUR LIVES ARE CHANGING FAST. Speaking of changes, there are quite a few roster moves that have occurred recently. Iowa running back Marcus Coker, who rushed for over 1300 this past season, is transferring after being granted a release. The sophomore was suspended for the Insight Bowl due to a vague "student code violation", but the real reason may stem from an October sexual assault charge. 
Either way, 15-time Big Ten Coach of the Year recipient Kirk Ferentz remains tight-lipped. As of last week, freshman Mika'il McCall also defected. The Defense Against the Dark Arts-like curse on the Iowa RB slot can be traced back to Damian Sims from the 2004 recruiting class. Since then, of all 12 players to field that position, no one has stayed until his senior year. 
In East Lansing, cornerback Johnny Adams has decided to return for his senior season. The All-Big Ten first teamer recorded 3 picks and 51 tackles as a junior and will join seven other returning starters on the Michigan State defense. The only Spartans who have chosen to leave early for the draft are DT Jerel Worthy and RB Edwin Baker. 
Outside the B1G, Heisman winner Robert Griffin III is also reportedly headed to the NFL, where he should be the second QB selected after Andrew Luck. So far, 44 underclassmen have declared for the draft. 
One-upping Duron Carter is Tate Forcier, the former Michigan QB who started in front of Denard at one point. He flunked out of San Jose State after sitting out this past season as a transfer student. 
THEN WE LINK OF OUR PARENTS. OSU forward Danny Dries blogs about outdoor hockey... An overseas update on Jon Diebler (miss you!)... March Mad Men-ness... You gotta hear this one song... The 20 Worst Songs of the 90s... Bane unmasked (I knew it!)... AMA with Gus Fring... The varying definitions of a minute.
1 They will be playing Penn State, perhaps the worst team in the conference, so you can pretty much bank on it. 
2 In my distressed state the night the Cardinals won the World Series, I pessimistically predicted that Bama would win the football championship and that one of those four teams listed would capture the basketball title. You don't want to know which one, though. 
3 I can imagine Mike Slive telling Delany, "The Big Ten don't play good football."