Good morning Buckeye faithful and welcome to your Tuesday Skull Session.
Last Sunday, the Ohio State men's hockey team faced off against the Michigan Wolverines. This game would've been big enough on paper for your average hockey fan, but it also helped that the game was played outdoors.
Fans filled Progressive Field in Cleveland, home to the Cleveland Indians to watch to top ranked teams face off. I, unfortunately, was not able to go, but I would love the opportunity to get another shot to.
I'm not a big hockey fan, in fact, watching hockey on T.V. is nearly impossible for me, but to be in that crowd and that atmosphere last Sunday must've been something.
I can only hope Ohio State does something like this annually because I think it would be the start of a very unique tradition.
ONE STEP BACK, TWO STEPS FORWARD. ESPN's Myron Medcalf released his power rankings for Big Ten basketball squads after this week.
Even though the Buckeyes lost to a pesky Illinois team early last week, Medcalf still ranks the Buckeyes at #2 in the B1G after a statement win over Indiana last Saturday.
The only team listed ahead of OSU is Tom Izzo's Michigan State Spartans. The Spartans reeled off 15 straight wins and hadn't lost since November before losing to Northwestern last Saturday.
Before the season's end, I expect Ohio State to be playing more consistent than MSU and eventually surpass them in Medcalf's rankings. However, for that to happen, OSU must play better on the road.
Thad Matta's team is a completely different team at home, and all of the Buckeyes' losses have come to teams on the road. Granted, all of OSU's losses have come to quality opponents, but the Buckeyes still need to find a way to close out big games on the road if they want a high seed in the NCAA tournament.
THE ELEPHANT IN THE ROOM. Jared Sullinger and William Buford gave up millions of dollars from the NBA to return to college for this season. Buford, the team's only senior, will have no choice but to go to the NBA next season, but will Sully leave as well with two years of eligibility left?
We won't know the answer to this question until the end of the season, but it's never too early to have a little fun and project where the Buckeyes' leading scorers would end up in the NBA draft after this season.
CollegeHoops.net surmises that Sullinger will go number five overall to the Charlotte Bobcats and Buford will go number 25 overall to the San Antonio Spurs in their NBA mock draft. While Ohio State is no Kentucky, which annually puts out about five first-round draft picks a season, it certainly does speak highly of Thad Matta's program to see OSU put out two first-round quality players.
It's a no-brainer that anyone associated with Ohio State wants to see Sullinger stay, but in my opinion, I expect all-American center to leave because his draft value will never be higher than after this season. However, if the Buckeyes don't will a title this season, it will be incredibly difficult for the sophomore to leave the college atmosphere and school that he's come to love.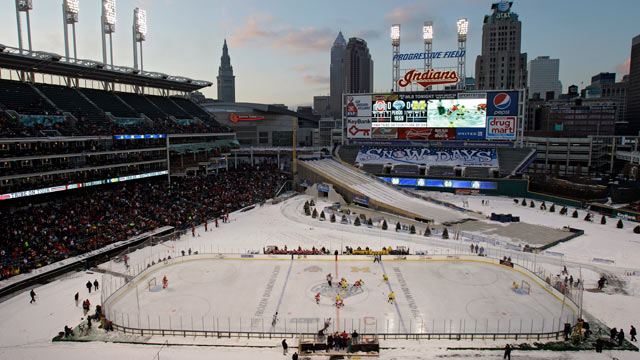 PAY ATTENTION ON THURSDAY. This Thursday, Cameron Burrows, one of state of Ohio's top football prospects, will make his decision on where he will play college football.
The junior cornerback from Trotwood-Madison High School will choose between Ohio State, Stanford, Michigan, Wisconsin, LSU, Alabama, and Tennessee.
It would be a big pickup for the Buckeyes who just released cornerback Dominic Clarke. It would also be nice to see Urban Meyer keep a homegrown product in state.
CAN'T BEAT THEM, SO LEARN FROM THEM. Urban Meyer plans to have former Florida players come and work out with Ohio State's football team, according to Fear The Hat.
The list of possible players includes several prominent NFL players, including the holy of holies, Timothy Tebow. While we all despise Florida for making life miserable for the Buckeyes in our past two bowl game meetings, it could be very beneficial for OSU's players to learn a thing or two from players who've played under Meyer in the past.
LOS LINKS. Meet your OSU coaching staff... Your NCAA basketball coaches poll... Montana hangs it up at Washington... Smith Jr. overcomes illness before a huge night against IU... A new approach for the Buckeyes?