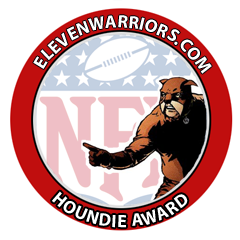 At one point in time, this award was known as the Buckeye NFLer of the Week. Thanks to a typo and the ensuing LOLsession from the commentariat, it was renamed as the Houndie. Same intent, but now with a better name.
The NFL regular season concluded on Sunday with all 32 teams playing divisional games and the final playoff spots coming down to the last games. 
I loved seeing New York take down the Cowboys on Sunday night to keep them out of the post season and I was happy for Bengals fans that despite having Mike Brown as an owner, the team can still get to the playoffs.
The funk of this Buckeye football season spilled over into the NFL this weekend, as former Buckeyes were either injured, had very blah games or made headlines for all the wrong reasons...once again.
No one expected Cincinnati to do anything this season, but Marvin Lewis got rid of the egos and brought in some key veterans and rookies to help lead the Bengals to their third playoff appearence in the last 21 years. The Bengals battled to the end, but Ray Rice proved to be too much in Baltimore's 24-16 win on Sunday.
Nate Clements, one of those veterans brought in, only had one tackle in the loss, as Joe Flacco threw the ball just 15 times. Mike Nugent made three FGs in his four attempts and hit his only XP. The former Buckeye kicker finally enjoyed a healthy season and connected on 33 FGs, second most in the league to David Akers, who just happen to set an NFL record with 44 made.
The Bengals caught a break in their playoff pairing, as they travel down to Houston, who have already lost Matt Schaub for the season and backup T.J. Yates went out earlly with an injury this past weekend. Yates, who beat the Bengals with two second left a month ago, says he'll play, but if he can't go, Jake Delhomme will get the nod against this stingy Bengals D.
Ohio's other team ended another losing season and may have more questions entering this offseason than they did last year. The Browns hung tough but fell to the Steelers 13-9 and finished the season at 4-12 which gives them the fourth pick in the 2012 draft.
Cam Heyward didn't have any stops for Pittburgh and Will Allen had an assist. The Steelers lost Rashard Mendenhall to a torn ACL and also missed out on a first round bye with the Baltimore win. Instead, they get shipped out to play a struggling Broncos team on Sunday afternoon.
Since my Bears are out of the playoffs, I've been searching for a team's bandwagon to jump on and I think I've settled with San Fran. I know they are coached by a UM man, but the Niners have the most Bucleyes on their roster and have a defense that can slow Aaron Rodgers and the Packers down. 
San Fransisco wrapped up the two seed in the NFC with a 34-27 road win over pesky St. Louis. Ted Ginn once again sat out with a left ankle injury, while Patrick Willis returned, which sent recent two-time Houndie winner, Larry Grant back to special teams. Donte Whitner did play and had two solo tackles, including one for a loss, while Grant chipped in with a solo stop. James Laurinaitis lead the way once again for St. Louis with nine total tackles, including eight solo stops and two TFL's.
The other NFC West game saw Arizona even their record at 8-8 with a 23-20 OT win over the Seahawks. Coach Ken Wisenhunt decided last minute to hold Beanie out of the season finale, after Wells battled right knee-injury all year. Beanie wasn't too pleased, but there was no sense in risking it after they were officialy eliminated last week and Beanie eclisped the 1,000 mark.
The saga of Santonio Holmes continued in New York as the Jets missed the playoffs after losing to the Dolphins 19-17. Brain Hartline had 2 catches for 16 yards, to go along with 2 tackles, but Holmes was held without a catch for the first time in his career and was benched in the final minutes after getting into a shouting match with his offensive tackle and being accused of quitting on his teammates.
New York signed Santonio to a rediculous contract after his Super Bowl winning catch and are essentially stuck with him for another two seasons. Unfortunately, Holmes has continued to show selfish behavior and was described as a "cancer" and a "distraction" recently, as he refused to do some extra work with Sanchez in preparation for their final game.
New Orleans smacked the Panthers, 45-17, but lost out on the two seed and will instead host Detroit this Saturday in primetime. Malcolm Jenkins was given the day off to rest his sore neck, which bothered him after the Atlanta win. Will Smith had a quiet game with just 2 tackles, while Chris Gamble was expectedly busy with 5 total tackles.
Philadelphia evened their record with a 34-10 win over Washington. Kurt Coleman joined the list of inactives this week, as he was sent to IR with a biceps injury sustained against Dallas. Brian Rolle finished up his impressive rookie campaign with two tackles while Darrion Scott had a TFL for Washington.
In the primetime game the Giants wrapped up the division with the aforementioned 31-14 win over the Cowboys. Jake Ballard had to sit this one out again with his bum knee and it looks like he is going to start running today in hopes of returning for their home game Sunday against Atlanta.
Out in the AFC mess the Broncos backed into the playoffs, losing their last three games and still getting a chance to host the game this weekend. The Chiefs and Kyle Orton handed Tebow and the Broncos a 7-3 loss, holding Tebow to 6/22 throwing. Donald Washington was able to knock away one of Tebow's throws, but didn't record any stats.
The Raiders should've gone with Pryor, as they lost their chance at the division, with a 38-26 home loss to the Chargers. Na'il Diggs had two tackles for the Chargers, as both teams finished 8-8, but loss the tie-breakers to Denver.
Finally, the NFC North was over long ago and the road to the Super Bowl once again goes through Green Bay. The Bears had a chance mid-season, but injuries derailed that thought and they finished the season 8-8, after a 17-13 win at Minnesota. Dane Sanzenbacher continued his late season push for more PT next year with two catches for 27 yards.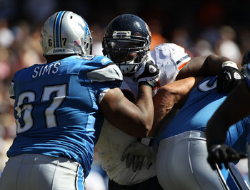 The most exciting game on the day was played in Lambeau Field where the Packers, lead by backup QB Matt Flynn, beat the Lions 45-41. A.J. Hawk had 4 tackles while Ryan Pickett returned from injury to record a tackle for the Packers and Bobby Carpenter didn't register any stats for the Lions.
So as you can see the week wasn't a steller one and we had to think outside of the box to come up with the final Houndie of 2011.
Brandon Saine had his best game, taking advantage of the James Starks injury to amass 85 total yards on 13 touches. Saine rushed eight times for 28 yards, caught three passes for 17 and ran two kicks back for 20 yards a piece. It's believed Starks will return soon and Saine will move back to fourth in the pecking order, but it looks like he'll be on the active roster throughout the playoffs and has a serious chance of winning a ring in his rookie season.
This week's winner is someone we don't often mention, but has started the last 32 games for the Lions at RG and has help them reach the playoffs for the first time since 1999. Sadly, Rob Sims is only one of two Ohio State linemen coached by Bollman that starts in the NFL, but his solid, injury-free play has been crucial for the Lions this season and his first career Houndie can also be viewed as a reward for his season long play.
In Sunday's game, Matt Stafford passed for 520 yards and 5 TD's, which pushed him to 5,038 yards and 41 TD's on the season, both good for third in the NFL. Without the threat of a running game this season, the Lions relied heavily on the pass and the fact that Stafford was able to remain upright and play in all 16 games, is the main reason the Lions are in the playoffs.
The Lions have a tough draw going down to New Orleans, but they've proven they can score with the best of them and anything can happen in the post season. If Ballard can go for the Giants, there will be a Buckeye in each playoff game this weekend.