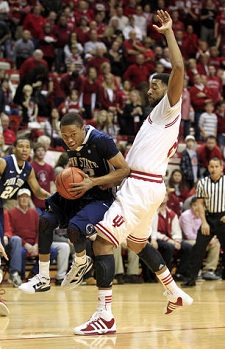 Tonight Ohio State welcomes the Penn State Nittany Lions to Columbus as part of a Big Ten Network double-header. The second game in the double-header, Minnesota at Michigan State, might be more interesting than this one. The only notable thing about this match-up of the BTN's first vs. last is that it might be a preview of OSU's first game in the B1G tourney later this spring.
Due to losses by Syracuse, Baylor, and Duke over the weekend, the Buckeyes moved up to #3 from #6 in the rankings after going into Lincoln and mauling the Cornhuskers. The top 5 is where OSU has lived for most of the season and as they near the midpoint of the B1G regular season they are well positioned to once again contend for a #1 seed in the NCAA tournament.
But first things first; Ohio State needs to keep their focus on Penn State tonight and not start thinking about upcoming games against Michigan and Wisconsin. OSU leads the all-time series 27-12 but they've won the last 16 straight overall and the last 7 in Columbus. In fact, Thad Matta has yet to lose to the Nittany Lions during his tenure as the Buckeyes' head man, going 15-0 against them. Penn State certainly respects this OSU team, but the question is: do they respect the basement?
| # | Name | YR | HT/WT | PTS | REB | ASST | P | # | Name | YR | HT/WT | PTS | REB | ASST |
| --- | --- | --- | --- | --- | --- | --- | --- | --- | --- | --- | --- | --- | --- | --- |
| 4 | A. Craft | SO | 6-2/190 | 8.0 | 3.2 | 5.1 | G | 23 | T. Frazier | JR | 6-1/160 | 18.0 | 5.0 | 6.4 |
| 32 | L. Smith Jr. | SO | 6-4/205 | 6.2 | 4.6 | 2.2 | G | 5 | M. Glover | SO | 6-4/205 | 3.7 | 4.6 | 1.5 |
| 44 | W. Buford | SR | 6-6/220 | 15.2 | 4.5 | 3.4 | F | 24 | C. Woodyard | SR | 6-5/210 | 8.7 | 4.3 | 0.3 |
| 1 | D. Thomas | SO | 6-7/225 | 15.0 | 4.2 | 1.0 | F | 43 | R. Travis | FR | 6-8/215 | 4.4 | 4.1 | 0.4 |
| 0 | J. Sullinger | SO | 6-9/265 | 17.1 | 9.1 | 0.9 | C | 25 | J. Graham | FR | 6-8/220 | 3.1 | 3.4 | 0.1 |
Opponent
Penn State has struggled mightily in Patrick Chambers' first season as head coach, saving Nebraska from dwelling in the B1G cellar in their first season. The team gained a bit of confidence when they upset #25 Illinois in State College last Thursday, and they were leading #12 Indiana at halftime on Sunday 29-27 in Bloomington. But the wheels fell off after that and the Hoosiers ran away with a 46-25 2nd half on their way to a 73-54 victory. 
The Lions have now lost 4 of their last 5 and 6 of 8 in Big Ten play. They have also gone nearly three years without beating a ranked team on the road, going 0/9 against the top 25 on the road in that stretch. It would be a big boost to the program to beat OSU in Columbus and break the Buckeyes' 36-game home winning streak. They nearly pulled it off last season, hanging around until the very end before losing 69-66 on a 3-point play by Jared Sullinger with less than a minute left.
Any way you look at it, PSU's offensive stats are, well, offensive. They score only 63 points per game on 39% shooting and average only 11 assists per game. Against IU, the Lions were abysmal from the floor, making only 17/50 shots and dishing out only 5 assists. On the bright side, they did get to the free throw line 23 times, but made only 16 of them. They were also outrebounded by the Hoosiers 30-23. 
The one bright spot has been the play of junior guard Tim Frazier. Picking up where Talor Battle left off last season, Frazier is the only Lion to average double-figures in points. The next leading scorer is 6th man Jermaine Marshall at 9.8 points per game. The focus on individual play has not served Penn State well, as they have lost the last 5 games when Frazier is the leading scorer. 
Penn State starts two freshmen on the front line, but don't expect to see them for long as neither of them averages more than 20 minutes per game. Marshall will be in the game early, and will play extensively. Also expect to see a lot of 6-9 240-pound Serbian import Sasa Borovnjak, as the Lions adjust their line-up to try to cope with OSU's size up front. Borovnjak is the only PSU player who can hope to slow down Jared Sullinger, and so I expect to see them play a lot of zone when he's not in the game. 
Buckeye Breakdown:
The agenda for the Buckeyes tonight will be similar to when they play one of their pre-conference home games: get a win and get your young players some experience. Since this game will probably not be close for very long, I expect to see Thad Matta play most of his bench, including promising youngsters Amir Williams and LaQuinton Ross. Williams has been especially impressive on defense when he has had a chance to play, blocking shots and grabbing rebounds as you would expect a big man to do.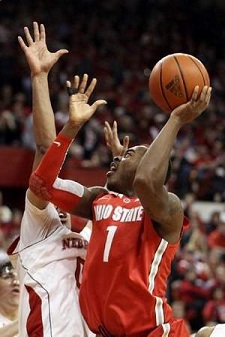 Of course, the starters will want to get a good workout in before they retire for the night. William Buford has picked on Penn State quite a bit over his career, and was OSU's leading scorer against them last season. Buford seemed to regain his confidence against the Huskers, and if he gets back to his old self it could be trouble for the rest of the B1G. 
Aaron Craft actually led all OSU scorers against the Lions in the 69-66 win in Columbus last season with 19 points, and he could use a confidence boost himself tonight. Craft made only 1/4 shots against Nebraska, although he made all of his free throws (4/4) for a change. Craft is shooting very well from the field overall (46.6%), but he has struggled from 3-point range (29.6%) and from the line (68.9%). A solid game vs. PSU could set him up for a better 2nd half of the season. 
Deshaun Thomas continued his solid play against Nebraska, hitting 5/9 shots and 3/4 FT's for 14 points while also grabbing 6 rebounds in 29 minutes of play. Thomas has been a FG% monster this season, hitting over 55% of his shots for 2nd on the team to Sullinger. He has also increased his court awareness, which has contributed to him getting more assists. 
OSU leads the conference in scoring margin and is second in both scoring offense and scoring defense. They are second to Michigan State in both rebounding margin and assists, but lead the league in turnover margin and are second only to Northwestern in assist/turnover ratio. The Buckeyes are emerging as the top team in the league, which is where most observers expected them to be at the end of the season. Expect to see more dominance tonight against an inferior opponent. 
Etc
Ohio State's 36-game home winning streak is second only to Kentucky, which has won 47 straight at home.
OSU's RPI ranking is #9, second in the Big Ten to Michigan State (#4). 
OSU is 14-1 vs. unranked opponents this season, and 11-0 at home.