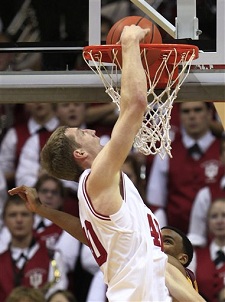 Today in front of a sell-out crowd and a national television audience, Ohio State will try to rebound from another disappointing road loss as they welcome the Indiana Hoosiers to Columbus for a late afternoon showdown. IU is also coming off a loss, as they dropped a home contest on Thursday to a Minnesota team that had previously been winless in the conference. 
In fact, IU was also coming off a loss when OSU played them in Bloomington on New Years Eve. This is notable because Indiana has only two losses on the season, and both have come right before playing OSU. While the Hoosiers could have been forgiven for dropping one on the road against Tom Izzo's Spartans, the loss to Minnesota is explainable only in terms of looking ahead to the trip to Columbus. 
Indiana leads the all-time series with Ohio State 100-74, but the Buckeyes had won 6 straight in the series before the loss on 12/31. OSU leads 50-34 all-time vs. IU in Columbus, including the last 3. The last time the Buckeyes played at home against a top 10 team, they came out with fire in their eyes and smoked a very good Duke team 85-63. On that occasion, Ohio State was looking for respect. This time, they'll be looking for revenge.
| # | Name | YR | HT/WT | PTS | REB | ASST | P | # | Name | YR | HT/WT | PTS | REB | ASST |
| --- | --- | --- | --- | --- | --- | --- | --- | --- | --- | --- | --- | --- | --- | --- |
| 4 | A. Craft | SO | 6-2/190 | 8.1 | 3.2 | 5.2 | G | 1 | J. Hulls | JR | 6-0/181 | 12.4 | 2.4 | 3.4 |
| 32 | L. Smith Jr. | SO | 6-4/205 | 5.2 | 4.6 | 2.1 | G | 12 | V. Jones III | SR | 6-5/195 | 8.2 | 3.0 | 3.5 |
| 44 | W. Buford | SR | 6-6/220 | 15.4 | 4.6 | 3.4 | F | 4 | V. Oladipo | SO | 6-5/214 | 11.3 | 5.4 | 1.6 |
| 1 | D. Thomas | SO | 6-7/225 | 15.3 | 4.2 | 0.9 | F | 2 | C. Watford | JR | 6-9/225 | 12.9 | 5.5 | 1.4 |
| 0 | J. Sullinger | SO | 6-9/265 | 17.4 | 9.3 | 0.9 | C | 40 | C. Zeller | FR | 6-11/230 | 14.7 | 6.5 | 1.1 |
Opponent
Prior to losing against Tubby Smith's Gophers, Indiana was on a pretty good roll. Starting with the dramatic home win against Ohio State, the Hoosiers won 3 straight. They took down #13 Michigan at home before going on the road to secure an 88-82 victory over Penn State. In that game, IU hit a season-high 16 3-pointers, including 7 from PG Jordan Hulls. 
But there were also signs of trouble looming. Indiana turned it over 15 times against UM, then gave up another 16 against the Nittany Lions. The sloppiness continued in the loss to Minnesota, as IU turned it over 15 times against only 6 assists. Also, Indiana shot only 22% from beyond the arc, neutralizing their biggest advantage over opponents. IU shot poorly overall, but stayed in the game due to their usual excellent free throw shooting (22/25).
Solid defense was a characteristic of the Hoosiers' 15-1 start to the season, but it hasn't been as good lately. As John M. of the Crimson Quarry puts it:
Unfortunately, the defense has been very poor in Big Ten play. IU ranks #12 in the conference in defensive efficiency (in conference games only), is now in the black in turnovers, and is allowing opponents to shoot 55 percent from two point range.
IU will need to tighten it up quite a bit if they want to repeat the upset win they achieved back at Assembly Hall. Zeller still gives up 35 pounds to Sullinger, and so he'll need help to keep from being overwhelmed by the big man. Zeller had 23 against Minnesota, but IU's other front-court players contributed only 6 points collectively. On the plus side, reserve guard Will Sheehey returned from injury against Minnesota and contributed 12 points on 5/7 shooting (although he was 0/2 from distance). 
OSU is out for blood and IU needs to be ready or else they could be run out of the gym quickly as the Buckeye players feed off the crowd. If the Indiana players can keep their composure and move the ball around on offense without turning it over, they could stay in the game and position themselves for another upset win. Jordan Hulls will be under a lot of pressure as he faces steal-master Aaron Craft in a one-on-one battle at the point. Hulls was only 1/5 from distance against the Gophers, he had only 1 assist in the game, and he fouled out after playing only 30 minutes.
Buckeye Breakdown:
Ohio State has been something of an enigma on the road this season, but they have been nails at home. In their last 4 home games, the Buckeyes have outscored their opponents by an average of over 28 points, and no team has been within single digits of OSU in Columbus since they played Florida in the 2nd game of the season. The Schott can seem cavernous at times, but it will be rocking today as the loss to IU on 12/31 is still fresh in the minds of fans.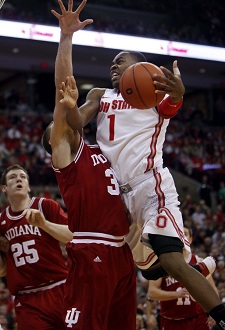 The key for the Buckeyes will be defensive intensity early in the game, as they attempt to continue what Minnesota started on Thursday. Craft will need to stay tight on Hulls and Thomas will need to keep track of Watford all over the floor. It is absolutely essential that the Hoosiers do not get on an early roll from beyond the arc, and those two are the key players in terms of outside shooting.
Senior Verdell Jones III and Soph Victor Oladipo are adept at driving the ball to the hoop, and so OSU will need to stay in front of them and keep the drives to a minimum. In the first meeting, the Buckeyes got into early foul trouble because the IU players were quicker to the spot on offense. This will need to end in order to prevent an endless parade of Hoosier free throw attempts. IU averages 26 attempts per game and that is one of the reasons they are 9th in the nation in scoring.
OSU on offense will need to shoot well early, and will need a strong showing from Buford. OSU's lone senior starter has been particularly effective against the Hoosiers throughout his career, averaging over 18 points per game on 53% shooting against them. This is no time for WB to start 0/10 or something similar. He needs to provide that outside punch that the team needs to take the pressure off Sullilnger and Thomas, and he needs to do it sooner rather than later.
Speaking of Deshaun Thomas, he always has a little extra motivation going against his home-state team, and it showed last season in Columbus as he led the Buckeyes with 22 points. OSU will need his inside scoring, especially his clean-ups on misses by teammates, in order to complement Sullinger. In general, the team will need to play a clean game in terms of fouls and turnovers in order to make sure that every possession counts. If they do this, it will put a lot of pressure on IU's defense and force them to foul frequently in order to slow down Sully.
Etc
In the series, the Buckeyes are 5-8 in games when both teams are ranked.
Buford scored 15 points against Illinois, improving his career total to 1701, which is eighth all-time in Ohio State career scoring. He is 55 points behind Jay Burson (1,756) for seventh place.
CBS will broadcast the game and Buckeye legend Clark Kellogg will join Verne Lundquist for commentary.