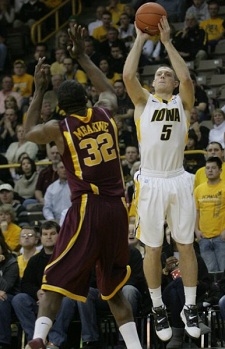 Today Ohio State attempts to improve their lackluster road record when they travel to Iowa City for an afternoon tilt against the Iowa Hawkeyes. Iowa is coming off a thrilling (I kid) 64-62 victory over Minnesota, a game in which they rallied from a 7-point deficit on the road and hung on for the win to improve their conference record to 2-1. The Hawkeyes are a bit of a surprise thus far, and it will make for an interesting test for OSU's young squad.
The Buckeyes have had some extra time to rest as they played Tuesday night at home against Nebraska in a game that was barely more than a light workout. Still, there are some concerns about decreased scoring and increased turnovers that need to be dealt with as the conference season moves forward. Iowa is a confident bunch, having hung tough with Purdue before upsetting Wisconsin and then going on the road to defeat the Gophers. This one seems to have all the makings for a classic trap game, coming as it does right before OSU goes to Champaign-Urbana to take on a 13-3 Illinois team.
Ohio State trails Iowa in the all-time series between the two teams 73-69, but lately it has been all OSU. The Buckeyes have won 6 straight and 8 of the last 10 in the series, including a 3-game winning streak at Carver-Hawkeye Arena. This will be the only regular season game between Ohio State and Iowa, but they could meet again in the tournament as the Hawkeyes project to finish between 8-11 in the conference standings. 
| # | Name | YR | HT/WT | PTS | REB | ASST | P | # | Name | YR | HT/WT | PTS | REB | ASST |
| --- | --- | --- | --- | --- | --- | --- | --- | --- | --- | --- | --- | --- | --- | --- |
| 4 | A. Craft | SO | 6-2/190 | 8.1 | 3.2 | 5.2 | G | 4 | R.D. Marble | SO | 6-5/194 | 10.9 | 3.2 | 3.6 |
| 32 | L. Smith Jr. | SO | 6-4/205 | 5.3 | 4.8 | 2.2 | G | 5 | M. Gatens | SR | 6-5/212 | 13.6 | 4.3 | 2.5 |
| 44 | W. Buford | SR | 6-6/220 | 15.9 | 4.3 | 3.6 | F | 25 | E. May | JR | 6-5/217 | 7.3 | 3.1 | 1.6 |
| 1 | D. Thomas | SO | 6-7/225 | 15.1 | 4.1 | 0.8 | F | 15 | Z. McCabe | SO | 6-7/232 | 7.4 | 4.8 | 0.9 |
| 0 | J. Sullinger | SO | 6-9/280 | 16.4 | 9.7 | 1.1 | C | 1 | M. Basabe | SO | 6-7/225 | 9.4 | 6.0 | 0.3 |
Opponent
Iowa head coach Fran McCaffery is in his second year at the helm for the Hawkeyes, having guided them through a difficult 11-20 season a year ago. McCaffery earned everlasting abhorrence from Buckeye fans at his previous stop, as he led Siena to a 74-72 win over the Buckeyes in the first round of the NCAA tournament 3 years ago. What I remember about that game is that OSU could not grab a rebound to save their lives and thus they gave the Saints repeated second chances throughout the game.
Rebounding against the Hawkeyes should not be an issue for OSU, however. Iowa fields a rather small front line to start, and leans on their guards for support on the boards. Reserve forward Aaron White, a Strongsville OH native, averages 18 minutes and nearly 5 rebounds per game off the bench, and we should expect to see a lot of him against the Buckeyes. White played 26 minutes and contributed 10 points and 6 rebounds in the win at Minnesota.
Also expect to see a lot of reserve guard Bryce Cartwright, as the senior is the teams only true point guard. Starter Devyn Marble (son of Roy Marble, Iowa's all-time leading scorer) is more of a wing guard playing the point just to get him on the floor. Cartwright is one of the team's leaders in the clutch, and he came through with 17 points on 7/12 shooting in the upset win at Wisconsin. 
Iowa has won consecutive Big Ten road games but now comes home where they haven't played since losing a heart-breaker 79-76 against Purdue. Marble and Matt Gatens made big shots to keep the Hawkeyes in the game, but in the end they could not defend against the clutch play of Purdue veterans Robbie Hummel and Kelsey Barlow. The defense improved dramatically after that, as they held both Wisconsin and Minnesota to under 70 points on their home courts. 
Iowa plays most of their bench, and they spread the scoring around quite a bit. They score a lot of points, but they do not shoot a high percentage. They make up for it at the free throw line, where they average more than 20 attempts per game and are shooting over 73% as a team. Iowa is currently on a roll, but they struggled early in the season, losing badly to teams like Campbell and Northern Iowa. Which Iowa team is the real thing? It's hard to tell, but I suspect we'll get a pretty good idea today.
Buckeye Breakdown:
After the humiliating 74-70 loss at Indiana where the Buckeyes stumbled over themselves down the stretch, they rebounded with stingy defense and strong rebounding against Nebraska. Still, the turnover bug remains. OSU had 18 turnovers against Nebraska after turning it over 17 times at Indiana. Aaron Craft was the big culprit against IU with 6, but then Will Buford added 6 of his own against the Cornhuskers. What accounts for the sudden case of butterfingers on the part of the Buckeyes?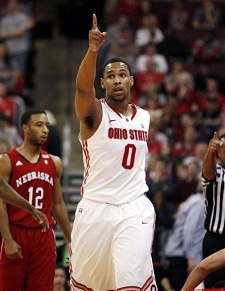 From my viewpoint, it seems like teams are defending OSU out on the perimeter more closely, and the Buckeye players are responding timidly, trying to make tricky passes and quick dribble drives. What is needed is a more patient approach to ball movement and a more determined effort to get the ball down low to Sullinger.
Sullinger was the key to victory last season at Iowa, hitting for 24 points in a 73-68 win. In that game, the Buckeyes trailed 35-29 at halftime but rallied in the 2nd half for the win. Still, they had a lot of trouble putting the Hawkeyes away, mostly due to 15 turnovers and numerous fouls in the lane (sound familiar?). Freshman Melsahn Basabe went for 22 points and 13 rebounds and he shot 11 free throws as OSU defenders continually fouled him.
In order to get a win tonight, the Buckeyes are going to have to play Iowa's game for a bit in order to get their defense loosened up. What that means is moving the ball around patiently and getting good shot opportunities in the lane with Sullinger and Thomas. If they do that, they will turn the tables on the Hawkeyes and send Sully and Tank to the line frequently.
OSU will also need a cleaner performance out of Buford and Craft. Iowa is a bad match-up for Buford, as they have long defenders out on the wings and he has not played well against them throughout his career. Today might be a day where he puts his pursuit of the all-time OSU scoring title on hold and becomes a big assist man for once. The team will benefit from this approach, and in the process Buford may well get his opportunites late in the game.
Etc
Despite the turnover spree in the last two games, Ohio State still leads the Big Ten in turnover margin (+6.4) and scoring margin (+22.8) and they are 2nd in both scoring offense and scoring defense. 
The Buckeyes outshot Nebraska from the free-throw line 13-6. On the year, Ohio State is +128 (+8.1 per game) in free throw attempts.
Ohio State is 35-6 in their last 43 Big Ten games, dating back to 3/8/09.