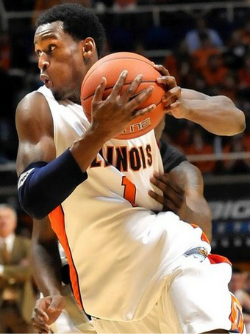 The Buckeyes travel to Champaign tonight, one of the toughest venues in the B1G, but a place they have had recent success, winning four of the last five, including a 73-68 win last year.
Illinois comes hobbling into the game, with spark-plug transfer Sam Maniscalco(9.9 PPG, 2.9 APG) missing the last two games due to an ankle injury and leading scorer, D.J. Richardson limited on Saturday because of a wrist injury.
Ohio State on the other hand is healthy and coming off a week where they destroyed Nebraska at home and Iowa on the road, causing more turnovers than FG's made in each game for their respective opponent. Jared Sullinger was named B1G POW for the fifth time in his career and as expected, the depth of the bench is emerging as the season rolls along.
| # | Name | YR | HT/WT | PTS | REB | ASST | P | # | Name | YR | HT/WT | PTS | REB | ASST |
| --- | --- | --- | --- | --- | --- | --- | --- | --- | --- | --- | --- | --- | --- | --- |
| 4 | A. Craft | SO | 6-2/190 | 7.8 | 3.2 | 5.1 | G | 13 | T. Abrams | FR | 6-1/185 | 2.5 | 2.4 | 1.5 |
| 32 | L. Smith, Jr. | SO | 6-4/205 | 5.3 | 4.6 | 2.1 | G | 3 | B. Paul | JR | 6-4/200 | 12.1 | 4.5 | 3.2 |
| 44 | W. Buford | SR | 6-6/220 | 15.4 | 4.7 | 3.6 | F | 2 | J. Bertrand | SO | 6-5/195 | 6.6 | 2.0 | 1.0 |
| 1 | D. Thomas | SO | 6-7/225 | 14.8 | 4.1 | 0.9 | F | 42 | T. Griffey | JR | 6-8/230 | 5.7 | 3.8 | 0.6 |
| 0 | J. Sullinger | SO | 6-9/265 | 17.1 | 9.6 | 1.0 | C | 12 | M. Leonard | SO | 7-1/245 | 12.9 | 8.0 | 1.4 |
Opponent
Illinois is one of those B1G team right now where the season can go either way. They have a nice record at 14-3, but have only played two ranked teams, beating then #18 Gonzaga in early December and losing to #8 Mizzou right before conference play. They needed double overtime to take down Minnesota in Assembly Hall, got beat by 15 at Purdue and squeaked out wins over Northwestern(57-56) and Nebraska(59-54) last week.
Bruce Weber's squad comes in scoring 68.2 PPG on the season, but as you can see, they haven't reached 60 in the last two games, which plays into Ohio State's hands. As a team, they are shooting 45.2% overall from the floor, including 31.6% from deep, which is last amongst B1G teams. As with most Weber teams, they will play tough D, holding teams to 60.2 PPG and 40.1% shooting, including 35.8% from the 3-point line. They have a pretty even A/TO ratio, with 13.2 APG against 13.9 TO's, while forcing opponents into almost 15 turnovers per game.
Weber didn't have a deep team to begin with and the injuries to Richardson and Maniscalco have limited him even more. Though they won by a combined six points last week, Weber called the wins "masterpieces" due to his make shift lineups. Maniscalco graduated from Bradley in the spring and was granted another year of eligibility, after sitting out last year with injuries to the same ankle. He leads the team in A/TO ratio and it doesn't look like he will play again tonight.
Richardson had scored in double figures a career high 8 straight games before his wrist injury limited him to eight points at Northwestern and just two points on four FG attempts against Nebraska. He should play tonight and if healthy enough, may be in the starting lineup. He's leading the team in scoring at 13.2 PPG, doing most of his damage from downtown, where he has hit 41/101 on the year, both good for second in the B1G.
Shutting down Brandon Paul will be key for tonight, as he leads this team with 14.8 PPG in B1G play. He has scored in double digits in 10 of his last 11 and now leads the team in assists. Paul will also shoot the ball from deep, but prefers to drive the ball and get to the line, attempting 75 FT's against 74 three pointers. Another player to keep an eye on tonight is Joseph Bertrand, who poured in a career high 25 against Nebraska on 10/11 from the floor.
The starters will play the majority of the minutes tonight for Weber's squad, with Nnanna Egwu and Myke Henry getting some action off the pine. Egwu, a 6'11" FR. from Chicago played 15 minutes on Saturday, missing his only shot and snagging two boards, to go along with three fouls and two TO's. On the season, he is playing about 11 minutes a game, averaging 2.4 points and 1.9 rebounds. If Sullinger can get Leonard in foul trouble early, we could see a lot of Egwu.
Henry, also a freshman from Chicago is 6'6" and though he played just eight minutes against Nebraska, chipped in with 15 minutes, 6 points and 3 boards against Northwestern. His appearance in the lineup has been sporadic this year, but he is scoring almost four points a game in his eight minutes of action.
The key for an Illini win tonight will be their ability to hit from distance and keep the crowd in the game. There is no doubt the Orange Crush can create a hostile environment and if the refs give them a little home cooking, the Illini can hang around with some outside buckets. However, I don't think the Illini have an answer for Ohio State's depth right now. 
Buckeye Breakdown:
OSU moved back into the top five this week, after their impressive conference wins by 31 and 29 points last week. Their defensive intensity seemed to reach another level in the wins, which doesn't bode well for Illinois tonight. As mentioned, the most impressive stat from last week was the fact OSU forced more TO's than FG's allowed. They forced Nebraska into 17 TO's and held them to 16 FG's, while forcing 20 Hawkeye TO's against 17 made FG's. Ohio State held Iowa to 47 points, they averaged almost 77 coming into the game.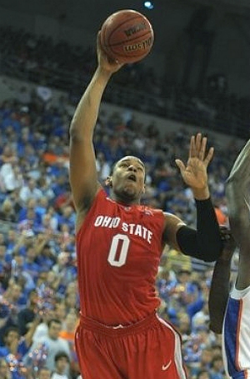 For the season, Ohio State is scoring 78 PPG, which puts them 29th in the nation and their 49.6% from the floor is still ninth best in the country. As mentioned, their defense is getting better and they are now holding teams to 54.9 PPG, 39.1% from the floor and 30.4% from deep. Unfortunately, they are still struggling from the line and deep, hitting 67.9 and 33.3 percent respectively.
Though OSU dominated last week, there is a growing concern for the amount of turnovers Ohio State has had over the last three games, averaging 17 per game in that span. The biggest culprits have been Aaron Craft and William Buford, who each have 10, mostly coming in moments of sloppy play. This is an area that needs to be tightened up if Ohio State is to pull out another road victory tonight.
With the two blowout wins last week, Thad was able to give his bench more minutes and there were some players who took advantage of it, making a serious push for consistent playing time. J.D. Weatherspoon is at the top of that list, playing 25 minutes last week, hitting 7/9 shots for 14 points, including multiple high rising dunks, which energize his teammates. Weatherspoon's minutes have been up and down thus far, but his energy and leaping ability is hard to ignore. It seems he is grasping the defensive side of things better, which may mean more minutes for him over Ravenel.
Although he is still struggling from the floor, Shannon Scott also played well last week, especially at Iowa. His Nebraska numbers weren't pretty, 0/5 from the floor, 0 assists and 3 TO's in 19 minutes, but at Iowa, he came off the bench to create that spark the Bucks needed at the time. In 18 minutes, he had 5 points, 6 boards, 5 assists and 2 steals, against just one TO. Scott is going to get some PT in conference play, as it seems the refs are calling things a little tighter for Craft on the defensive side. I have a feeling it's going to be more of the same tonight in Champaign, so Scott needs to continue his Iowa play.
I expect Ohio State to win this one tonight, as long as they continue the defensive intensity and take better care of the rock. OSU can score a variety of ways and if they can shut down Paul, with a limited Richardson, Illinois is going to find it difficult to score. Ohio State should control the glass and pull away in the second half.
Etc
Illinois is honoring Lou Henson tonight at halftime, he turns 80 today.
William Buford is still 70 points behind Jay Burson for seventh all-time.
OSU has beaten three B1G teams by at least 25 points, the last time that happened was 1960-61 and we all know what the Buckeye hoopsters did that year.