This is typically my least favorite time of year. The transition from "Is it Saturday yet?" to "Is it September yet?" always gets to me. In fact, having spent 89% of my life in a place where it's pretty much always 74º and sunny, the annual conclusion of college football season is the sole reason I even remotely understand the pain of Seasonal Affective Disorder.
Admittedly, I haven't quite yet figured out what to expect of this particular off-season. The last six years had allowed the euphoria of a 10+ (or 12*) win season to linger well into January; and, while that was nice... somehow being sandwiched between the extreme delight of one amazing season and the promising possibilities of topping it the next season, held this indescribable bittersweetness.
Coming off a losing season, particularly one with one of the more anticlimactic endings I've ever seen, and the promise of what could potentially be an amazing, yet ultimately unfulfilling, season... this is uncharted territory. Regardless... is it September yet?
 MEET THE COACHES. Urban Meyer and his new coaching staff met with the media for the first time as a group on Thursday. As Meyer himself always points out, and did so again yesterday, football is an evaluative process, and only time will tell what kind of a job he's done in his quest to assemble the best coaching staff in the country. That said, Thursday's presser was full of exciting tidbits, which should get all Buckeyes excited for this new era in Ohio State Football.
New offensive coordinator and QB coach Tom Herman had a chance to talk about his offensive philosophies and Braxton Miller. It was noted on Thursday that while Meyer will hold veto power, Herman will be calling the plays on gamedays. Meyer has always made a point of mentioning the importance of hiring a staff that shares the same philosophies as he does, in regards to moving the ball. With defenses having caught on to the spread of the past, Herman mentioned the importance of offenses learning to adapt with the times while keeping with "Ohio State's way." Herman also had great things to say about Braxton Miller, and mentioned that they have discussed his leadership role on the team.
Joining Herman will be Ed Warinner, one of the most recent additions to the staff, from Notre Dame, who will serve as a co-offensive coordinator and an OL coach. Warinner and Hinton (who will be the TE and FB coach) are praised as being among the best assistants that Kelly had at Notre Dame, particularly when it came to recruiting.
Everett Withers, who will serve as the co-defensive coordinator, assistant head coach, and safeties coach, reiterated the running theme of common philosophies among the coaching staff. He referred frequently to the good fit that he and Luke Fickell share, both in personality and philosophy. Withers touched on the importance of playing strong in the red zone, not turning the ball over, preventing big plays and stopping the run. He also mentioned that the team will be using hybrid defenses, with 3 or 4 down linemen.
Mickey Marotti, who Urban Meyer has always credited much of his success to also spoke, and seemed very pumped for what's ahead. For anyone who is familiar with the stories of both Meyer and Marotti, and the conditioning their teams have gone through, this is likely both good and bad news for the team, but great for Buckeye fans, who will likely be seeing a team that looks better than what they have in the past.
Marotti discussed the complete overhaul that every team goes through in January, and how this is no different. For anyone who may have been worried about how Meyer will be able to hold up, against the pressures of the job, Marotti also talked about how he's noticed a change in Urban Meyer, that he thinks that the one year hiatus served him well, and that he looks better than ever. Meyer echoed that by saying he feels as good as he has in "many, many years."
In addition to reiterating the importance of the sharing football philosophies with his coaches, and that only time will tell how great this staff is, Meyer made some other comments as well. He was asked about recruiting, and said that at this point he feels "good, not great," that the next couple weeks will be big. He talked about having to explain to recruits about the final ruling by the NCAA, and the bowl ban that will go into effect next year. He briefly discussed how much he loves recruiting, and great football players. 
Meyer also talked about his previous control over special teams, and how that will continue at Ohio State. He said he might give someone a title that relates to special teams, however, that won't occur until after spring practice. 
While the team has already started workouts, Meyer mentioned that he still doesn't know much of the team. He said he's trying to grab whoever he can to get to know him, saying again that he hasn't paid too much attention to what the players have done in the past. He looked particularly intrigued to see how the guys look in the weight room. He said his practice style will be the same as it has been in years past, given questions around the publicity of his desire to focus on health and family. What will be different will be his approach and his management style. His goal is to "keep it centerfield" and allow his staff to do what they should be doing, implying he needs to micromanage less than he has in the past, and not focus on "stuff." It will be interesting to watch, considering that Meyer himself mentioned that he is practically starting from scratch with this offensive coaching staff.
MEET THE ACTUAL NEW TWITTER POLICY, IN LESS THAN 140 CHARACTERS. The players actually are allowed to tweet, BUT not about the team. If they tweet about the team, they probably won't be tweeting anymore.
MEET THE PLAYERS. Six of the newest additions to Ohio State's 2012 football team decided to get a head start on becoming your favorite Buckeye, by graduating early and heading to Ohio State for the winter quarter.
OL Jacoby Boren, RB Bri'onte Dunn, QB Cardale Jones, LB Joshua Perry, DB Tyvis Powell and WR Michael Thomas are now enrolled in classes on campus, and participating in the conditioning drills that began this week at the Woody. The new group of players all seemed to be motivated to get to campus early for both academic and athletic purposes, knowing that they would be able to get a head start on adjusting to college life, their course load and, of course, Marotti's workouts. 
As an added benefit, the guys are also learning what it means to be a part of the Buckeye family, as Michael Thomas pointed out, "There are guys... all around who are willing to help you and give you a hand. There always seems to be a guy to call if you need an answer to this or help with that. It really helps in getting a head start and getting adjusted."
While Ohio State has had recruits decide to enroll early in the past, a group of six is one of the biggest the program has seen, growing from five the previous year, and three the year before that.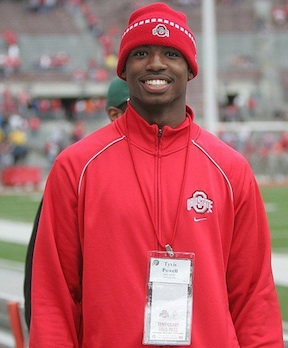 JOHN COOPER'S FOOT, MEET JOHN COOPER'S MOUTH. You could insert a number of different cliches here... something about pots and kettles, or people in glass houses and stones. Either way, John Cooper channeled his inner E. Gordon Gee on Tuesday during an interview with 92.3 The Fan. When asked about the recent firing of Jim Tressel, as well as his NCAA violations, Cooper chose to take the finger-pointing route... pointing straight down south to the Southeastern Conference.
"I'm told, I don't know and I haven't coached in that league, but I'm told that down south the Alabamas and LSUs and some of these teams that have these great players, that maybe the NCAA needs to look into their situation. Those teams have been on probation," Cooper said. "As you know, Alabama's certainly one of the most penalized teams in college football, as is the Southeastern Conference. We say the SEC's the best and they are the best, but they've also had more NCAA violations than probably all the other leagues put together the last 10 years." 
Here's a new cliche for Gee and Coop: A closed mouth gathers no feet.
MEET MORE PLAYOFF TALK. NCAA President Mark Emmert gave his annual state of the association speech in Indy on Thursday. Of particular interest to the college football fanatical masses who have been clamoring for a playoff, would be his comments regarding a "Final Four approach," which Emmert said he would be open to. 
Emmert gave his thoughts on the typical 16-team playoff idea that many have tossed around saying, "Moving toward a 16-team playoff is highly problematic because I think that's too much to ask a young man's body to do. It's too many games, it intrudes into the school year and, of course, it would probably necessitate a complete end to the bowl system that so many people like now." 
While many vocal dissenters of the current system were probably left wondering who these many people are that like the current bowl system so much, Emmert did say he sees many ways a four team playoff system could work. Even more notably, Big Ten Commissioner Jim Delany said he would consider it as well, saying that even though a few years ago several of the commissioners weren't open to the idea, "now we all want to have the conversation."
MEET YOUR LINKS FOR THE DAY. Ohio State kind of catches a break... A little treauxlling... The man is a genius... I'm wondering when I won't have to hear this last name anymore... The sports world needs more moments like this.