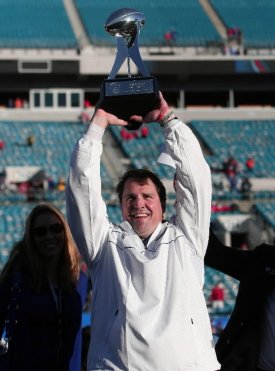 At least they made history. 
Looking to send the juniors and seniors out with a win in their final bowl appearance, the Buckeyes instead extended their losing streak to four games racking up Ohio State's first seven-loss season since '97. As in EIGHTEEN-97. 
Not once tasting the lead, Luke Fickell's group showed zero improvement made during Gator Bowl practices as Florida safely disposed of the Buckeyes 24-17 yesterday afternoon in a spacious Everbank Field. Even with the lackluster effort, they still managed to outgain an almost equally bad Florida team but big blunders on special teams and a huge disparity in 3rd down conversions proved too much to overcome. 
Thankfully a New Beginning is already underway as Urban Meyer met with his Buckeyes this morning at 7:00am. 
While Meyer and company are poised to march forward, let's take one last tortured look at yesterday's latest punch to the gut. Tip your own 40 though, I drank all mine enduring the creation of one last Five Things for the 2011 season. I thought it would never come. 
It Takes All Three Phases
Nobody would argue the offense was explosive or that the defense was spectacular but it was the stank of special teams that decided this one. 
Having finally grabbed a bit of momentum after Braxton hit Posey on a five yard slant to tie the game at seven early in the 2nd quarter, the Buckeyes gave it right back as Andre Dubose fielded the ensuing kickoff at the one yard lane and strolled 99 yards untouched putting the Gators back in front. 
ESPN's horrifically bad Ed Cunningham and Mike Patrick predictably went into a spew about Florida's speed, blah blah blah, but the return had ZERO to do with speed. I'm not even sure Dubose ever really turned on the jets - there wasn't a need as a Buckeye never came within five yards as his teammates provided an escort worthy of the Pope. 
The kickoff wasn't deep enough but it wasn't a line drive meaning there was no excuse to not even miss a tackle. The result was more than just a seven point lead as it ensure the Buckeyes would again be forced to play from behind with an offensive scheme not built for such duty.
In case you're wondering, Mike Vrabel was helping with kickoff coverage team after Paul Haynes left Ohio State for Arkansas. 
Trailing by four to start the 2nd half, the offense stalled at the Buckeye 45 but appeared to do enough to at least flip the field. Enter special teams. This time both edges of the line collapsed leaving the back line to block at least four Gators with three players. Heuerman definitely picked up the wrong guy - essentially double teaming Boren's man instead of taking the rusher furthest to his right - but that would've never been a problem if the tight end on the right side of the line of scrimmage chipped the end rusher even a little bit. Those two errors aside, the punt was still likely t be blocked as the left end of the line also barely chipped leading to a virtual jailbreak. 
The comedy of mental errors paved the way for Chris Rainey to block the kick allowing Graham Stewart to scoop up the ball and coast into the endzone giving Florida a 21-10 lead with 11:14 left in the 3rd quarter. 
Even without a sputtering offense giving up two special teams touchdowns is usually fatal. With a sputtering offense, the game was all but over despite 26 minutes of game time remaining. 
Boom and Posey Fail to Deliver
Partially responsible for the fact their teammates won't be playing in a bowl game next season, Boom and especiallly Posey owed their brothers a lot more than what they gave in their respective fourth and final bowl appearances. 
Instead of playing key roles in helping Ohio State secure a bowl win against an SEC foe both coughed up the football for an offense that needed all the senior leadership and playmaking it could muster. 
After the defense surrendered a 14 play, 80 yard TD drive putting Florida up 7-0, Boom fumbled on the first play of Ohio State's ensuing possession giving the Gators excellent field position at the OSU 32. A touchdown giving Florida a two TD lead would've spelled deep trouble but Simon jumped on a fumbled snap on 2nd down sparing Boom and the Buckeyes for the time being. Boom was less culpable as he did rush 12 times for 82 yards and caught an 11 yard pass but he can thank John Simon (and special teams) for not potentially ending up as the goat. 
Posey started on the right foot as he hauled in a well thrown slant from Braxton on the ensuing possession to cap an eight play, 72 yard drive that tied the game at seven apiece but his positive contributions stopped there as he finished with five catches but just for 38 yards. 
His lack of production as a receiver relies on other factors such as the playcalling and quarterback but his biggest impact on the game could not be blamed on either of those elements. 
Hoping to capitalize on a Tyler Moeller interception at the Florida 47 trailing 21-10 with under five minutes left in the 3rd quarter, Miller hit Posey with what should've been a 3rd down conversion on another slant at the Gator 35 but Posey inexplicably coughed up the ball after the catch which Josh Evans recovered and took back to midfield. 
The fumble killed a chance for OSU to cut into the lead and was the last time the Buckeyes would venture that deep into Gator territory until the late 4th quarter TD drive that was aided by a prevent defense nursing a two touchdown cushion. 
It's not about piling on these two but considering they were enjoying their 4th straight bowl game as seniors who helped OSU wade into the deep end with the NCAA, it would've been nice to see the duo give the Buckeyes a better shot at victory in their last bowl game until hopefully sometime in early 2014.  
Braxton is starving for a mentor
After his outstanding performance against Michigan, albeit with a few plays he'd like back, I think most Buckeye fans were thinking Miller might go off against the Gators. 
Though he still had a decent game, it didn't look like Braxton matured much more than any of his teammates during bowl practices.
His final statline read 18/23 through the air for 162 yards and a pair of touchdowns but he was 12/17 with just 80 yards until a last gasp drive against Florida's prevent defense saw him pad his numbers with 6/6 for 82 yards. 
Passing accuracy really wasn't the issue today though he did overthrow a wide open Posey for a sure 23 yard touchdown that would've tied the game at 14 late in the 1st half. Windy or not, the throw needed to be a touch pass as there wasn't a Gator defender within 10 yards of DeVier but Miller threw a laser high and outside. 
The biggest area of opportunity from this game, as it has been with many others, was a lack of pocket awareness. Yes, the pass pro was shaky at times but Braxton often had plenty of time to throw, either to a receiver or simply to get rid of it, but instead took a sack. 
One particular instance occurred on 3rd and 12 from the OSU 44 as Miller had plenty of time but failed to locate a wide open Posey over the middle before Ronald Powell dropped him for a seven yard loss.
Failng to feel the rush and escape pressure, Miller was sacked six times with four coming on 3rd downs plays. The drive killers helped Florida hold the Buckeyes to 2/10 on 3rd down while the Gator offense was busy converting 6/12 3rd downs. The sacks killed his rushing numbers which stood at 15 for 20 when the gun sounded. 
Miller still ran very well on designed runs, once steamrolling corner Loucheiz Purifoy on a 9 yard burst one play after converting a 3rd and 8 with a keeper. 
The predictable gameplan didn't help Miller's cause as Bollman returned to conservative form after opening it up against Michigan. Too often, Miller was running play action when it wouldn't fool a high school team or running a draw into the teeth of the defense. 
Bottom line, Miller made decent progress this year when you consider he had a video coordinator for a QB coach and a predictable dinosaur for an offensive coordinator but it's fair to expect a greater leap to greatness in year two with some legit coaching attacking his current areas of opportunity. 
a tale of two s's
Senior right tackle JB Shugarts capped a jittery career with a pair of false start penalties bringing his well-chronicled total to 25 over the past three seasons. TWENTY-FIVE. 
His 1st jump occurred on Ohio State's 2nd play from scrimmage but was overcome by a Florida facemask penalty on the next play. His 2nd jump was much more detrimental. Trailing 21-10 and facing 3rd and 8 at the OSU 47, Shugarts left early putting the offense in a 3rd and 13 hole. On the next snap, Shugarts failed to hold his block - combined with Braxton's lengthy hold - killing the drive. 
The sack was one of two that Shugarts had a direct hand in as he was beat on OSU's opening series resulting in a two yard loss on 1st and 10 at the Gator 37. 
Shugarts also whiffed on a block during Posey's six yard loss on an end around. 
Meanwhile, on the other side of the ball, John Simon did was Urban Meyer expects - he played like his freaking hair was on fire. 
Overcoming a heaping helping of blocks that could've been flagged (looked like refs let it go on both sides to me), Simon was in the backfield for much of the day. 
Two plays that stood out occurred within minutes of each other. First, on 1st and 10 at the OSU 22, Simon almost caused a fumble as he demolished John Brantley as he dropped back to pass. Not only did he sting Brantley in what could've easily been ruled a fumble, he blasted into tackle Xavier Nixon who was temporarily injured. 
After Boom fumbled to open the following possession deep in OSU territory, Simon alertly pounced on a Brantley fumble to keep OSU from falling into at least a 10-0 hole late in the 1st quarter. 
Bluntly, it's great to know one S is coming back next year and the other isn't. 
aftermath
You know it's a derp of a game when the postgame happenings are far more interesting that what transpired on the field. 
First, it looked as if only Nathan Williams and Ryan Shazier hung around to sing Carmen Ohio with the TBDBITL. Lesmerises noted as much as did others on twitter indicating the bulk of the team either ran to the locker room or stopped on the ramp leading to it as the band played. 
Second, when asked about the chatter and overall chippy nature of the game, Tyler Moeller had this to say according to Marcus Hartman:
I've never seen more people swing at our players & call us racial slurs…I've never been called a cracker more in my life than I have today."
Moeller is widely considered a stand up guy so I believe him completely however I found it interesting he would choose to inform the media even if asked a general question like that. I'm not saying he's wrong for doing so, just surprised he would go into detail. 
Third, though it's probably doubtful he'll have them running gassers like he did to the Bowling Green guys when he held his first meeting as head coach, I'm incredibly intrigued about this morning's 7am team meeting. 
The new beginning is underway. Hallelujah.