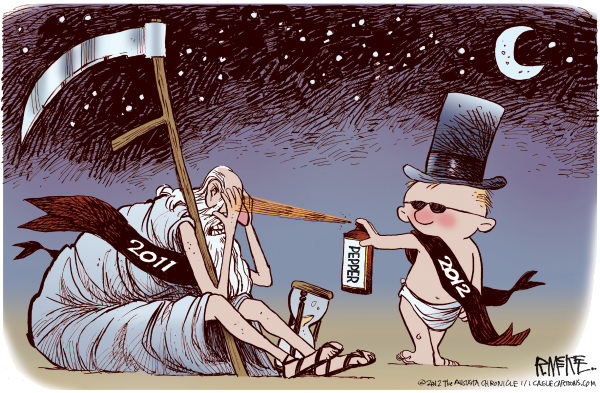 2011 was forgettable. Not just in a like "man, that could've gone better" sense, but in a "HOLY MOTHER OF ALL THAT IS GOOD THAT WAS JUST THE WORST' sense. To bury it properly, Johnny and myself kick things off by rehashing the Gator Bowl. Did you turn it off early? Ordinarily this would merit your very character being questioned. That particular Monday afternoon? Maybe not so much. We also recap a crappy weekend that was in Buckeye hoops. Conveniently Bill Nebrasky cures what ails for most (and how).
While Ohio State may not any more games, that hardly means college football's biggest prize doesn't still remain. To bring in some perspective specific to the two teams playing for college football's national title, we welcome in Roll Bama Roll's C.J. Schexnayder. C.J. joins us in discussing how the title fight edition of the rematch will relate to its predecessor, a few key personnel match ups to keep an eye on, and even what happens if Alabama wins but not impressively. Finally, we pick his brain as someone who saw Urban Meyer in two #1 vs #2 SEC Championships what Ohio State fans can expect from their new head man (as well as if there are any 'gotchas' Ohio State should be concerned about with respect to the Buckeyes' new head coach).
Finally, we talk about the remaining bowl games. College football's 2011 season? We won't miss you.
Right click save as here to do with the file what you wish. Check us out on the iTunes store as well. You can always also just hit play underneath if that works better:
This week's opener comes courtesy of many's album of 2011 (at least it was a passable year musically) with M83's "Year One, One UFO". After our guest departs, Alexander's "Truth" takes us to the final segment. Finally, our closer is the remastered version of Sigur Ros' first new track in sometime "Hoppípolla" (I am a failed ethereal Icelandic indie alternative hipster; thanks Sarah).