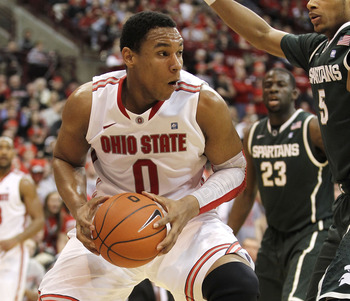 The Greek philosopher Zeno was famous for his paradoxes, one of which is called the dichotomy paradox. Basically what this paradox says is that to get anywhere, you must first reach a halfway point. However, to get to that halfway point, you must first reach the quarter point, and to reach that point you much reach a point 1/8th of the way there, and so on. In effect, because there are an infinite amount of points between you and your goal, you can never finish your journey. You're stuck in a paradox of eternal struggle.
The next 10 games that the Ohio State men's basketball team plays after the upcoming Penn State game on Wednesday won't actually last for an eternity, but they may end up seeming like one. In those ten games, Ohio State will play Wisconsin, Michigan, and Michigan State twice each, as well as Minnesota and Purdue in short order; if OSU plays up to their capability on a regular basis, they can all but lock up the Big Ten championship, but there is certainly the potential here for the Buckeyes to lose a lot of games here and hurt their overall ranking in terms of NCAA seeding.
February (and early March) is definitely make or break for the Buckeyes, and today I'll take a look at the teams remaining on the schedule and look for a ray of light embedded in the dank corridors of the cruelest month.
After the Nebraska game, Thad Matta said to the media that he "see(s) this team growing inch by inch, week by week." A fair assessment, as overall the Buckeyes seem to be making some improvement, albeit maybe a little slower than a lot of people would like. What remains to be seen is if an inch at a time is enough to overturn that dichotomy between the ultimate goal (an NCAA championship) and the speed at which the team is getting better.
The Unblinking Eye
On January 29th, Ohio State hosts a Michigan team that has felt like it's been a year away from being great for a couple of years now. Ha'Penny Hardaway, Trey "I actually don't shoot the trey very well" Burke and company will likely put up a fight; Michigan is one of the more efficient (efficient meaning points scored or allowed per 100 possessions) teams, both offensively and defensively, in the country and when you have that kind of discipline you can make upsets happen. Turnovers, an area of slight concern for OSU as of late, will likely be a factor in this game.
The next game is on February 4th in Madison against a Wisconsin team that Ken Pomeroy only gives OSU a 54% chance of beating, which is both oddly specific and also oddly exactly what I would put their chances at. If the Badgers aren't the best defensive team in the country it's because the other guys get to use knives. Playing them on the road is going to be a huge test, and provides Ohio State with their next opportunity for their first significant away win of the season.
Purdue is next, at home, on the 7th. I'm actually less concerned about this game than many of the others, as star Robbie Hummel is not the player he used to be, which is a problem on a team where he takes a third of their shots. Purdue could pull the upset here, but I don't see it happening.
Wreck of the Hesperus
The next four games will possibly be the most difficult stretch OSU will face all season. First the Buckeyes play a Michigan State team at home that I think is somehow being overlooked by just about everybody because of recent loses to Northwestern and Michigan. Draymond Green is a tough, tough player, and I'm having fits thinking about him deciding to snap out of his scoring funk against OSU (because that's what everybody ends up doing for literally no reason at all).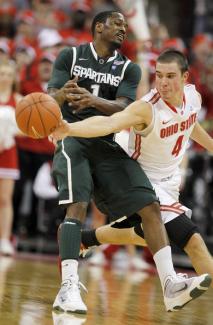 Then OSU must play two consecutive road games, the first time they've done that all year, against Tubby Smith's Golden Gophers on Valentine's Day and again against Michigan on the 18th. Michigan brings all the problems associated with that team, but exacerbated because it's a road game, and you can never count Tubby out. Not on Valentine's Day, and not when he's got an Aaron Craft prototype in Julian Welch. Both games are going to be extremely physical.
The Buckeyes then return home to play Illinois, a team that beat them by five on January 10th. It's probably a good bet that Brandon Paul won't score 43 points again, and it's telling that the Illini needed 38 of those 43 to beat OSU, but this was a game that Ohio State looked totally lost in. If Sully and the rest put in a similar effort, they may get the same result.
The paddling of the Swollen ass... With paddles
Matta rounds out the season with a home game against Wisconsin, which is going to be a revenge game for someone and also might settle the regular season Big Ten championship, followed by two away games: one against Northwestern that has seemingly abandoned the wacky Princeton style (at least in practice) that made them fun/COMPLETELY INFURIATING to watch in favor of a more straightforward "give John Shurna the ball and hope for the best" strategy. This is probably the easiest remaining game on the schedule, which is good considering that the next game is at Sparty on March 4th, which should be yet another revenge game of some sort involving elbows and shoving and all manner of poor behavior on the part of both teams.
I guess what I'm trying to say with all of this is that this is make or break time for the 2011-2012 Ohio State men's basketball team. I see anywhere up to six loses here, and the biggest factor will be whether or not Ohio State can become a competent road team against other top 25 teams, especially in conference. The doubts and concerns that Sully and Craft seemed to have about how the team prepares better be figured out in a hurry, because the next month plus is an absolute gauntlet through the toughest conference in the country. Only the strong survive.