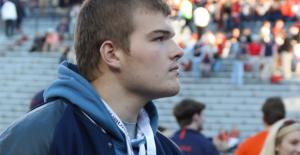 This past weekend on Ohio State's campus was "Junior Day" for the Buckeyes, a special time for soon-to-be seniors as they get to make a trip to see the bright lights and glitter of the Buckeye football program. For the class of 2013, it means being the first group of juniors who will be recruited by Urban Meyer, and who will ultimately comprise the first recruiting class with the stamp of Meyer from alpha to omega.
One of those juniors who was visiting Ohio State this past weekend was Owensboro, Kentucky mammoth offensive tackle Hunter Bivin. 
I got a chance to talk with Hunter last night after he returned from Ohio State to get his thoughts on the Buckeyes and where his recruitment currently stands. Click on the  text that says "continue reading" if you want to continue reading, ok?
How did your junior season go for your team and for you, personally? What do you feel you need to improve on the most heading into 2013?
Well, we ended the season 2-9 and our administration let our coach go. I feel like I can get a lot stronger to improve.
What's your style of play? Do you think you're better as a run blocker or in pass protection?
We've run the spread my whole high school career, so probably pass protection.
What is your current height and weight?
I am 6'7", 290 pounds.
How is recruiting going for you personally? Do you like the process or does it wear you down talking to people like me about it all the time? How many offers do you currently have?
No, I love it. It's all such a blessing. I have five offers: Ohio State, Kentucky, Vanderbilt, Miami and Tennessee.
You just got that OSU offer today (yesterday), how did that conversation go?
It was pretty sweet talking to Coach Meyer one on one.
Aside from the offer, what part of the OSU junior day experience stood out to you?
I really liked the people around the program.
Tim Hinton has been recruiting you for a while now, does him being at Ohio State make them feel a bit more familiar to you?
Yeah, he recruited me at Notre Dame. It definitely helps.
How's school going, grades in order?
I have a 3.7 GPA and a 20 on my ACT.
Do you have a time-frame for your decision? What is the most important factor in choosing a school for you?
I don't really have a time-frame. What matters the most is the kind of people I will be playing for.
Anything you want Buckeye fans to know about you?
Just that anything I do, I do it with all I have.
Bivin is definitely one for Buckeye fans to keep their eyes on moving forward. Ohio State will be looking to add a handful of offensive linemen in 2013 and if this early offer is any indication, Coach Meyer believes that Hunter fits the Ohio State system better than most of them out there. 
2011 Highlights