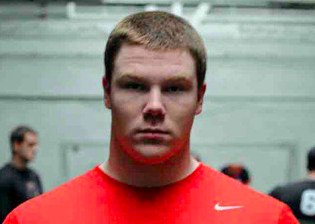 Hi again....I am back....again. You guys tired of me and these 2013 recruiting updates yet? 
If you are, then I recommend that you just take a step back from your computer for a little bit and come back soon when we've got different Buckeye news for you. If you're not, then settle in for another exciting look at who Urban and his boys are targeting for the 2013 recruiting class. Yes, the one that signs on the dotted line in like 363 days.
This little update will center on Ethan Pocic, a highly-sought offensive tackle from Lemont, Illinois and Lemont Township High School. Pocic, a four-star prospect visited Columbus this past weekend and got to spend some time with Coach Meyer and other potential 2013 Buckeyes. 
With offers from most of the midwest, Pocic is anything but sure thing for the Buckeyes' in 2013, but he's thought enough of to have received an offer from the coaching staff recently, and that offer was important enough for him that he made the trek to Ohio State for junior day.
The Buckeye offer is just one of many for Pocic and it will be interesting to see how he stacks it up against some of the others he has earned from the likes of Michigan, Nebraska, Illinois, Arkansas, Michigan State, Wisconsin, Arizona and West Virginia. He claims he has no leader at the moment, and from my interaction with him it's easy to see that he's somewhat introspective and reserved. A sign of maturity and of a kid who wants to be sure that when he makes this decision, one that will impact the rest of his life, that's he's considered all options from all angles.
I hope to get a chance to talk more with Ethan in the future, but here's what he had to say about how his recruitment is going presently.
How did your junior season go for your team and for you, personally? What do you feel you need to improve on the most heading into 2013?
My season went good. We went undefeated until the semis but we lost in double OT. I played well, but I can work on my footwork.
What are your current measureables?
I'm 6'6" and 290 pounds right now.
How is recruiting going for you personally? Are you enjoying the process so far? How many current offers do you hold and which teams are you feeling the most right now?
I have 14 offers right now. 
Which coach from Ohio State is recruiting you and how important is your relationship with your positional coach?
Coach Vrabel is recruiting me. Coach Wariner and I know each other well, too.
You were offered a scholarship by Urban Meyer, can you tell me how that conversation went?
It was good, but we just talked real quick. 
Will you be taking one of your official visits to Ohio State?
Yes, I will, but I haven't gotten my official visits down exactly yet.
How's school going, grades in order? Have an idea of what you want to major in when you get to college?
School is good, but I don't know about the major yet.
Do you have a time-frame for your decision? What is the most important factor in choosing a school for you?
Nope, no time-frame for my decision. I am not really sure what I am looking for yet in a school.
Check out Ethan's junior year highlights below.