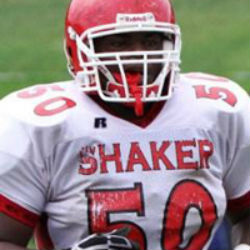 Jeremy brought you the scoop on one Shaker Heights star player earlier today, but tonight we caught up with another, in the form of DL/OL Donovan Munger.
Munger, standing at 6-3/280, starred on both sides of the line for Shaker Heights this past season, playing left tackle, defensive tackle, and defensive end. Despite his team's poor record, Munger stood out to college coaches across the country and already has a nice list of offers, and is regarded as one of the top players in the state of Ohio for the recruiting class of 2013.
Munger was one of the players in town last weekend for Junior Day at Ohio State, and got to take in the Buckeyes' win on the hardwood over Michigan. The trip was sort of a "dream come true" for the two-way star, as he grew up in the Cleveland area rooting for Ohio State throughout his whole life.
We got the chance to sit down with the super junior to discuss his visit to Ohio State, where things stand with his recruitment, what position he'll play in college and much more. Join us after the jump to catch up with one of Ohio's best for 2013, Donovan Munger.
How did your junior season go?
It went well. Our team was 2-8, but we had some really great players on the team and just didn't finish games off. I did pretty well holding down both sides of the line, but am working hard this off-season to improve for next year.
How is recruiting going? Who has offered thus far? Do you have any favorites?
Recruiting is going well so far. I have offers from Georgia Tech, West Virginia, Minnesota, Kent State, Bowling Green, Toledo, Auburn, Illinois, Indiana, and Akron. I don't really have a favorite out of that list right now.
You just visited Ohio State. How did that go and what did you do while on that trip?
It went pretty well. I went to the basketball game vs Michigan and got to meet the new coaching staff. I saw the stadium, campus, and the facilities like the Woody Hayes Athletic Center.
What coaches did you speak to while you were there? What did they say to you?
I pretty much got to speak to all the coaches, including offensive coordinator Tom Herman, defensive coordinators Luke Fickell and Everett Withers, and head coach, Urban Meyer. Coach Meyer told me they were just wrapping up 2012 recruiting and to hang in there tight and that I should expect to be hearing from them soon. I hope to get an offer from Ohio State, because I grew up a big Ohio State football fan.
What other visits do you have planned?
I don't have that many planned, but I am going to try and get up to West Virginia this weekend if I can get a ride, and I am also planning on trying to visit Michigan in two weeks.
When do you expect to make a college decision?
I'm not exactly sure right now, but probably sometime in the middle of my senior season.
What position do you think you'll play in college?
I'm not really sure yet, as I will play whatever teams want me to play. Coaches ask me all the time where I want to play at their school and I just tell them I'll play wherever they want to put me and feel is best for the team.
What are your strengths on the football field? What do you need to work on heading into next season?
I think my strengths are that I am quick off the ball and I have good footwork. I really want to work on getting stronger, using my hands better, my quickness, and being more of a technician.
What do you like to do in your spare time off the football field?
I like to hang out with family a lot. I'm pretty laid back and don't like to go to parties or anything like that. I like to go to the movies, chill out, and just relax.
What are your goals for your senior season? What are your goals for college?
For my senior season I want to lead Shaker Heights to a winning season and a state championship. For college I want to win conference championships and national championships so that I can help whoever my coach is stay at that school for a long time.
HIGHLIGHTS: