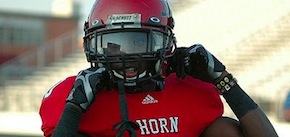 New coach, new era of Buckeye football, and with that transition comes a new era of Buckeye recruiting.
The old coaching staff of Jim Tressel and his life-long coaching pals was very specific in their approach: speed, bigs, and big speed; those characterizations narrowed down the players they sought into three very convenient little groups. 
Tressel's staff handled scholarships as if they were faberge eggs, handling them carefuly, giving them out even more cautiously. Few official visits were extended, and the players who received them generally were prospects that Tressel et co felt very positive about landing.
Urban Meyer and his staff have a slightly different take on this whole recruiting thing. If you can run, and you answer the phone - there's a good chance you're going to get an Ohio State offer, most of the time as fast as you can run your forty.
In the case of one of Ohio State's most recent verbal offers, and most recently scheduled official visits, that forty time is somewhere south of 4.40. De'Vante Harris, a 5'11 defensive back from Horn High School in Mesquite, Texas, will be visiting Ohio State the weekend of January 27th.
Harris was a former Oklahoma Sooner commit, but decided this week to re-open his recruitment and the Buckeyes could end up being the winner in the sweepstakes for his signature come February 1st. He announced last night on twitter that his three favorites, in no particular order, were Ohio State, Texas A&M and TCU. 
Harris was an Under Armour All-Star game participent and is definitely one of the most personality-full recruits of this 2012 recruiting class. An engaging personality, Harris personifies "swag" without being cocky or arrogant. His highlight reel is full of two things: speed and coverage ability, and completely void of something else that is so common among cornerbacks with big-time game: trash-talking. Not one time did I see him get up and posture or dance after a big play. A real treat to witness. 
I recently had a chance to talk to De'Vante and came away very impressed by his confidence and his politeness. 
How did your senior season end up for your team and you personally? Did it help you to not have to focus on recruiting during the season?
It went great! And i was totally focused on my team. the recruiting just came with it.
How are your grades? Are you fully qualified?
3.5 GPA. Yes, I'm qualified, I wanna study journalism - broadcasting.
Tell me about the Under-Armour game - which players that you played against stood out like "Whoa, that dude can ball"...
Amari Cooper by far! He was a true baller in whatever he did!
When did the Buckeyes catch your eye and what did you think when Urban Meyer was announced as the coach? Did that perk the ears up a bit?
They gave me a call last week and started showing interest. Coach Meyer seems to be a great guy and I'm ready to meet him in person.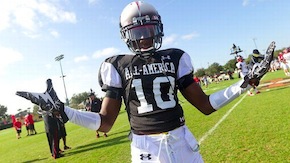 You're cousin is Thomas Johnson, the Dallas Skyline WR, recently decommitted from Texas. He's looking at Oregon, Cal and TCU - are you two talking about being the often-talked about "package deal"?
All the time! Lol
Is he going to give the Buckeyes a look?
I don't know, he might. He already has his visits confirmed though.
Now that you're "back on the market", what is it about OSU, A&M and TCU that you like? What is the biggest thing you're hoping to find in a school?
I just want to go to a program that is ambitious and hungry to win. I like those programs because they show those qualities.
What do you know about the history of Ohio State and it's cornerbacks in college and the NFL?
I heard they can put CBs into the league man!!!
You know it sometimes gets cold in Ohio, right? Not concerned about that?
Lol, nahh man, I'm a "dirty south" boy but I could handle it. Haha.
What is one thing you'd like for Buckeye fans to know about De'Vante Harris before he makes his trip to Columbus in two weeks?
I'm a fun guy that's ready to see what's up in Columbus! LOL.
2011 Highlights