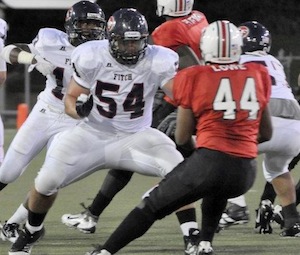 Yes, Eleven Warriors readers and visitors, I am once again back with another episode of "Who Will The Buckeyes Be Recruiting in 2013?", today's guest is Austintown Fitch (Youngstown, OH) defensive tackle Billy Price.
Price is traditional Buckeye defensive tackle in the mold of Tim Anderson and John Simon. Big, strong, and with a non-stop motor that has one gear and one gear only: balls to the wall.
As he enters the second half of his junior year, Price is one of the few players "fortunate" enough to have garnered enough attention to be ranked nationally by the major networks, and is a solid four star prospect across the board. 
His teammates at Fitch are coming off of a a six win, four loss season that ended with a disappointing loss to crosstown rival Youngstown Boardman. Since then, Price has been spending his time focusing on track and field, electing to put recruiting on the backburner.
When he does elect to turn his focus back to his college choice, it's likely that Price will be knee deep in offers from the nation's best football programs, as evidenced by the schools that have already done so. He has reported offers from Michigan, Michigan State, Tennessee, Notre Dame, UCLA, Pittsburgh and more.
In November he made unofficial visits to Ohio State, and also made a trip to Ann Arbor to visit the Wolverines when they took on the Buckeyes, and was seemingly impressed by each of his visits. He has talked previously about visiting Oregon, and it seems that the Ducks are still in his picture. 
Join me after the jump for more about Billy Price and his recruitment.
Have you talked to Urban lately?
Yeah, he came to my school a few weeks ago on a Friday to say hello. He pulled me out of class and gave me his number to call him when I was finished with track practice. We talked for a good 20 minutes and started to develop a good relationship.
Ohio State has officially offered you?
Yes, when I was a sophomore Coach Tressel offered me and that offer carried over through Fickell and now with Urban Meyer.
What is current height and weight?
Right now I am 6'4 305.  The databases are way off. Some have me at 265, others at 280. I was 265 two years ago, 280 last year. I am 305 now.
Are there any new schools that have caught your interest?
Nothing new really stands out, it's pretty much the same schools that have been recruiting me.
I think people assume you have Ohio State as one of the top schools in your mind, is that right? What other schools are up there?
Ohio State is definitely in my mind. Aside from them, Michigan State and Oregon are places I'd like to check out. 
Has Coach Dantonio offered? Has Oregon?
Coach Dantonio has, but Oregon has not offered yet.
Will you take all five visits, or do you think you will decide before that is necessary?
I won't necessarily take all five visits but definitely wants to take at least two. I will not decide until after my senior year is done.
Did Fickell staying on staff make things easier?
Yes, he's a great guy and we hung out with him when I was there for the Penn State game. My mom met his wife, and we have a good family-type relationship with him.
What about Coach Vrabel?
I think it's good idea to keep guys from the old staff, and with him just coming from the NFL, he can relate to us young guys.
Has Ohio State told you how they would use you?
Ohio State is recruiting him as a three-technique defensive tackle. 
Be honest, do you always get compared to John Simon since you're both from Youngstown?
I am always compared to Johnny Simon. In high school he was all about overpowering people, and that's how my game is. I've never met him, but I do get compared to him all the time. His dad was my football coach in sixth grade. He's a BIG guy.