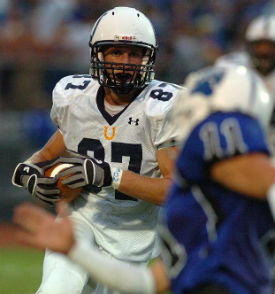 On Tuesday news broke that Ohio State had extended an offer to one of the nation's best tight ends in the class of 2013, Adam Breneman.
The Camp Hill (PA) Cedar Cliff star has around 20 offers and was recently invited and accepted an invitation to play in the 2013 Under Armour All-America Game down in Florida next January. At 6-5/220 he has the size needed to come in and help a college program right away, and with good speed at that size, seems to be the perfect fit for an offense such as Urban Meyer's spread.
Once Breneman's class comes on campus, the Buckeyes will be steady at the tight end position with Jeff Heuerman, Nick Vannett, and Blake Thomas, but if you know anything about Urban Meyer, you know he will put play makers on the field in some way or another. With Breneman having the potential to be a play maker from the day he steps on campus, coupled with the proximity of his hometown being within driving distance of Columbus, Ohio State could become a nice option for this stud prospect.
We caught up with Adam to hear the latest on his recruitment, how he got his Ohio State offer, what his process will be from here on out, and more. Join us after the jump to hear more about Adam Breneman.
Adam, first off, how did your junior season go? How did your team do and how did you perform individually?
We finished 9-3 on the year. We lost in the quarterfinals of the playoffs to the state champion. I finished with 72 receptions for 1,120 yards and 12 TDs. I was named first team AAAA All- State.
What is your current height and weight? Where would you like to be at going into college?
I am currently 6' 5" and 220 lbs. I hope to get to 230 lbs. soon.
How is recruiting going? Who has offered so far?
I have around 20 offers right now. Some of the offers are Alabama, Notre Dame, Florida State, Stanford, North Carolina, Miami (FL), South Carolina, Ohio State, and others.
Ohio State just offered. Tell us how that went down.
I didn't have any previous contact with the staff before recently. Recruiting assistant, Mark Pantoni, had emailed me and told me he wanted me to call him, so I called him and he gave the phone to Coach Meyer. I talked with Coach Meyer and then with tight ends coach Tim Hinton and they offered.
Do you have any favorites at this point in time?
No I don't currently have any favorites. I will come out with a top schools list near spring time.
Growing up in Pennsylvania were you brought up rooting for Penn State?
I have always been a Penn State fan, however I am not going to let that affect my decision.
When do you expect to make a college decision?
I do not have time table set right now. Whenever I am 100% sure on a school is when I will commit.
Now that it's the off-season, what are your plans? Do you have any visits planned?
I don't have any visits set in stone yet. However, I will definitely visit Ohio State, UNC, and Miami at some point.
You were named a 2013 Under Armour All-American. How does it feel to get that honor and what are you looking forward to most about playing in that game?
It is a huge honor to get invited to the UA game and the US Army game. It was a tough decision, but I decided it would be best to play in the UA game. I am really looking forward to representing my school and hometown and measuring up against the best players in the country.
Tell us about Adam Breneman off the field. What do you like to do in your spare time outside of football?
I am a big family guy. I live by the motto "faith, family, and football". When I'm not working out, watching film, or doing school work, I love hanging out with my family and friends.
HIGHLIGHTS: