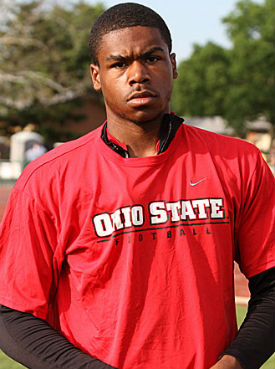 We mentioned this as a strong possibility yesterday, but Cam Burrows confirmed it today, as he committed to Ohio State moments ago at his school, becoming the first player to commit to the Buckeyes in the recruiting class of 2013.
The 6-2/195 defensive back from Trotwood-Madison selected the home-state school over a list of finalists including Alabama, LSU, Michigan, Tennessee, Stanford, and Wisconsin. The caliber of offers speak for themselves, but in case you were wondering, Burrows is ranked very highly across the board by all recruiting services. Already a US Army All-American for next year, Scout ranks him as a 4-star corner back, Rivals has him as a 5-star corner back, 247 give him 4 stars and ranks him 30th overall and 2nd at corner back, and ESPN/Scout's Inc. has Burrows listed as a Top 150 recruit.
This is a huge pick up for the Buckeyes, as it gives Urban Meyer his first pledge for the 2013 class, as well as opens up the pipeline to a talent rich Trotwood-Madison program. There has been a little bit of tension between the school and Ohio State in past years due to Jim Tressel's staff not showing much interest in their players, but Meyer has made it his mission to make the school a priority again under his reign. The Rams have a lot of talent on their roster, including 2012 DB Bam Bradley and 2013 players, LB Michael McCray, DB Reon Dawson, and a few other Division I caliber athletes.
Jalin Marshall is the next 2013 prospect set to commit (1/31), but don't be surprised if Burrows' announcement starts a stream of verbal pledges to Ohio State for the class. Right now there is only expected to be around 15 players in that class, so spots are limited and the need for talent is high. It should be interesting to see how things finish out, but one thing for certain is that the Buckeyes started off right with a great player in Cameron Burrows.
HIGHLIGHTS: