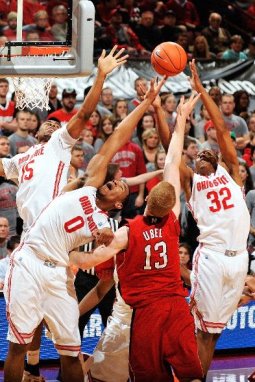 Looking to shake the taste of a disappointing loss at Indiana on Saturday, Ohio State completely dismantled an overmatched Nebraska Cornhusker squad using 1st half runs of 13-0 and 21-7 to build a 44-20 halftime cushion before delivering a 14-4 knockout blow in the 2nd half as they cruised to an 71-40 victory tonight in the Schott. 
Refocused on their bread and butter, the Buckeyes fed Jared Sullinger early and often and he responded with 19 points (8/13) and 12 boards, good for 8th dub-dub on the season, in just 27 minutes of action. 
Deshaun Thomas was red hot adding 15 points on 7/9 from the floor in 22 minutes while William Buford joined the pair in double figures with 13 points on a healthy 6/11 from the floor in addition to five boards and four assists. Unfortunately, Buford's game was far from spectacular as he turned it over six times on an array of forced passes and lost handles. 
The starting backcourt of Aaron Craft and Lenzelle Smith Jr. played only 21 minutes apiece as Thad was able to play 13 guys in the lopsided affair. Craft was his typical pesky stat stuffing self with four points, five boards, four assists and three steals against just one turnover after a dismal ball handling effort against the Hoosiers. 
Smith was a factor defensively as he largely helped shutdown Nebraska's Bo Spencer holding him to 2/8 from the floor in the first half. 
Tied 4-4 early, OSU went on a 13-0 burst to take a 17-4 lead with 11:47 to play in the half. Five different Buckeyes scored highlighted by a pretty trey from Smith off a nice find from Craft and a coast-to-coast layup from Buford. Despite shooting 8/12 with a 12-4 edge in points in the paint, the early story was a defense that held Nebraska to a 2/8 start from the field with seven turnovers. 
Nebraska would stop the bleeding just briefly trailing by 10 at 23-13 after Corey Hilliard Jr. layup with 6:14 left but Ohio State responded with a closing 21-7 blitz behind pretty play from Sully, Thomas and Craft. 
Thomas started the run with a prototype offensive rebound and putback of a Jordan Sibert miss before Craft drained a nifty runner from 14 feet. After Toney McCray answered with bucket in the lane, Sullinger received the ball on the low block, recognized the oncoming double team, spun away from it and lofted a sweet 12 footer off the glass while getting hacked. He then converted the and-1 putting OSU up 31-15.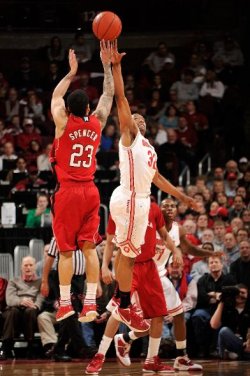 Moments later, JD Weatherspoon rejected a Spencer shot and raced the length of the court to drop in a lob from Craft bringing the crowd to its feet. Finally, with Nebraska praying for halftime, Sully went back to work dropping a deuce from the low block for a 41-20 lead. 
With time running out, McCray misfired from distance with :16 left and not quite satisfied with the carnage at his feet, Matta drew up and inbounds play for Sully who promptly splashed a triple with :05 left to give the Buckeyes a hefty 44-20 cushion at intermission. 
The dominant 20 minute performance of a bad team saw OSU shoot 68% from the field including 17/21 from two point range (81%) while holding the Huskers to 33% from the floor including just 1/9 from distance. The Buckeyes flat out dominated inside posting a 26-12 advantage on points in the paint and a 18-7 bulge on the glass. The only real blemish was seven turnovers (WB = 3) that Nebraska turned into 12 points.  
Avoiding a disinterested letdown, the Buckeyes had one last haymaker to deliver in the form of a 14-4 run to take a 65-32 lead after a Brandon Richardson trey had trimmed the margin to 51-28. 
Thomas and Buford fueled the run with six and three points respectively. Thomas patrolled the paint for three easy buckets including a dunk off a Buford steal and WB had his best sequence of the night minutes later dropping in a midrange leaner off a controlled spin move for an and-1 before finding Evan Ravenel with a crisp pass capping the spurt. 
For the game, Ohio State shot 54% from the field but kept in season-theme by struggling mightily from distance to the tune of 2/17 with Buford going 0/5 and Sibert clanking three in three tries. I hate to say it but this will very likely be the dooming factor of a failed NCAA run unless things magically change especially with the team's only other supposedly legit 3 point threat, LaQuinton Ross, having a difficult time working his way into the rotation with so little practice time between games. 
Also, in case you were wondering, Sibert still stayed ahead of Thompson as the first guard off the bench. 
The Buckeyes killed the injury plagued Huskers on the glass racking up a 44-21 advantage while outscoring them 42-26 in the paint and 12-2 on 2nd chance points. 
Snapshotting some of the other reserves, Shannon Scott never got going tonight missing all five of his shots with three turnovers and three fouls in 19 minutes. Richardson was a pretty tough customer defensively but those numbers won't earn him any meaningful minutes. Ravenel also turned it over three times against five points in 11 minutes. 
Amir Williams was impressive against the soft Husker underbelly with four boards in 11 minutes while 'Spoon. Depending on what the Buckeyes need, Williams might start stealing some of Rav's minutes before too much longer. 
McCray led Nebraska with 13 points but shot just 5/14 while leading scorer Spencer finished five below his average with 10 points on 5/15 FG's. 
Next up for the Buckeyes (14-2, 2-1 B1G) is a Saturday afternoon date in Iowa City against the Hawkeyes. BTN has your TV coverage at 3pm.