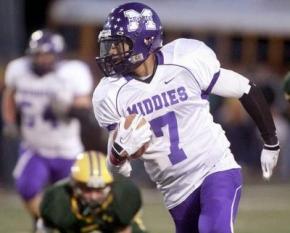 Hello again Buckeye fans, and a hearty welcome to those whose allegiances lay with our rivals as well. Welcome to your bi-weekly look at Ohio State football recruiting. It's a been a crazy last 14 days for the Buckeyes as once again Urban Meyer went verbal commitment bonkers; securing pledges in the last two weeks from Vandalia Butler offensive tackle Taylor Decker, Colorado offensive guard Joey O'Connor (a former Penn State commitment), South Bend LB David Perkins, Massachusetts linebacker Camren Williams (a former Penn State commitment) and finally 2013 defensive back Cam Burrows from Trotwood-Madison High School.
It's now Tuesday the 24th, and we have eight days remaining until signing day. A day that once looked like the "starting over" point on a throw-away class of 2012 should end with the Buckeyes ending the recruiting race with a top three class nationally on nearly every recruiting network. 
It's simply unbelievable to consider what Urban Meyer and his staff have been able to accomplish in such a short amount of time. The 2012 ride has been short but terrific, and the 2013 class is already off to a great start with Burrows. It's also likely to gain its first five-star commitment next Tuesday when Middletown athlete Jalin Marshall announces his college decision; an announcement that is likely to make Buckeye fans very happy.
As we discussed last time, the once struggling Ohio State 2012 recruiting class has picked up a significant amount of steam since the public announcement of the Urban Meyer hiring in late November. 
WHERE WE ARE TODAY

Ohio State now sits with 23 commitments for the 2012 recruiting class, and that number still looks like it could climb to high as 28 if the kids they are after decide to choose the scarlet and gray. With the veiled news yesterday that Pickerington WR Roger Lewis will likely end up at Fork Union Military Academy to work out some grade issues, it lowers the current number to 22.
The additions in the past two weeks have catapulted Ohio State to the #3 ranking nationally on Scout, Rivals and 24/7 and up 8th on the ESPNU team rankings. Since Meyer's official announcement as the head coach, there is no team that has done more "damage" recruiting wise than the Buckeyes, a testament to Meyer's "cool" level with the high school kids and coaches. I think the retention of key assistants like Luke Fickell, Mike Vrabel and Stan Drayton helped as well, because when it comes to recruiting, continuity of staff is vital as we've seen with the flops of O'Connor, Williams, Decker, etc.
2012 Ohio State Commitment List


| NAME | POS | Scout | rivals | 24/7 | ESPN | Hometown |
| --- | --- | --- | --- | --- | --- | --- |
| Cardale Jones | QB | *** | *** | **** | N/R | Cleveland, OH |
| Bri'onte Dunn | RB | ***** | **** | **** | **** | Canton, OH |
| Warren Ball | RB | **** | **** | **** | *** | Columbus, OH |
| Mike Thomas | WR | **** | **** | *** | N/R | Los Angeles, CA |
| Frank Epitropoulus | WR | *** | *** | *** | *** | Upper Arlington, OH |
| Roger Lewis | WR | *** | *** | *** | *** | Pickerington, OH |
| Ricquan Southward | WR | *** | *** | *** | **** | Lakeland, FL |
| Blake Thomas | TE | *** | *** | *** | *** | Cleveland, OH |
| Taylor Decker | OT | **** | **** | **** | *** | Vandalia, OH |
| Patrick Elflein | G | *** | *** | *** | **** | Pickerington, OH |
| Joey O'Connor | G | *** | **** | *** | **** | Windsor, CO |
| Jacoby Boren | G | *** | *** | *** | *** | Pickerington, OH |
| Tommy Schutt | DT | ***** | **** | **** | **** | Glen Ellyn, IL |
| Adolphus Washington | DE | ***** | **** | ***** | **** | Cincinnati, OH |
| Se'Von Pittman | DE | **** | **** | **** | **** | Canton, OH |
| Noah Spence | DE | ***** | ***** | ***** | ***** | Harrisburg, PA |
| David Perkins | LB | **** | **** | **** | **** | South Bend, IN |
| Camren Williams | LB | **** | **** | **** | *** | West Roxbury, MA |
| Joshua Perry | LB | **** | **** | **** | **** | Lewis Center, OH |
| Luke Roberts | LB | *** | *** | *** | *** | Lancaster, OH |
| Devan Bogard | DB | **** | **** | **** | *** | Cleveland, OH |
| Najee Murray | DB | **** | *** | *** | *** | Steubenville, OH |
| Tyvis Powell | DB | *** | *** | *** | ** | Bedford, OH |
Who Once Was But No Longer Is

The board is dwindling and the number of uncommitted prospects that are in play for the Buckeyes continues to shrink, but the relatively small group left is big on talent. It's taking some time to adjust to the new style of recruiting that this staff employs, but it's impossible to not love the results. 
Not every kid is going to be as enamored with Meyer and the Buckeyes as we'd like, so inevitably there will be people dropping in and off the board almost daily. For now, it appears that Jameis Winston, the mobile QB from Alabama will not be visiting Ohio State and it appears his commitment to Florida State will hold. WR Joel Caleb seems to moved to plan "B" type of recruit for Meyer and his staff as they pursue smaller, faster, shiftier wide receivers. 
Dalton Santos, the Tennessee LB commit from Texas was scheduled to visit Ohio State this weekend, but as of now, it doesn't appear that will happen, either. The commitments of Williams and Perkins, along with the chance that North Carolina LB Jamal Marcus could join the Meyer Machine soon would wrap up the linebacker spot, leaving Santos on the outside looking in if he was truly interested to begin with.
What's not known yet is how the Buckeyes sit with Scottsdale, AZ athlete Davonte' Neal, who visited Arkansas last weekend. I get the feeling that Neal stays close to home in Arizona, but he did make a visit to Ohio State, and that's a big step in this process for any kid. 
So Who Still Is?

Stefon Diggs - Wide Receiver - Baltimore, MD There's some rumors going around that Diggs, the explosive WR from Maryland who has long been favoring Florida and Auburn in his recruitment, has decided to once more give the Buckeyes a peak, and that he would be taking a visit to Ohio this upcoming weekend, and then make his decision a week after signing day. While that visit has yet to be confirmed, it does appear that Diggs would at least like to make the trip, a clear sign that Urban hasn't given up on this one yet. Until he makes a firm decision about visiting and then actually arrives in Columbus however, this one is still nothing more than a pipedream.
Jordan Diamond - Offensive Tackle - Chicago, IL Not many players in this year's recruiting class have seemed to enjoy playing the recruiting "game" more than Diamond. The five-star tackle is a big target for Meyer and the Buckeyes. The Buckeyes need all the help at tackle they can get, but more than that, it's one of a few direct battles between Ohio State and Michigan in this year's recruiting class (despite reports that Diamond is down to Michigan and Arkansas, which I just don't buy). Diamond is also an important target as it pertains to getting some sort of established recruiting presence in the talent-rich Chicago area. He will make his decision two days after signing day, next Friday, February 3rd.
Kyle Dodson - Offensive Tackle - Cleveland, OH Since Dodson visited Ohio State in December, most have speculated that it's only a "matter of time" until he decides to switch his verbal commitment from Wisconsin to Ohio State, and that may happen this Saturday when Dodson makes the call to coaches recruiting him to let them know where he will be matriculating. It's hard to see him staying at Wisconsin, considering they have had 129 assistant coaches depart since the Rose Bowl, and not many places make "sense" for him like OSU does. Like Diamond, he's a big-time prospect at a position of great need for the Buckeyes, but unlike Diamond, he grew up in the Buckeyes back yard and as a fan of Ohio State. The only school that could sway him in my opinion is Auburn, and that would be a serious surprise. Wait until Saturday to find out.
Bam Bradley - Defensive Back- Trotwood, OH With the commitment of Cam Burrows, the idea that Bradley would be the one to open the Trotwood-Madison pipeline goes out the window, and despite the Buckeyes being a player in his recruitment since day one, it just doesn't look like Bradley wants to be a Buckeye. With the shrinking window of opportunity to join the class, Bam has been in no hurry to get aboard and instead seems to be looking for reasons to go anywhere but Ohio State. In my mind, he's a Stanford Cardinal and unless something happens with his admissions to Stanford to prevent it, that won't change. Cross this one off the list.
Demetrious Cox - Defensive Back - Jeannette, PA Another player who has long been recruited by Ohio State, Cox made his visit to Columbus last weekend and seemed to have a pretty good time, although he did not commit. It seems to be coming down to Ohio State and Michigan State for Cox, and Scout's Bob Lichtenfels, the director of recruiting for Pennsylvania seems to think the Spartans are the team to beat for him. I don't know Cox, but I know Bob well enough to know that going against his read on the PA kids is rarely a good idea, so maybe this one is trending away from the Buckeyes as well.
Armani Reeves - Defensive Back - West Roxbury, MA The recruitment of Armani Reeves, like the recruitment of Jordan Diamond, has bigger implications than just losing out on a top 10 player at a position of dire need for the Buckeyes. Reeves, a former Penn State commitment has eliminated the Nittany Lions (apparently) after his recent visit to Ohio State with his best friend and high school teammate Cam Williams. Williams made his commitment public on the trip, but Reeves did not and went back home to Roxbury to mull things over. He was visited by Urban Meyer, Luke Fickell and Everett Withers last night and will have Michigan DC Greg Mattison in-home tonight, with both schools pushing for a verbal. Ohio State has advantages on the depth chart, with his best friend committed, academic program wise, etc; but without a current position coach to recruit him, that's hindering the Buckeyes in my opinion. 
WHAT SAY YOU, ALEX and JEREMY?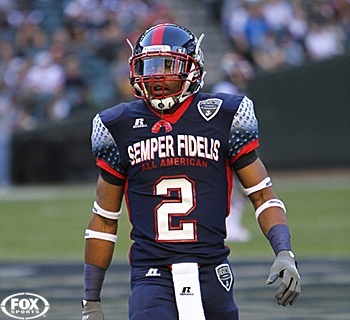 It's been a heckuva few months since Urban took over at Ohio State, a recruiting run like nothing I've seen since I started following recruiting 15 years ago. It's an incredible thing to watch a master at work, but it's hard to not worry that going so hard after so many guys leaves a few players feeling perhaps that they're just cogs in a machine and not indispensable pieces to a championship run.
That being said, we both think this class ends up with a few more studs, and that Ohio State will be positioning themselves for a tremendous run at the recruiting "championship" in 2013. 
I think it's vital that Ohio State get a defensive backs coach in place quickly as four of the remaining seven targets (including Davonte' Neal) are potential defensive backs, and not knowing who the coach will be could be the only real chink that competing schools can point out in Meyer's substantial armor.
I don't believe that the Buckeyes will win out on Jordan Diamond, neither does Alex. Perhaps we are just used to Jim Tressel losing out on this type of "game player", and don't know the power of Urban? Either way, the class will end up being far better than we could have imagined 9 weeks ago. 
Add to my list below "one of Diggs or Neal" and this is how Alex and I see it wrapping up. 
Next week we'll break down the final signing list (unless Diggs or Diamond chooses OSU post signing day). See you then.
The 11W Wrap-Up


| alex     | Jeremy |
| --- | --- |
| OT Kyle Dodson | OT Kyle Dodson |
| LB Jamal Marcus | LB Jamal Marcus |
| DB Demetrious Cox | DB Armani Reeves |
| DB Armani Reeves |   |
| ATH Davonte' Neal |   |