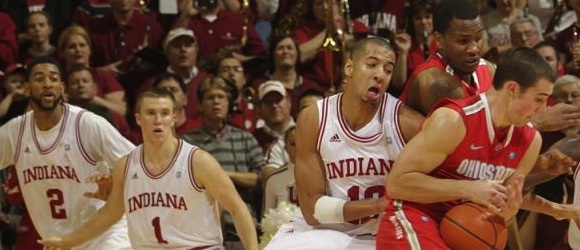 Rarely does one find a sequel more enjoyable than the original. Fortunately for the Buckeyes, however, they get another shot at the Hoosiers, and this time... it's on their own court. Indiana comes to Columbus to take on Ohio State at 4:30pm EST this Sunday, looking for a repeat of their victory from two weeks prior. 
The New Year's Eve meeting of these two teams in Bloomington left a bitter taste in the mouth of many Buckeyes. If you're a glutton for eloquent punishment, check out the recap of the first meeting here. Last night's loss to Illinois in Champaign didn't help to rinse out the bitter taste. Sunday, perhaps, can provide an opportunity to restore confidence in the Buckeyes, who have hit a couple more speed bumps than expected en route to March.
To help shed light on the rematch between the Hoosiers and the Buckeyes, John from The Crimson Quarry joins me to share his insights. Let's hope this sequel is more pleasant than the original.
For anyone who missed the first matchup between these two teams, and isn't familiar with the 2011 Hoosiers basketball team, what are three things you would tell them about Indiana to get them up to speed?
The main three things to keep in mind about IU are:
1) These guys can shoot.
2) Cody Zeller makes a huge difference at both ends of the court.
3) While the defense has been subpar in the Big Ten, the Hoosiers are much more disruptive than they have been in the past.
Indiana has lost just one game so far this year, to the Spartans in East Lansing. What were the major factors in that loss, and what kind of a blueprint, if any, did it provide for others trying to beat the Hoosiers?
That was a very strange game.  IU trailed by 18 midway through the first half, led by 9 halfway through the second half, and ultimately lost by 15.  Obviously, that means there were stretches where IU played very well at both ends and stretches where IU played very poorly.  It was a surprising game in that IU generally held its own on the boards, but MSU shot very well and held Cody Zeller in check defensively. 
Some Buckeye fans would probably say that poor officiating, along with poor execution by the Buckeyes late in the game, played a big role in the outcome of the first game between these two teams. What would you say to that, and what do you think were the biggest contributors to Indiana's victory?
I would say that I thought the first matchup was an unevenly officiated game.  It was difficult for me as an observer to figure out from play to play what sort of contact was permissible and what wasn't, but I didn't think the poor officiating was particularly slanted toward IU.  For the game, OSU was whistled for 22 fouls and IU was whistled for 20.  Unquestionably, IU benefited from the long absences of Sullinger and DeShaun Thomas in rallying from a 10 point deficit to take a 1 point halftime lead. 
On the other hand, IU managed to outscore the Buckeyes by 3 points in the second half despite having Cody Zeller for only 4 minutes (Sullinger played all 20 minutes of the second half).  I can't believe that anyone who has watched Big Ten basketball for any length of time would consider that game to be a particularly egregious example of "home cooking." 
I thought the solid shooting performance of Jordan Hulls, the defense of Victor Oladipo, and Derek Elston's solid play off the bench in place of Zeller were IU's key performances. 
With the benefit of having seen these two teams play each another already, is there anything from the Hoosiers performance in that game that you would hope that they have improved on since then?
It's hard for me to say that IU should have done anything better than they did in that game, which was a huge win for the program.  IU could have sealed the game earlier with better free throw shooting in the second half, but that's about it.  One advantage IU will have on January 15 is that sixth man Will Sheehey is expected to play for the first time since December 19. 
Indiana has managed to knock of a #1 and #2 team so far this season, and only lose one game. What are their major strengths that have allowed them to achieve what they have so far, this season?
I don't think there is any secret IU has been successful in large part because of superior outside shooting (#1 in the nation in three point shooting) combined with a big man, Cody Zeller, who can be guarded one-on-one by very few teams. 
Also, while it hasn't been great during Big Ten play, IU's defensive effort has been fantastic for most of the season, and has led to lots of turnovers and fast break opportunities. 
Finally, for the last three years, IU has had little choice but to throw its young players to the wolves, ready or not.  It was ugly to watch while it was going on, but it means that IU's veterans have been through a lot and have been unflappable this year.  
What are the biggest concerns you have with the Hoosiers, that Ohio State should be looking to exploit on Saturday?
You mean other than the fact that OSU has a comparable or better player at every single position?  As always, IU's perimeter quickness and lack of high quality frontcourt depth are the biggest concerns.  IU won because OSU didn't really exploit those things in Bloomington.  It probably will be different in Columbus.
Are there any reasons, injuries or otherwise, that we should expect to see any personnel changes from the Hoosiers this Saturday, versus the game a couple weeks ago?
As noted above, sixth man extraordinaire Will Sheehey will be back.  He is a very versatile and athletic player, and I never would have guessed the Hoosiers could have gone 3-1 in the Big Ten without him. 
Do you think this team has what it takes to win it all, this year?
It's strange to think about it, considering that IU lost 20 or more games in each of the last three seasons.  Two months ago, I was worried about losing at Evansville, and now you are asking me that question with a straight face (I think).  I really don't think this team is on that level, and I have a hard time picturing this team going the distance in an ordinary year. 
On the other hand, if it is a strange tournament like last year (it must have been tough for OSU fans to watch that trainwreck of a title game, knowing your team would have beat either finalist by 20), anything can happen.  I have made a few cautious comparisons between this team and IU's 2002 NCAA runner-up, a team that included a dominant big man (Jared Jeffries) and a bunch of great shooters.  I would be very, very surprised if that happens, but probably no more surprised than I am about being 15-1. 
Lastly, do you have a score prediction, or any final thoughts on the game?
I don't have a good feeling about this one.  I would guess something like Ohio State 82, Indiana 68. 
---
Thanks again to John for sharing his insights with us. To read more from John, and other writers at The Crimson Quarry, check out the links below.
The Crimson Quarry: http://www.crimsonquarry.com/
Twitter: @crimsonquarry
Facebook: The Crimon Quarry