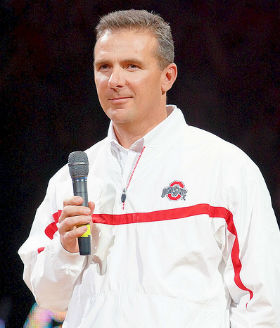 We're back with another edition of the 11W Recruiting Notebook, but it's that time again to make a recruiting pitch to all of you, the readers.
As you know, we at 11W Industries are committed to bringing you the best Buckeye coverage on the inter webs, while still maintaining the free access model. While we all give a lot of our own time to this site and feel that we do a pretty good job of bringing you the scoop on Ohio State athletics, we can't fully commit ourselves the same way the guys who write about the Bucks as a full-time job do (we all have full time jobs of our own in addition to our roles on this site).
We feel our readers deserve the 24/7 coverage of Ohio State that we try to bring you every day, so we identified the need to hire a full-time beat writer to compliment what each of us brings to the table already, in order to better serve you, the reader. Obviously asking someone to attend and cover all events, games, and press conferences, in addition to writing almost an article a day is a tall order, but we felt with the small profit generated from the site already, coupled with some help from the community that we could raise enough money to get someone in place around the Spring Game this April.
Asking for cash isn't our thing, but we want you to help us help you in getting the best Ohio State news on the internet day in and day out. We started the "Respect the Basement" fundraiser to assist us in reaching the goal of hiring a beat writer this spring, and we would like you all to be the "12th Warrior" in helping us out. We know everyone's pockets aren't deep, but every penny helps here. If you can afford to contribute to the effort in some way, we will be forever grateful for your efforts and we think you will be too once you reap the returns.
Anyway, now that I'm done with my spiel, we can get onto the important stuff, recruiting. Today's 11W Recruiting Notebook will focus on the latest in visits, a new name on the radar that's picking up steam, and a super junior that's set to make his announcement this week. Join us after the jump to hear the latest buzz in the Ohio State recruiting world.
The Latest In UrbanWorld

Last week's visits have come and gone and once again it was a home run on the scoreboard for Urban Meyer and staff.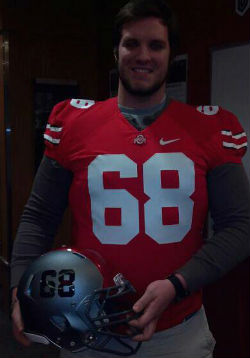 The Buckeyes hosted Vandalia Butler OT Taylor Decker, Windsor (CO) OL Joey O'ConnorS, outh Bend (IN) Washington LB David Perkins, and Scottsdale (AZ) Chaparral ATH Davonte' Neal on official visits and things could not have gone better.
As you know by now, the 6'8"/300 Decker, a former Notre Dame pledge, committed to Ohio State, becoming the 20th member in the class of 2012 and the first offensive tackle to give a commitment. This was a huge pick up for Meyer, as tackle is the largest need for the Buckeyes in this class, and Decker was a player who was firm on Notre Dame for a while. After Tim Hinton and Ed Warinner came on staff, they did a great job of helping to land this prospect, as they were the two most important people in bringing him to South Bend in the first place.
O'Connor also had an excellent visit after coming to town without an offer in hand. That changed when he left as the offensive lineman was given a committable offer by the staff and it didn't take long to convince the former Penn State commit to take it, as he committed to the Buckeyes yesterday afternoon. Landing O'Connor is huge for the offensive line depth which is thin already and could get even thinner if there is any attrition in the group.
Perkins texted me this weekend to let me know he had an absolutely great time on his visit to Columbus and things could not have been better. In fact when I asked him if he committed his answer was "not yet". He was publicly saying that he wanted to take both of his other visits to Illinois and Cal before committing, but news that those trips wouldn't happen emerged late last night and earlier this morning, Perkins announced his commitment to Ohio State. This is a nice pick up for Urban Meyer who wanted a couple more linebackers in this class, and with speed in the 4.4s in the 40-yard dash, this is the type of athlete the coaches were looking for.
Neal did not give the verbal commitment many hoped for when this visit was taken, but he did enjoy the visit very much and said it was his best to this point. Neal is really liking Ohio State, but it seems that because he is basically starting his recruitment this month that this could be drawn out a bit. I expect him to take his remaining three visits before making a decision and his father said that announcement may not come until March. While he is a talented player and one the Buckeyes want, I'm not so sure there will be room that long after Signing Day, so if Neal wants in this class, he better move that timeline up soon. 
Looking ahead, Ohio State welcomes more visitors in the next week. West Roxbury (MA) Catholic Memorial stand outs, LB Cam Williams and CB Armani Reeves will be making the trip to Columbus this Wednesday, while Durham (NC) Hillside LB Jamal Marcus, Jeannette (PA) S Demetrious Cox, and Jacksonville (FL) First Coast DB/LB Joseph Jackson are all expected to be taking officials this weekend. 
Williams is coming back to campus, this time on an unofficial visit, so that his mother can meet the coaches in person and see everything the school has to offer. Cam came with his father Brent (who will join Cam and his mom) back in December on an official and both dad and son loved what they saw. Reeves just got an offer and will be visiting Columbus for the first time. I expect both players to get the red carpet treatment and the staff will push for a commitment after the weekend. Both players are expected to make officials to Penn State (where they are soft verbals) on January 27, but whether they take that or not, right now I expect them both to be in Scarlet and Gray.
Marcus took an official visit to East Carolina last weekend and that went very well, but he did not issue a commitment despite word that the Pirates, already having a surprisingly excellent recruiting year, are the leaders in the clubhouse. It looks like Florida is backing off of this one, but North Carolina is still a player. If it is between those three schools (OSU, ECU, UNC), you have to like the Buckeyes chances pending all Marcus's academics are in order, but we will see how things go this weekend.
Cox was supposed to visit Columbus last weekend, but was apparently told by the staff to delay that trip due to there already being too many visitors on hand. At the time it seemed that it was code word for "your are Plan B", but both Meyer and Fickell were in the Pittsburgh area visiting Cox and some other prospects earlier this week and it looks like a visit will happen this Friday. Bam Bradley is the number one safety on Ohio State's board right now, but if there is room or if Bam heads to Stanford, there is a strong possibility things could heat up on the Cox front.
Jackson is a North Carolina commit and is being recruited by Everett Withers, who is the man that brought him to Chapel Hill in the first place. I'm not sure if this visit will actually take place or if Jackson even has a committable offer, but if he does come to campus watch this one closely. Jackson plays linebacker in high school, but OSU is looking at him as a safety/STAR in their defense and he could fill a need there as defensive backs seem to be escaping by the day in Columbus. I think the staff will slow play this one until they see what happens with Bam Bradley, but keep your ears peeled.
Finally, taking a glance at January 27, the Bucks could possibly host Van (TX) LB Dalton Santos, as well as Memphis (TN) East ATH Brian Kimbrow and DB Will Redmond. It is unknown whether these visits will actually happen and we should have an update sometime next week to see if they are confirmed.
New Name To the Party

Back on February 16, 2011 I got an inbox message from a prospect from Florida looking for some recruiting exposure. I didn't know anything about this player but have some connections at a few lower-tier Big Ten schools, as well as some east coast programs and figured that I might as well pass his film along. This prospect continued to message me early in the spring and seemed to be Division I bound, just not at a big time college football power.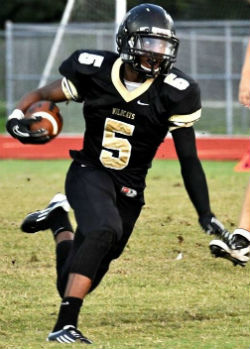 That prospect was Davie (FL) Western's Fabian Moreau, who is a 6-0/180 running back that runs a 4.38 40-yard dash in the class of 2012. Moreau contacted me again earlier this week and told me that the Buckeyes have recently been in touch and that Stan Drayton will be in his school today visiting him.
Moreau recently committed to UCLA over his other 13 offers, including Northwestern, Vanderbilt, Kansas State, Wake Forest, and others, but a Buckeye offer could change things. When I asked Moreau if he expected an offer from Ohio State, he said "I hope so" and said the Buckeyes are recruiting him as a running back/slot receiver hybrid. He also said he would have to visit, but "liked the program a lot" when questioned about committing upon an offer, also giving me the sense that it would be real hard to pass up the opportunity to play in Columbus if it came about.
Right now I'm not too sure that Moreau will be given an offer, but depending on how things shake out with the numbers, it could work out. If he is offered I expect him to visit and commit while on campus, as the Buckeye offer blows away what he currently has on the table. This is the type of late surprise recruit OSU has gotten in past years and this situation is definitely one to watch.
For those of you that want to check out Moreau in action, here is his highlight reel:
Burrows Set To Make The Call

As you read on the site earlier this week, 2013 Trotwood-Madison DB Cameron Burrows will be making his college decision at a press conference tomorrow at 4:30. Burrows has narrowed things down and will choose from his final list that includes Ohio State, Alabama, LSU, Michigan, Wisconsin, Stanford, and Tennessee.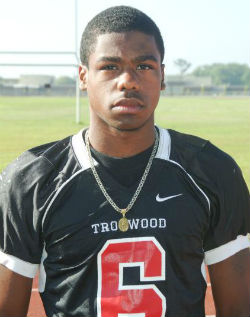 Burrows has been long thought to be a Buckeye lean and it will be a very big surprise if he chooses anywhere other than Ohio State. Alabama has made a strong push and they are probably his second choice, but from what I have been told from sources close to Burrows, as well as the fact that he was in Columbus visiting with Urban within this past week, I have no reason to believe the Tide will be rolling here.
Burrows would be a huge pick up for the staff in that it wouldn't just only give them their first recruit for the class of 2013, but it would give them a committed player that is regarded as one of the top 10 in the nation for his class. With defensive back appearing to be a need in the coming years, the Bucks would win big with Burrows' pledge and would finally tap into the Trotwood-Madison pipeline that has been owned by Michigan and appears rich in talent for years to come.
In addition to getting Burrows, 2013 recruiting could start to pick up a bit more steam with this one verbal opening the door for other prospects to do the same. There is a lot of chatter Jalin Marshall could come next right behind Burrows (he announces 1/31), and the Bucks are also sitting pretty with a number of other players such as CB Eli Woodard, LB Mike McCray, OL Lovell Peterson, QB Malik Zaire, DL Billy Price, and many others.
While the class of 2012 is inching it's way to a top 3 finish, the class of 2013 might be even better and it could all start tomorrow with Burrows' announcement if all goes according to plan..