We are officially less than three weeks away from National Signing Day and the buzz around recruiting is starting to get louder and louder by the day.
Jeremy brought you a great update on Tuesday of where things stand, but like always, recruiting is fluid, so we wanted to bring you another update today in the form of the latest edition of the 11W Recruiting Notebook.
With a full staff in hand, Urban Meyer is full steam ahead on the recruiting trail. His staff has made stops all around the state of Ohio, as well as throughout the country, including the entire group going to both St. Petersburg and San Antonio to check out prospects at the Under Armour All-America Game and the US Army All-America Bowl respectively. You can say Meyer takes this recruiting thing pretty seriously and early returns look to pay big dividends if you are a Buckeye fan.
Today, we take a look at some new names on the recruiting scene, what visits are lined up for the rest of the month, and what 2013 prospects are the latest to be offered from the Urbinator himself. Join us after the jump to get the latest buzz in the recruiting world with the 11W Recruiting Notebook.
New Names Emerging

While the majority of the Ohio State recruiting board has remained the same since Urban Meyer took over in late November, there have been some new names emerging of late, as the 2012 staff tries to put their stamp on this class. Per Jason's tidbit yesterday, which we still cannot discuss further, the new buzz and list of offers finally makes a little bit of sense.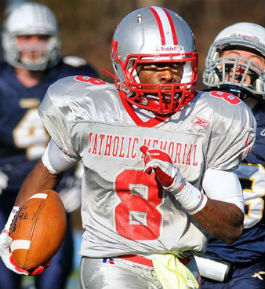 Maybe the most realistic possibility on this list of new names would be West Roxbury (MA) Catholic Memorial DB Armani Reeves. Reeves, currently a Penn State commit, is the best friend and teammate of OSU target Camren Williams. To show you how close they are, Williams' father, Brent, is Armani's godfather.
Both players have stated that they are not necessarily a package deal, but have made it no secret that they'd enjoy playing together in college. Williams has had a Buckeye offer for a while now, while Reeves had not heard much from OSU, as was down to Penn State and Michigan (where he will visit this weekend) as of late last week. 
What changed this week was that Reeves got a call from Ohio State defensive backs coach Taver Johnson, expressing interest in the all-American. Reeves said he expected Johnson to offer a scholarship and if that happened he would look to schedule a visit to Columbus, possibly with Williams when he comes back for his unofficial visit (looking like 1/20). 
I expect Reeves to get an offer and if he does, I think it will be the nail in the coffin for Ohio State when it comes to landing this dynamic duo from New England. Williams appears to want to find every reason to commit to Ohio State and I think bringing his best friend with him would likely seal the deal for Urban Meyer.
Five other defensive backs the Bucks have contacted recently are Memphis (TN) Ridgeway CB/RB Sheldon Dawson, Memphis (TN) East CB Will Redmond, Memphis (TN) East DB/RB Brian Kimbrow, Cape Coral (FL) CB Tyreece Jiles and Crete (IL) Crete-Monee DB Anthony Standifer.
The Memphis trio emerged yesterday afternoon, when word started to circulate that they were offered scholarships by Ohio State. Someone from the staff must made a recent trip to the area, as it is unusual for three players from a single city outside of the state to all be offered at once. Dawson is currently committed to Memphis, Redmond is currently committed to Mississippi State, and Kimbrow is pledged to Vanderbilt, so it should be interesting to see if Urban can pry them away from the south. All three players are 4-star prospects and just getting any of them to make a visit would be a win.
Jiles is a North Carolina verbal who was recruited by Everett Withers. Withers has contacted Jiles to let him know he has an offer from the Buckeyes, but I think this was more a "probe the interest" offer more than anything. If Jiles visits you know this is serious, but I don't think the new staff will press for him to make the trip to Columbus unless things fall through with Reeves, Bam Bradley, or Demetrious Cox.
Standifer is a former Michigan commit, who reportedly had his offer "pulled" by Brady Hoke. He has not received an offer by OSU and I don't expect that to change any time soon. While he is a good prospect, I think contact was made to give the Bucks another back-up option at defensive back, as well as get into Crete-Monee to develop a better relationship with 2013 WR LaQuan Treadwell. Treadwell was thought to be a Michigan lean when Standifer was headed there, but it now appears he is more open and I expect the Buckeyes to offer in the near future.
A couple of other Tar Heel recruits that Everett Withers is going after include Jacksonville (FL) First Coast LB Joseph Jackson and Leland (NC) North Brunswick LB Keilin Rayner.
Jackson, an actual UNC verbal, reports a recent offer from the Buckeyes and says he would like to try and visit the school, possibly with teammate and Miami commit Reggie Northrup, on January 20. Once again, if the visit happens, things will be serious with Jackson, who Urban Meyer is viewing as a strong safety prospect, but for now I'm not sure how far this will go.
Rayner is currently uncommitted and has offers from Clemson, Duke, East Carolina, UNC, NC State, and South Carolina. The Buckeyes have not offered yet, but Withers has made contact and the two parties set up a visit for Rayner to check out Columbus on January 27. Like the other names on this list, the visit tells all, as linebackers Cam Williams, David Perkins, and Dalton Santos are still up for grabs. I don't see Rayner ending up in this class, but you never know how things will shake out.
Finally, the last two new names to emerge may be the most talented on this list. They are two Under Armour All-Americans and recent de-commits in Mesquite (TX) Horn CB De'Vante Harris and Dallas (TX) Skyline WR Thomas Johnson.
Harris recently opened up his recruitment after being committed to Oklahoma. He was offered by Ohio State earlier this week, but the Buckeyes will have to play catch up to his other offers, which include Oregon, Cal, Nebraska, TCU, Tennessee, Texas A&M (where his father played), Kansas State, Mississippi State, Stanford, Texas Tech, Virginia, and others.Two good signs in this one though, as Harris tweeted yesterday that his top three included the Buckeyes, Aggies, and Horned Frogs, and new Buckeye WR Mike Thomas even gave Harris the recruiting pitch. Even with a January 27 visit scheduled, I think the two Texas schools will be tough to beat, especially A&M as he is a legacy.
Johnson was committed to Texas, but it now is looking good for the Oregon Ducks to land his services, and a commitment after his visit to Eugene this weekend would not be a surprise. Johnson is an absolute stud wide receiver and would be put into the same group as Stefon Diggs when talking "must have" players. He hasn't shown too much interest in the Bucks thus far, but if Oregon isn't the place for him, look for Urban to make an aggressive move for this Dallas area star.
Visit tracker

Jeremy did a good job of updating you on the visitors for this upcoming weekend, but as recruiting is extremely fluid, we thought it would be a good idea to break down who may be visiting OSU and when they may be visiting, so you can have a guide of sorts for your countdown to Signing Day.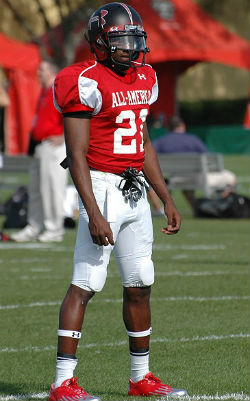 This upcoming weekend (1/13), the Buckeyes are expecting three official visitors and two unofficial visitors. South Bend (IN) Washington LB/RB David Perkins, Scottsdale (AZ) Chaparral ATH Davonte' Neal, and Windsor (CO) OL Joey O'Connor all members of the 2012 class and are all expected to be on campus for their official visits this weekend. All but O'Connor have offers and it wouldn't surprise me to see him walk away with one after this weekend. Jeannette (PA) S Demetrious Cox was rumored to visit as well, but supposedly had his visit "cancelled" and will take an official to Penn State instead. I don't see him ending up a Buckeye.
In addition to these four stand outs, 2013 stars in Woodbridge (VA) LB EJ Levenberry and Peioria (IL) Maual OL Logan Tuley-Tillman are expected to attend the Ohio State-Indiana basketball game on Sunday and speak with Urban Meyer. Levenberry comes to Columbus a day after he will be up in Ann Arbor talking to Brady Hoke, while Tuley-Tillman, a Michigan lean at this point, makes his first trip to the mecca that is Ohio State's campus.
On the weekend of January 20, the Buckeyes may get official visits from Hueytown (AL) QB Jameis Winston, the aforementioned Joseph Jackson and Reggie Northrup, and possibly Armani Reeves. They may also have Camren Williams, along with his mother, make an unofficial visit next weekend. If the dates work out, I expect Reeves and Williams on campus, while I am very skeptical about the chances of Winston, Jackson, and Northrup making visits as of now.
The final weekend before signing day, January 27, has the Buckeyes slated to host Van (TX) LB Dalton Santos and the aforementioned Keilin Rayner and De'Vante Harris on official visits. Once again, be cautious of all three of these happening, but the best chance for a commitment lies with Santos who will definitely visit if he doesn't re-affirm his pledge to Tennessee over the weekend. In addition to official visitors, the staff will be quite busy this weekend, hosting an all-star line-up of junior prospects on January 29 for Junior Day as the Buckeyes' basketball team takes on Michigan at the Schott.
Finally, some players that have mentioned visiting but that have not set dates yet are WR Stefon Diggs, LB Jamal Marcus, and DB/WR Jordan Moore. Until these players actually come to campus, they too remain as long shots, but see how things progress over the next few weeks.
There are sure to be many changes to this list throughout the month, but the above is a good point of reference to start at when trying to track down who is expected and when.
2013 Offers Starting To Sprout

You've heard plenty about the Jalin Marshall's, Cam Burrows', Eli Woodard's, and other 2013 prospects that have been on Ohio State's board for a while now. Today, we bring you news of four new players who were offered by Urban Meyer and his staff this past week.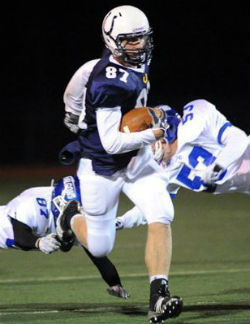 The first player is regarded as possibly the best tight end in the class of 2013, future Under Armour All-American Adam Breneman. Breneman, from Cedar Cliff High School in Camp Hill, Pennsylvania, stands at 6-5/220 and has shown the ability to succeed as both a blocker and a receiver at a high level. He is an ideal fit for the TE/H-Back position in Meyer's spread offense and was very excited to talk to OSU's head coach earlier this week. We caught up with Breneman last night and posted the latest on his recruitment earlier today. You can check it out here.
The next prospect offered is 4-star OT Ethan Pocic of Lemont Township High School in Illinois. The 6-6/280 tackle is already getting a lot of attention, with scholarship offers coming from Arizona, Illinois, Iowa, Michigan, Michigan State, Nebraska, Notre Dame, Purdue, West Virginia, and Wisconsin in addition to the Buckeyes. It is still early in his recruitment so this one may not unfold for a while, but the Bucks are on his mind and he is expecting to make a visit to Columbus sometime this spring.
Daniel McMillian of Jacksonville (FL) First Coast is one of the best linebackers in the class of 2013. Ohio State offered right after the Gator Bowl, bringing his total offer list to 42 schools. McMillian has said he thinks very fondly of Urban Meyer and the Ohio State program, so it looks like the Buckeyes have a legitimate shot here. It will be tough to get this super prospect out of the south, but with Meyer at the helm, the odds against you are never bad.
Finally, the first one in this group to receive an offer from Meyer was St. Petersburg (FL) Catholic School RB Ryan Green. Green is a 5-10/195 speed back from the Sunshine State, just the type of player who catches Meyer's eye. His other offers include Florida, Florida State, Kentucky, Miami (FL), Notre Dame, Purdue, and South Florida, with many of the nation's other top programs taking interest as well. The Florida schools will be tough to beat in this one, but if Meyer can get him on campus, anything is possible.