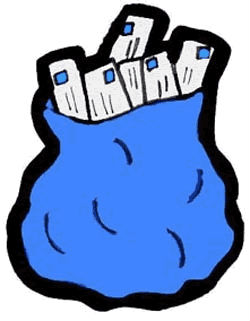 In case you don't know, our forums have become pretty popular over the last two months. They provide our readers and staff members another great opportunity to interact and discuss issues both regarding Ohio State and the rest of the world in general on other platforms than what is published on the site. If you haven't checked them out, I suggest you begin to do so.
While all of our staff members try to do our best to answer your questions inside our articles, your blog posts, and the forums, we can't always be everywhere at once. That is why, in lieu of the weekly 11W Recruiting Notebook, I wanted to give you all a chance to ask me whatever your heart desired as we stand less then a week until National Signing Day.
I couldn't get to all of your questions, but I promised I did my best. If there is something you wanted to ask, but didn't get around to submitting it or even if you have a new question pop into your head, please feel free to post in the comments section below, and I promise I will do my best to answer it. I hope to do this again, at least once a month, so hope you all enjoy it.
Enough of my rambling. Join us after the jump for the inaugural 11W Recruiting Mailbag.
Has anybody every told this "Alex" fella that he reminds me of the next Percy Harvin of recruiting?
Haha, thanks, but I'm more like the Connor Smith of recruiting. Glad I can provide all of you some insight, but I'm nowhere near Percy Harvin level.
Will Ohio State go over the 25 scholarship limit this year? Is that even possible? If so, how should we feel about morally bashing the SEC for doing so?
To answer the first part, yes I think OSU will sign about 28 this year. The staff knows there is some attrition in addition to what we have already seen, thus enabling the Bucks to get to 82 players while signing 28 this year. About the rule of 25 players in a class per the B1G, you can count scholarships of those that enroll early against last year's count. We currently have 6 early enrollees, so that will help in getting to "25" signed for the 2012 class, although in reality it will still be 27-28.
Finally, in terms of bashing the SEC, I think there is a difference here. Obviously this is a unique situation for Ohio State in that the program was in a bit of turmoil and Urban is trying to build it back up. He is not forcing anyone out or forcing anyone to take medical hardships and what not. I do not think signing 28 is what you will see every year from Meyer. On the other side, the SEC schools regularly sign over the amount of openings they have and while it's not fact, there are some stories out there that things are forced a bit. I personally am not going to go out and bash the SEC, but let's just say I don't think they do things the right way down there.
Does Kyle Dodson commit before Signing Day? How sure are you that he comes to Ohio State?
Dodson is supposed to call all of the coaches on Saturday and let them know his decision. It is my understanding he will then make things public come Signing Day, but he may decide to let the media know early. If he does, you will all know. As for my feelings on this one, I'd say I'm 90% sure he will be a Buckeye.
What happened with Jordan Diamond?
Apparently OSU kind of stopped recruiting him after his official visit. I don't know the story for sure, but I think that is a telling sign that the coaches didn't exactly like what they saw in him, probably from a personality stand point. Don't forget, not only is Urban recruiting the player when he comes for a visit, but the player is also recruiting Urban. If you read "Urban's Way", you know Meyer looks for more in his prospects then just talent, as he wants the personality to be the right fit in the culture of the program. For whatever reasons, it looks like Meyer felt Diamond wasn't a good fit in what he's trying to build. I expect Jordan to select Michigan, Arkansas, or Auburn and wish him the best of luck.
You said you think Davonte Neal is the type of kid you wait for. What does this mean?
I think the Buckeyes would like a slot receiver in this class, but I don't think they absolutely need one. Neal came for a visit and now Diggs is coming. Both kids are extremely talented and that's why you wait and hold a spot for them no matter when they want to commit. If they take the spot, great you have yourselves a play maker. If they don't, not the end of the world and you can bank that scholarship for next year.
Is there any chance Dwayne Stanford joins Adolphus Washington at Ohio State if Oregon picks up another stud receiver or two?
Honestly, I don't think there is much of a chance that happens. With the old staff, maybe, but with Urban in charge, I think you've seen if he wants a prospect he is going to go out and get him, regardless of his commitment to another school. Have you heard anything about Urban pursuing Stanford? I sure haven't so I don't think Dwayne is a big priority for Meyer and his staff.
What currently committed players do you see playing and red-shirting?
This is a tough one, but if I had to call it now I would say those red-shirting would be Joey O'Connor, Luke Roberts, Roger Lewis (if he makes the grade), Ricquan Southward, Tyvis Powell, Blake Thomas, Jacoby Boren, and Warren Ball. Frank Epitropoulos, Se'Von Pittman (to bulk up), and Patrick Elflein are guys I see who could go either way. Everyone else will compete for time. Of course, that's just how I see it, but I would need to see these guys competing in camp every day to determine that.
How do you think Kyle Kalis feels that Urban is back to "locking down" Ohio after he and some other recruits said the state was open for Michigan?
I really think if Urban Meyer was the coach last fall that Kalis would be a Buckeye. I think he always wanted to be a Buckeye and that is why he committed to Tressel so early, but obviously Tatgate happened and threw a wrench in things. Kalis liked Fickell, but wasn't sure what would happen with the staff. That allowed Hoke to swoop in, sell him on Michigan, let him fall in love with Michigan, and really make things extremely difficult for the Buckeyes to get back into things. Of course, extreme fans telling Kalis they hope he gets injured because he chose Michigan didn't help things, but I think even if Kyle wanted back in at Ohio State once Urban was hired, he wasn't mature enough to eat that much crow and back out on everything he stood for the last 7 months or so.
Is there any chance for a Dorial Green-Beckham last minute visit?
I would say 99.9% confident DGB will not visit Ohio State. Always have to leave .1% right?
Any chance Nick Davidson still comes to Columbus?
Don't think there is any chance of that. Urban didn't really go after him, which is a little disappointing being that he would be a third generation Buckeye.
With the talent in the 2013 class, what is the reason Meyer felt he had to take as many players as possible in the 2012 class? Also, is a coach allowed to revoke scholarships of those committed when he takes over or is that really frowned upon?
I think Meyer wants to win at Ohio State and wants to win as soon as possible. He saw a bunch of weaknesses on this time (offensive line and linebacker mainly) and wanted to address some of those immediately. He also wanted to get his type of players into the program and felt that if he could do that this year, that they could get to work next year and compete for a national championship in 2013. I think you may see a smaller class in 2013 (15-18), but I think they will be the most talented group Ohio State has seen in a long time.
As for revoking scholarships, the head coach absolutely has the right to do so. Is it frowned upon? I would say yes and no, as some recruits just don't fit what a coach is trying to do (think pure pocket passer in a system like Rich Rod's). Meyer was never going to revoke the scholarships of the players OSU offered because he didn't want to damage relationships with the Ohio High School coaches, which he would have if he took away someone's scholarship. For example, how would the Pickerington North coach feel about Meyer and OSU if Elflein's scholarship was taken away? If there was ever another stud to come through Pickerington north that Meyer wanted, you could bet your bottom dollar that head coach is steering the kid away from the Buckeyes. Urban made a smart move here, not to mention the group was overall pretty talented.
With the elite defensive linemen we have gotten the past two years, do you see a change in defensive schemes?
I think the overall system you will see will look very similar to what you are used to, but I think execution will be a bit different. I think you'll see a little bit more man to man coverage as compared to more zone with the better push up front and I think you will see a more aggressive defense in terms of getting after the quarterback and utilizing talent the way it should be (guys like Shazier should be blitzing more often). Withers and Fickell will cook some good schemes up, trust that. 
With the defensive line and other positions like running back loaded, what positions do you think Urban will focus on in 2013?
I think the big areas that they will recruit will be quarterback, offensive line, and defensive back. I expect two quarterbacks to sign with OSU in February 2013, along with 3-5 offensive linemen, and 3-5 defensive backs. Speedy athletes will always be coveted by Meyer, so expect one or two in this class as well.
Does Jalin Marshall have a real chance to play QB at Ohio State? Where would you project him?
I think Marshall will be told he has the opportunity to play QB at Ohio State, much like Trey Burton was told the same at Florida. After about 5 reps behind center, I expect Jalin to be moved over to receiver and be an All-American there for the Buckeyes for a few years. The kid is a tremendous athlete and I really think he is the guy who will be used like Percy Harvin. They will have him taking direct snaps, lining up at running back, catching the ball as a receiver, and anything else you can imagine. He will be great for Ohio State, where I expect him to announce for come January 31.
Why hasn't OSU offered Mike McCray of Trotwood-Madison?
I think this goes back to 2013 being a smaller class. Meyer wants to open a Trotwood-Madison pipeline, but he's not going to take a guy just because they go to school there. I do think after a bit of further evaluation (at a camp or Friday Night Lights) that they will offer McCray and I do expect him to choose the Buckeyes, where his dad starred about 20 years ago.
Is OSU going after Rod Smith's brother Jaylon?
Yes, and they are going after him hard. This could end up being another epic Meyer-Hoke battle, but I think if Rod stays at Ohio State that Jaylon will come as well. Early returns are that he really likes Meyer and I think he would be a pure stud in this defense.
Any news on the horizon of recruiting a kicker or punter?
I think you will see a special teamer in the class of 2013. They may decide to go with a kid who can do both really well, that way he can come in and punt right away, and then be in a position to compete for the kicker spot as well once Drew Basil graduates the year after. Frank Epitropoulos is a pretty good punter and he could be a candidate to take over once Buchanan graduates, but I still see one kicker or punter in next year's class.
Do you think with this year's class and that of 2013 that Meyer can win a national championship in 2015-2016?
If you asked Urban that he would go bonkers. I think he truly believes OSU can win the championship in 2013 when they are eligible again.
Will the mail bag be an on-going occurrence?
I still want to do the 11W Recruiting Notebook, but I think there is a place for the mailbag as well. Maybe I can alternate weeks or even do three weeks of notebook and one week of mailbag each month, but I definitely love answering your questions directly and will try to continue it.
Thanks again to everyone who submitted questions. If you didn't this time, be sure to participate next time. As I mentioned before, feel free to submit questions in the comments section below and I will do my best to answer them.