Rise and shine, ladies and gentlemen1. Today is December 14th, the 724th anniversary of St. Lucia's flood. Considered one of the worst floods in history, over 50,000 people perished in the Netherlands and Northern Germany. It was a tragedy.
On that uplifting note, welcome to your midweek Skull Session. For those missing football, we're only three days away from the start of bowl season, with the Temple Bill Cosbys taking on the Wyoming...Cowboys, I'm going to guess (actually, that's right)2. The Gildan New Mexico Bowl is the first of three games on Saturday, and due to the Albuquerque location, if any of the players plan on visiting hospitals, I'm going to recommend they skedaddle on out of there if they come across an old man in a wheelchair ringing a bell.
Meanwhile, as everyone has heard by now, Urban Meyer is owning the recruiting trail. The rest of the Big Ten is realizing what happens when Avon Barksdale is taken down: a more ruthless Marlo Stanfield emerges to wear the crown. Not to suggest that Ohio State coaches are comparable to drug kingpins, but from the point of view of the other schools in the conference, it's probably apt.
So the recruiting war goes on, if you want to call it that. After all, wars end (language warning because it's The Wire).
SHOULD HE PLAY OR SHOULD HE FORGO? Although Matta admitted that Sullinger would have played on Saturday had it been an NCAA tournament game, is hasn't been decided yet whether the big man suits up tonight against South Carolina-Upstate. As BSB's Matt Hager reported last night, Matta said, "I'd like for him to play tomorrow night if he would feel up to it".
Craft relayed that Sullinger is more active than he was last week, but it's only December, so if there's any doubt, the team has the luxury of surviving his absence against the likes of South Carolina-Upstate and South Carolina-Classic. While the Buckeyes have struggled offensively without him, making less than 40% of their shots in both Sully-free games, one player who has stepped up lately is Deshaun Thomas.
Doug Lesmerises outlined his production so far:
This season he has scored in double figures in eight of nine games, and in the Buckeyes' three biggest games, against Florida, Duke and Kansas, he's averaging 17.3 points, 5.3 rebounds and shooting 53 percent from the field and 40 percent on 3-pointers.
That needs to continue, and if Sullinger sits again, the team will need to rely on his inside game. Thomas, like Lighty before him, can play different positions, even if we all know his first love is launching shots from behind the arc. 
URBAN PLANNING. Bit by bit, next year's coaching staff is starting to take shape. As Johnny mentioned yesterday, Brian Voltolini and Mark Pantoni, both formerly employed at Florida, are now officially on board as director of football operations and the director of player personnel, respectively. Tom Lemming told the Orlando Sentinel that Pantoni is "almost like one of those irreplaceable guys because he does such a good job organizing and putting them in the right direction. Recruiting-wise, he's worth his weight in gold."3
Yesterday, Meyer spoke to WBNS and clarified that Fickell will be a defensive coordinator, though it's quite possible that Everett Withers, UNC's interim coach, could hold the same title if he joins the team. If Fickell and Withers do end up serving as co-defensive coordinators, I hope they will karaoke tag-team "Lean On Me" in a drunken bonding experience. 
Also, CoachingSearch.com's Pete Roussel broke the news that Meyer plans to interview Texas A&M's OL coach Jim Turner for the same role. Before taking the job with the Aggies in 2008, he was on staff at Delaware. In an '08 interview, he was asked about accepting the position even with an inexperienced, and not very deep, offensive line. According to Turner, "It's not an excuse, and we are not going to use it as a crutch. We have really good football players here, and we expect them to perform the duty they need to do to win football games."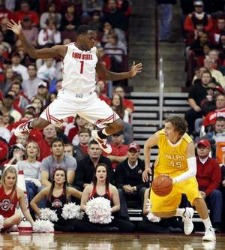 GATOR AID NEEDED. Some, like CFN's Phil Harrison, have called the Gator Bowl the most exciting non-BCS bowl matchup this season. And yet, Ohio State has only sold 6,500 tickets, slightly more than half of their allotment.
Florida is well-populated with Buckeye alumni and the last time they played a bowl there was Tressel's first season. Still, it's not looking promising that Ohio State will sell out. Available tickets are in the $60-$80 range, on par with regular-season prices and can be purchased on the OSU athletic website. So if you're financially and locationally able, time to make a Gator date for January 2nd.
LADY BUCKS ARE SMILING. Last night, the women's basketball team downed Southern 83-49. Tayler Hill continued to impress, recording 21 points, 4 assists, and 5 steals. Her point total matched her scoring average, which is the 11th best in the country. Samantha Prahalis chipped in 17 points and 7 assists. Darryce Moore, filling in for Kalpana Beach who was injured in the win against Oklahoma, also hit double figures with 12 points. 
Ranked #12 in the AP poll and #14 in the coaches poll, the Lady Bucks are off to a 9-0 start, the best since the '00-'01 season. Next up, the team faces a tougher test when they go to Berkeley to meet the Cal Golden Bears.
THE ARKANSAS TRAVELER. In more coaching carousel4 news, Auburn OC Gus Malzahn is taking a pay cut to become the new head coach of Arkansas State. The Arkansas native, who was earning a higher salary than any other coordinator in the country, helped the Auburn offense set records last season on their way to a national championship. This season, without Cam Newton, the offense is ranked 104th, nearly Ohio State-level5.
Nevertheless, he was successful enough at Auburn to take home the 2010 Frank Broyles Award, given annually to the best assistant coach. Before that, he oversaw proficient offenses at Tulsa, and in 2005, he coached Springdale High School to a state national championship. 
Malzahn's HS quarterback, and during his one-season stint as Arkansas' OC, was blue-chipper Mitch Mustain, who USA Today's Matt Foss recently profiled. After one year at Arkansas, Mustain transferred to USC, where he was unable to win the starting job from Matt Barkley. Graduating last spring, he then tried out for the CFL's Hamilton Tiger-Cats, but failed to make the team.
Following that, he applied for the Marines, though that has been postponed while he plays for the AFL's Georgia Force, starting in March. At the moment, he's working at a car dealership and despite the setbacks to his football career, he claims, "I wouldn't change anything." 
CATCH A LINK. Jerry Sandusky waived his preliminary hearing yesterday... His lawyer's gaffe... New Illinois coach Tim Beckman's football roots... Stereogum's Top 50 Albums of 2011... In defense of the meme-ification of Parks & Rec... Community's opening credits get the Buffy treatment... The Cosby Sweater Project... Sharing is caring, kids... "All I Want For Christmas" - The Yeah Yeah Yeahs.
1 I apologize. I don't think I've ever actually said, "rise and shine!" in my life, because as a non-morning person, I despise the phrase.
2 It's too bad Kenyon College is a Division III school because if they played Wyoming, we could call it the "Cowboys & Episcopalians" bowl. 
3 Sorry, William Jennings Bryan.
4 "Carousel" always makes me think of one of TV's greatest scenes.
5 This season. Hope you enjoyed it, haterz, because there will be no more of that.